Details

Category: Essentials
Published: Wednesday, 09 March 2016 11:01
Written by Nita Teoh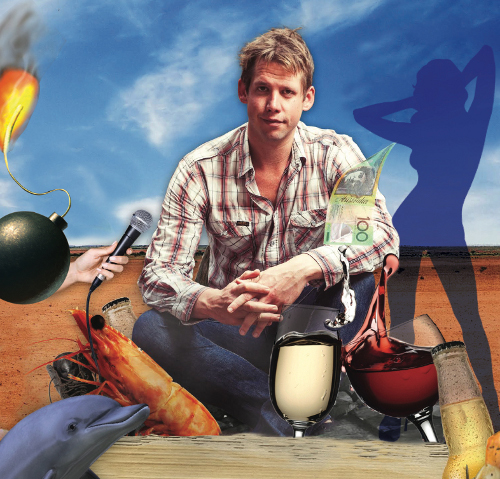 Note: A special thanks to UWA Publishing and Zeitgest Media Group for providing Perth Walkabout with a copy of "Going out of my Mined" for review.


Who the heck is this Xavier bloke that writes about his FIFO adventures in Australia?!
In case you were wondering - yes, poor Xavier does go out of his mine at the mines, as told through his latest book "Going out of my Mined".
Hot off the stage from performing The Dinner Party (totally hilarious!) at Fringe World Perth 2016 recently, Xavier continues the story of his FIFO adventures with the sequel to his first book "Mining my Own Business". His 2nd book aptly named "Going out of my Mined" makes a great read for those looking for an uncut insight into life as a FIFO worker as told through the lens of Xavier.
It's a funny read as Xavier takes you through all the little incidences that happen to him during his FIFO job stint. Contrasting the at times, boredom and drudgery of a typical sort of day job, peppered throughout with various incidences with his colleagues, he observes some of his FIFO workers just managing to hold it all together, so that they can bring home a wage to support their families and their lifestyles. On top of that, he's got his own challenges with his personal life to deal with.
The book is an easy read, and depending on your level of exposure to the FIFO world, you may be in for a bit of an eye opener as to daily life at the mines.
So what did I enjoy about Xavier's new book "Going out of my Mined"?
There were two aspects of Xavier's book that I enjoyed – his wit and humour, and the uncut insights by Xavier of FIFO life as portrayed through his unique, personal lens. At times, the events that are conveyed are sad, and what goes on isn't always a pretty reflection of humanity, but it happens.
If you enjoyed reading Xavier's 1st book "Mining my Own Business" you'll enjoy his sequel "Going out of my Mined". If you are a newcomer to Xavier's books, and are looking for a funny read, then both of his books provide a uniquely Australian take on FIFO life, that you'll not find anywhere else.
In summary, Xavier's book makes for a sizzling, hot read about FIFO mining life – funny and insightful.
We look forward to what you'll have in store for your readers next.

"Going out my Mined" by Xavier Toby is now available from Perth based publisher UWA Publishing.
If you enjoyed this article, please share it!

For more book reviews by Australian authors, follow us @PerthWalkabout