Details

Category: Essentials
Published: Saturday, 27 September 2014 08:15
Written by Nita Teoh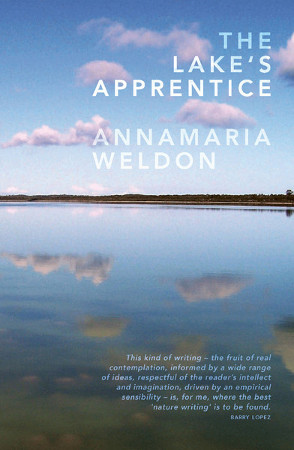 The Lake's Apprentice is a book about nature that explores Lake Yalgorup, a chain of lakes between Mandurah and Bunbury in Western Australia as seen through the eyes of the author Annamaria Weldon.
Weldon explores the lakes through a set of keen eyes, and as the reader it is lovely to see her exuberance around such a unique landscape as told through her compilation of essays, poems, photography and notes.
As she visits the lake, she observes a myriad of things, each time a little different, another observation, another encounter with nature.
"To me the thrombolites are akin to Diane James' concept of 'rocks of deep time', which names the transition I feel when at Lake Clifton, as I move away from what she calls 'the surface of shallow time'. They draw energy up from the springs and down from the sunlit sky of the west coast, transforming it into life for themselves and oxygen for the planet." (page 31)
Anna views Lake Clifton in Yalgorup National Park as a unique place from many different angles – the environmental perspective along with its cultural and historical significance.
She learns about the Aboriginal meaning behind the series of lakes as told to her by George Walley, a cultural guide and mentor whom she is lucky to have by her side on her visits to the Lake.
"Months later at the lake, I observed George as he watched the light shifting subtly through these horizontal lakes, like a finely nuanced language he could read or hear. As well as talking about this light, George alluded to a significant aspect of the Bindjareb Noongar creation story, the Woggaawl's eggs, which are known to non-Aboriginal people as the Lake Clifton thrombolites…….." (page 5)

Anna shares with the reader the snippets of Noongar stories as told to her by Noongar elder and artist Gloria Kearing which have been handed down for thousands of years. She is respectfully known by the Bindjareb people as "Auntie Gloria".


She explores the relationship between a place and belonging, feeling a sense of connection. Previous to migrating to Perth, the author was in Malta where she felt a sense of place with her country. Then she came to Perth, where it took her a while to find her sense of place in Western Australia, and in time, she found her special connection with Lake Yalgorup.
"Before migrating to Western Australia I was viscerally connected to my birth land. Wherever I was and at any time of the day or year, I relied on an unwritten map: it was inner, three-dimensional and haptic. (page 60)

She explores the intimacy of a sense of place and discusses the sense of loss that you can feel about a place.
"We live with exceptional biodiversity, at the convergence of dramatic geological time scales. But do we really understand our great ecosystems, or their kingdoms and creatures? Half of the people living in Australia were either not born here many others, Indigenous and non-indigenous, have also been separated from their Australian birth landscapes; it's unsurprising that so many are wary of forming another deep attachment to place." (page 64)
Annamaria also explores the concept of a sense of a place from the perspective of having a second language.
"A sense of place is the sixth sense, an internal compass and map made by memory and spatial perception together." (page 85)
As well as writing so sensitively, the author captures many perspectives of the lake through her beautiful photography. The shots are taken at different times of the day such as at sunrise and sunset, and capture its unique diversity of flora and fauna.
The author shares her great respect and care for her environment, and is sympathetic to the environment around her. It is interesting to read her detailed observations, and to hear her thoughts and emotions about a place.
The latter part of the book includes poems that capture the vibrant life of the lake - the bird life, the moods of the lake, and nature's elements.


In summary, The Lake's Apprentice is nature writing at its best - reflective and insightful, though to describe the book as nature writing would not do it justice, as it is much more than that, with the author addressing issues on many fronts, all cleverly connected to the central theme of Lake Yalgorup.
Both locals and visitors to Perth who are nature lovers would enjoy reading a copy of The Lake's Apprentice by Anna Maria Weldon. It is a beautifully presented book through its photography and takes a thoughtful and in depth look into the meaning of a place.
For visitors who are visiting the south west and would like to learn more about our the landscape and nature of Western Australia, it would be well worth picking up a copy before heading off on your travels, to get a more in depth perspective and understanding about the Mandurah and Bunbury region.

The Lake's Apprentice by Annamaria Weldon is available from Perth based publisher UWA Publishing.

If you enjoyed this article, please share it!




Nita Teoh pens her passion for Perth at Perth Walkabout. For more reviews on books by Australian authors,
follow us @PerthWalkabout