Details

Category: Essentials
Published: Wednesday, 20 June 2012 11:10
Written by Nita Teoh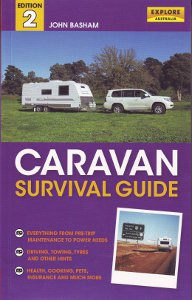 Note: A special thanks to Noble Words for providing Perth Walkabout with a copy of the Caravan Survival Guide for review.


A dream that many Australians have is to do a big road trip around Australia. One of our guest writers, Amy at Livin' on the Road, is currently driving around Australia with her family. At the same time that Amy continues her journey on the road, many other Aussies will be planning or just starting their big road trip.

One of our regular readers at Perth Walkabout chats from time to time about his lifetime goal to do a road trip in the near future. It's a unique experience that people embark on – families with young kids, retirees who have hit the grey nomad trail – anyone with a sense of adventure in their heart, and the urge to explore the outback and the more remote parts of our big sunburnt country.

So on to resources that will help with planning your road trip of a lifetime. Some questions that come to mind – how long is your trip planned for, where should you go, what type of caravan should you buy, and will you have the road skills to manage your mobile home? And so the adventure begins! But wait – let's be practical – what on earth do you know about driving on the road for long stretches in sometimes harsh environments with not a living soul in sight? What happens if you get stuck on the road? Can you call the RAC? These are some of the questions that came to mind, as I dived into reading John's Caravan Survival Guide.

The Caravan Survival Guide by John Basham is a comprehensive must have guide for those planning a caravanning trip around Australia. It covers the essentials for those who are new to caravanning, kicking off by covering the basics of how to pick a caravan. They come in all shapes and sizes, more than you could ever have dreamt of. The choices are already starting to make my head swim! But thankfully John continues to keep you on the straight and narrow, to make sure that you have thought about all the essentials of planning a caravanning trip.

So who is the author John Basham? John Basham is a veteran caravanner, who really knows his stuff and has tested it over the years in Australia's great outdoors. As you turn the pages of this 300 page guide, you will be amazed at the detail that he goes into, covering pointers on tow bar levels to reversing your caravan into a parking spot. Yes, it's while the idle watch your reversing prowess that things go bump, that you didn't really want to bump into!

The case studies that are provided throughout the book are insightful, proving once again that as Murphy's Law states – "If things can possibly go wrong, they probably will." Yes – we are all idiots at times, especially when we don't have the knowledge or experience to know better. Again, John will put you on the right path, with down to earth, no BS, practical advice.

There are so many aspects of caravanning that the average person never thinks about. Since you are going to be living in your "home on the road" you will want to make your living quarters as comfortable as possible, with your favourite creature comforts. The Caravan Survival Guide has a section on things to consider when fitting out your living quarters. Then there are personal health issues to keep in mind. Since you will be on the road for a lengthy period of time, perhaps 6 months or longer, you will want to make sure that you've got your health covered.

Some other big issues to take into account whilst on the road – driving safety, learning how to tow, changing your tyres and replacing equipment – these are all important skills that you will need on the road. Maintenance is another important issue when travelling around Australia - John covers pre-trip maintenance for your vehicle to make sure that it is in tip top condition before heading off on your journey.

The Where to Go section of this Guide showing the suggested journeys around Australia whets my appetite for travel. There are so many interesting and unique places to visit in Australia such as the Top End that I would love to see! The distance guide for locations, 4WD Survival Guide and the pre-trip checklist are other useful resources included in this Guide.

Your road trip around Australia is an amazing adventure to plan. If you are getting ready to set out on your journey of a lifetime, you will want to get your hands on a copy of the Caravan Survival Guide to help plan your big road trip around Oz. So happy travels around Australia!

PS. If you are currently on your road trip around Australia, we would love to hear from you about your adventures. If you would like to share your experiences on the road with your fellow readers at Perth Walkabout, please send us a line using the Contact Us Form below.

For More Related Articles, please scroll to the bottom of this article.