Details

Category: Essentials
Published: Friday, 01 June 2012 12:30
Written by Nita Teoh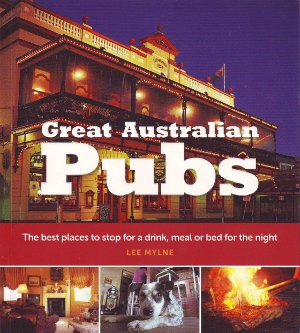 Note: A special thanks to Noble Words for providing Perth Walkabout with a copy of Great Australian Pubs for review.

If you're a history and cultural buff who is planning a trip to Australia, you'll probably be itching to add a good Australian book or two to your collection to whet your appetite. There are many to choose from, but which ones are worth carrying around in your luggage?

Well, assuming you are an independent traveller, you've probably got your trusty dog-eared Lonely Planet (aka travel Bible) or favourite equivalent on hand. Guidebooks can provide a good overview on a city, though depending on your specific interests, you may be looking for more than just a general guide to a place. This brings me to a guide book that you'll want to consider for your travelling book collection.

"Great Australian Pubs" by Lee Mylne is an informative and highly entertaining Guide book on the Top 100 Pubs in Australia. Lee takes us on a whirlwind tour of the best pubs to stop for a drink, meal or bed for the night. She takes us from State to State, zig-zagging along the way on her journey around Australia to find the best pubs. It's a hard job, but someone had to do it! As I am thumbing through this book, I am getting thirstier and hungrier by the minute as I see photos of inviting heritage pubs and glorious illustrations of food. Think favourite snacks like wedges and chips to go with your favourite poison.

But this guide book is not just about pubs - it goes much further than just providing detailed information on where the best drinking holes are. As you browse the book, you will gain an interesting and at times shocking insight (as you ask yourself how could that have happened?), into the history and culture of Australia. Some of the pubs are more than a century old and as you would expect have an interesting tale or two to tell.

I enjoyed the stories that Lee narrates as she visits each pub. It's like she is having a heart to heart chat with you about her visit to the latest pub – and all over a good schooner of the best home made brew and some tasty chips (am afraid I have had to bring up the topic of food and drinks yet again – just can't quite get that food fetish under control!). Pubs are places where you just never know who might turn up and you'll find yourself meeting and chatting with people from all walks of life.

Step into any Australia pub today and you'll be confronted by favourite home brews that both locals and visitors alike enjoy. Then there's the pub grub that has also become a regular part of visiting a pub in modern times. Up on offer at most of these watering holes is standard fare such as chips and burgers, but many pubs have started to offer a wider repertoire of food. It's not unusual to have an extended menu that includes items such as wood fired pizza, Moroccan lamb, tapas and Green Thai chicken curry. The modern menu of an Aussie pub sums up rather nicely how we have evolved as a Nation into a culturally diverse society.

Some of the pubs listed in the Guide book offer accommodation, from basic rooms to posh ones fitted out with pampering spa features. If you are sitting in the guest lounge of a pub, you might be mistaken for having thought you were sitting in Granny's house as Lee mentions in one of her photo descriptions.

Lee tells of pubs with haunted pasts and resident ghosts – if you are lucky (or unlucky depending on how you view it), you could be up for a "special" experience at your stay in a pub with more company than you expected. If you are telling a story about a pub's history, then you'll also need to throw in a famous shoot out or two and unsolved mysteries of crimes committed. At this point, I think I will give this exciting element of pubs a miss!

Lee provides a nice round up of some of the top Pubs in Perth and Western Australia that made it into Lee's Top 100 list. One of her important criteria for making it into the Top 100 is that a pub must have some interesting stories to tell. After having read this book, I can agree that many fascinating stories have certainly been shared by pub owners.

In Perth you've got the iconic Brass Monkey in Northbridge, the Rose and Crown in Guildford and the multi award winning Sail and Anchor in Fremantle. Travelling further out from Perth, there are some beauties to tempt you that are located in different parts of Western Australia. The New Norcia Hotel is one, and if you are heading down south, check out The Esplanade in Busselton and the Margaret River Hotel.

The Great Australian Pubs guide book is fun to read, beautifully illustrated and provides an interesting insight into Australian history and culture. It whets your appetite to pop into a pub, because Australian pubs are more than just places to go to grab a pint and a bite to eat. It might be time for a pub pilgrimage!

For more Related Articles, please scroll to the bottom of this page.