Details

Category: Essentials
Published: Friday, 16 May 2014 13:40
Written by Nita Teoh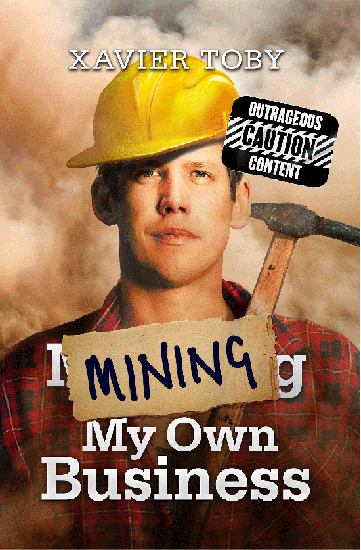 Having finished reading Xavier Toby's book Mining My Own Business - a funny and interesting read, I thought that readers at Perth Walkabout would enjoy hearing from Xavier about his inspiration for writing his first book, along with answers to a few other questions that I wanted to quiz our Australian comedian on.

Without further ado, here is the Q&A blog post interview that we did recently:
What was your inspiration for writing Mining my own business?
Mining news seems to be a constant in Australia at the moment, but nobody is really talking about what it's like out there for the workers. Also, I quickly realised that much of what was happening to me is both unbelievable and hilarious.

Were you surprised by your fifo experience?
Yes! I was immediately amazed by three things: the amount of swear words it's possible to fit in a sentence, how many smokes a guy can devour during one ten minute break, and the amount some guys can drink in a night and still be fine for work at 6am.
Was it what you thought it would be like, based on your expectations?
Nope. It was far more exciting, and I couldn't have imagined half the things that really happened out there. It's often like that with reality. For example I didn't expect to get food poisoning, be offered cocaine and I certainly didn't expect to get farted on. Almost daily. I was also amazed by how useless some people were, and how hard others worked, the safety and all the associated stupidities. However it all happened.
Australian culture and society
Of the Australians whom you encountered during your FIFO experience

, w

hat are the top most issues on the minds of Australians today?
The prices of slabs of beer and pre-mixed cans at the local bottle shop.

Also whether or not we were allowed to smoke at all on the worksite.

Oh and whether or not the mine was going to close down.
Immediate concerns ie. their family, what's happening in Australia?, material stuff,




Global concerns? Compassion for those less fortunate than us?
Family was a big concern, as well as the wages, and estimating what time they needed to stop drinking in order to be okay for work.

Also where the cops had set up speed traps, and where the next mine was likely to be.

Global concerns starting and finished with mineral prices, and how they affected mining.
What are the top issues that you would like to see Australians care more about from a global perspective?
The environment and racism are two issues that are huge but relatively ignored in this country. I did try to bring these up on the mining site, but was often shouted down.
What do you hope to convey to your audience through your live performances of fifo?
Your White Trash had the central theme of racism.
What themes are you looking to convey to the audience through your fifo comedy acts?
I wanted to write a book that appealed to fifo workers, but also was interesting for non-fifo workers. It is written in a funny, easy style to make it very readable, but you don't have to know anything about fifo to enjoy it, and there is some depth there along with the jokes.
So it was important to me that the book had broad appeal, and also provokes thought.
I never want to judge the people I worked with. The book is meant as an accurate reflection of my experience, with all the associated honesty and laughs written out how it all actually happened.
At the end of the show and the book, I hope that people have a better idea of what life is like on a mining site, so when it's on the news, they have a better understanding of what's really going on.
Maybe they'll then look deeper into the issue themselves, and other issues, and a better understanding will result.
All my comedy shows and writing have the same objective. I think we'd all live in a far better world if people were more considerate and looked into things a little deeper. So all my work is my attempt to provoke deeper thought and more intelligent opinions. The information is there, it's not scary or difficult, and with a little bit of investigation, I believe we could all be living in a far better world.
Also, I want to provide entertainment. Sure I might have some big hopes for my work, but it's comedy so before it's anything else it needs to be funny.
If a fan of Xavier Toby asks, should I read the book first or watch your live performance of fifo, how would you respond?
I'd read the book first. The comedy show is one hour of my experiences, the book is far more in depth, as there is just a lot more of it. The comedy show then works as a stand alone piece, but also gives additional insight and a fresh perspective on a few of the experiences detailed in the book. It's like an enhancement, but the book is certainly the most meaningful and in depth representation of my experiences.
Do you have any plans to go back and do FIFO work again?
Nope. I believe that an interesting life is one full of different experiences, and while I don't regret it, this isn't an experience I'd wish on myself or anyone.
When you are coming back to Perth for your next comedy act?!
I was in Perth recently earlier this month. Then I'm planning to return for some more shows in October, and will definitely be back for Perth Fringe World in February 2015.

Also a sequel to this book will be out in Feb 2015. It's my second three months on the mining site. Look out!
What performances do you have in store for us in 2014 to look forward to?
Xavier Toby is performing across different capital cities in Australia. You can check out further details of his upcoming performances at www.xaviertoby.com

His debut comedic non-fiction book about his six months on a mining site is available now through good bookshops and online with free delivery from UWA Publishing.
If you enjoyed this article, please share it!
Nita Teoh pens her passion for Perth at Perth Walkabout. For more reviews on books by Australian authors,
follow us @PerthWalkabout