Details

Category: Essentials
Published: Thursday, 18 July 2013 14:54
Written by Nita Teoh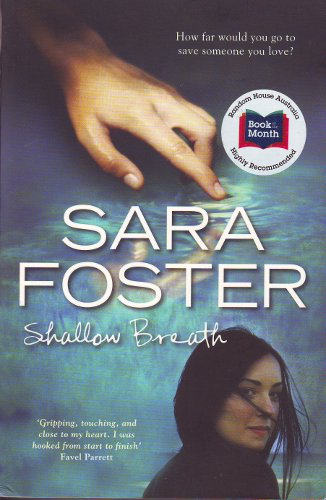 I love that more and more WA authors are showcasing their talents in the fiction genre, with novels set in Perth and Western Australia. Shallow Breath, Sara Foster's third novel, is a perfect example of this trend. Remember the hey day of Yanchep Sun City and the dolphins at Atlantis Marine Park back in the 80's? The backdrop of Foster's novel takes us back in time to reminisce the days of the Yanchep boom.
Shallow Breath is a suspense novel that revolves around the life of Desi, the key character, who destroys her family with a horrifying and tragic mistake. The story unfolds as each character in the story tells his or her own version of what happened. Desi shares her story, along with her daughter Maya, her brother Jackson, her close friend Pete, Connor (Desi's partner), and Kate (Connor's niece).
Initially, I was slow to get into Shallow Breath, partly due in part that I prefer novels written in the first person rather than the third person. However, once I got past the first few chapters, I was drawn into the story and eager to find out what was to happen next.
The key themes that are covered in the novel are:

Catastrophic Events – what happens when a major disaster shakes your world? How do you recover knowing that things will never be the same again?

Family and the inter connectedness of family – you will always be linked to your family, and have a special relationship with each member of your family - closer to some members than others. Events can cause a change in the dynamics between family members. In Shallow Breath, the characters are faced with some explosive family situations which provoke strong emotions and feelings such as love and hatred, angst, and regret.

Foster keeps us turning those pages to see how the characters face these emotional challenges in life. The novel is charged with tension, and you won't be satisfied till you turn that last page.
Reconciliation – when an untoward event happens to us, we face the challenge of dealing with the repercussions. Do we hurt ourselves or the ones that we love when our emotions betray us? When there are long gaps in our relationship with a person, things can sometimes get uncomfortable and how do we deal with these emotions? What happens when an event doesn't have a definitive conclusion and we are left to deal with the threads of uncertainty?

Environment – the theme of environmental issues permeates the novel from a few angles. A substantial part of the setting for the novel is by the ocean. We encounter the challenges of helping to protect wildlife that has been abused, the joy of being close to nature through deep sea diving, the connectedness and the ability to get close and form a special relationship with animals in a zoo, and conservation projects gone wrong and their fallout. Foster was inspired by Perth based Leif Cocks, Founder of The Orangutan Project, who is dedicated to the world wide conservation of orang-utans.
Nothing beats a good novel with an element of mystery that keeps you turning those pages to find out what happens next. I enjoyed the different locations around Perth mentioned in the novel that Foster takes us on a tour of – Monkey Mia, from the sand dunes and beaches of Yanchep and Two Rocks to the dolphins at the Atlantis Marine Park, this brought happy memories of trips up to Yanchep whenever our family had relatives and friends visit us in Perth.
Shallow Breath has received a notable mention in the Davitt Awards long list for female crime and mystery authors, amongst a list of very talented writers. Do yourself a favour and add Shallow Breath to your collection of must read novels by Perth novelists, especially if you love mystery set in our amazing landscape that is Western Australia.
For more Related Articles, please scroll to the bottom of this page.
If you enjoyed this article, please share it!