Details

Category: Events
Published: Thursday, 16 January 2014 15:33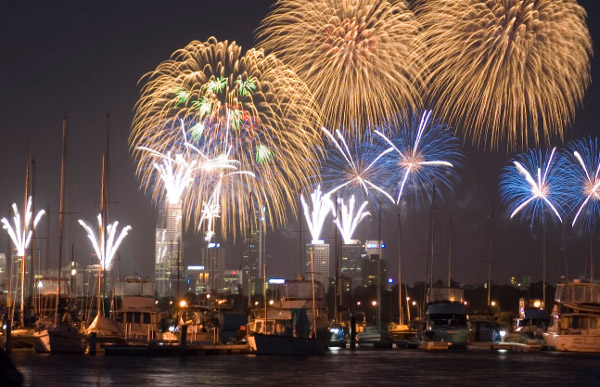 Australia Day Skyworks
Photo Credit: Wikimedia/Nachoman-au

The first days and weeks of 2014 may have passed but that doesn't mean that celebrations here in Perth are over. Here are some fun and interesting events happening around Perth to look forward to this January and February.
Smart Street Parties
The second last event of the current summer series of Smart Street Parties in Mandurah is happening this Friday the 17th January. The event is held in Small Street Mall where you will find street food stalls to tempt your taste buds and local musos who will entertain you for the evening. Be there to check out the food stalls, enjoy the live music and get into the groove.

Australia Day SkyWorks 2014
The largest community celebration of our National day is almost here, and it's the 30th anniversary of the SkyWorks show. Join the thousands gathered together to celebrate our country with air and water shows on the Swan River, 'Survival Perth' in the Supreme Court Gardens, and free entertainment at Langley Park. Then you can end the day with the much anticipated fireworks display for this year. Mark your calendars for the 26th of January.
Fringe World Festival
If you're up for an intense level of entertainment, then the Fringe World Festival is for you. This year features over 150 shows performed by over 800 artists both local and international. Entertainment guaranteed.
Perth International Arts Festival
Did you know that the oldest arts festival in the southern hemisphere is the Annual Perth International Arts Festival? If you didn't, then you have one more reason to go. You'll be spoilt for choice with plenty to choose from the showcase of various arts, music, dance and writing events. The main events of the festival kick off early February, with the outdoor film season having commenced in November.

Ongoing Events
Here are a couple of our picks of ongoing events around Perth. The Visible Hive, an ongoing event by CIBER gives you a unique insight on how bees live their lives on a visible specialised-valve-system hive. Even if you're not a bee lover, you'll still be fascinated with this incredible ecosystem. Pay the hive a visit at Scitech, on Sutherland Street West Perth.
The City of Perth Twilight Hawkers Market is on every Friday night, offering the tastiest street food around Perth. Or catch a movie at the Rooftop Movies, located at the top of the Roe Street carpark in Northbridge, with pedestrian access from James Street.

There are more great events coming up in the city of Perth. Get off the couch and head out to indulge in activities happening around Perth.
Please share this article with your friends so that they'll be kept updated as well.
If you enjoyed this article, please share it!