Details

Category: Events
Published: Wednesday, 11 May 2016 10:27
Written by admin2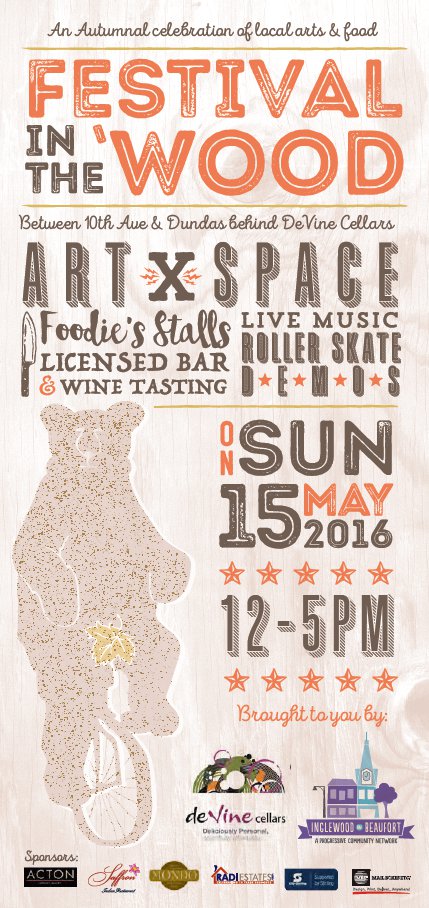 It has been a feast of community events in the past few months with many recent markets and street festivals held in the suburbs of Inglewood and Maylands.

This weekend on Sunday 15th May sees the "Festival in the Wood" take place in Inglewood between 10th Avenue and Dundas Street behind De Vine Cellars during the lovely season of autumn.

We can look forward to a celebration of all things that make Inglewood unique with the event featuring a range of foodie stalls, arts and craft, live music, wine tasting, roller skate demos and more.
Here is a heads up of the various festival activities that have been planned for the afternoon:
Eat and Drink
Delicious treats on offer from Sugar and Nice, Finlay and Sons, Saffron Indian, Meast, Porta Pizza and Uncle Chops Smokehouse
Meat by Mondo's sausage sizzle by Inglewood Primary School
Licenced area with wine tastings and Bar by DeVine Cellars
Get Active
Roller Derby and demonstrations by Lucky Skates
Beginner skate lessons (BYO skates or blades) @1pm and 3pm (25 minute lessons)
Roller derby demo @2pm (20 minutes)
Street hockey demo @4pm (20 minutes)
Let the little ones get messy in the Arts Space
Create and Think
Get skilled up on cool art activities in the Arts Space
Build and prep planter boxes for beautifying Beaufort Street.
Check out some of the prototype street installations from the arts group, FORM's Platform 2016 event
Visit the Meccano stall and see some of the clever oldest and newest creations from Perth's only Meccano Club that is based right here in the 'hood.
Marvel at and even get to ride a local collectors, assortment of vintage bikes, trikes and scooters.
Shop

Artisan stalls showcasing local talent and wares
Chill
Live music for all ages
Event Details
Event: Festival in the Wood – a family friendly & dog loving event!
Date: Sunday 15th May, from 12pm to 5pm
Location: Between 10th Avenue and Dundas Street behind De Vine Cellars
Event Organisers: Inglewood on Beaufort
The event is proudly supported by the City of Stirling.

For more details about the event, check out the Inglewood on Beaufort Facebook page.

See you in Inglewood this Sunday!
If you enjoyed this article, please share it!