Details

Category: Events
Published: Tuesday, 12 November 2013 12:53
Written by Tim Teoh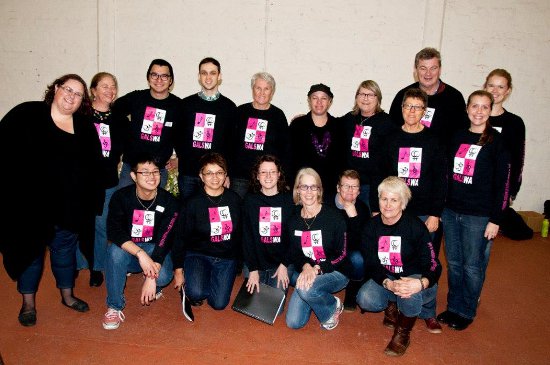 Photo Credit: GALSWA



We were alerted to this concert by a friend and grabbed the chance to go to the Gay and Lesbian Singers of WA's (GALSWA) 20th Anniversary Concert at the Fly By Night Club in Fremantle.
The theme for the concert was Harmony in Diversity. The choir sings beautifully with about 20 singers performing a varied repertoire, mostly a cappella including pop, show tunes and Motown. For a community choir, they take on a challenging repertoire and do it very, very well. The choir is lead by their very able conductor Claire King and competently accompanied by Sarah Minogue.
The choir has a relatively small number of men but the tenor and bass line are excellent, unusually augmented by a few women but it works very well.
Highlights were the Ballad of Sweeney Todd (from the Sondheim musical) with nicely choreographed actions, Gershwin's Summertime with solo by Tim Carter and the Forever Motown medley. The rendition of Queen's Bohemian Rhapsody was good fun too.
The choir has developed over the years from modest beginnings. They participate in many choral and community events including WA Pride. The choir has travelled extensively and performed in choral events all over Australia over the years. For this concert we were treated to some work the choir had performed recently in Hobart.
In between choir sets, Neville (or Nev) warmed up the crowd with some rather scurrilous anecdotes and a number or two with his Lovely Ladies.
The stage was simply but effectively set up with rainbow banners and the choir wore different coloured sashes in rainbow colours. The theatre was set up in a semi-cabaret style and the audience was able to take advantage of the bar. The venue acoustics are not ideal for a choir, but the cabaret format suits the performance perfectly.
The choir was very well received. The enthusiastic audience were a mix of family, friends, former choristers and the wider community.
The last number was a joyful rendition of Celebrate, for this number the choir was joined on stage by quite a number of former choir members.
I found the concert a thoroughly enjoyable home spun community event. If you like choral music, I do recommend you keep an eye out for any of their future gigs.
The choir is seeking new members, especially men, and does not require auditions (but I guess they'd prefer it if you can sing a bit). Refer to their website http://www.galswa.org.au for more info.
If you enjoyed this article, please share it!