Details

Category: Events
Published: Wednesday, 19 June 2013 14:20
Written by Chris Thomas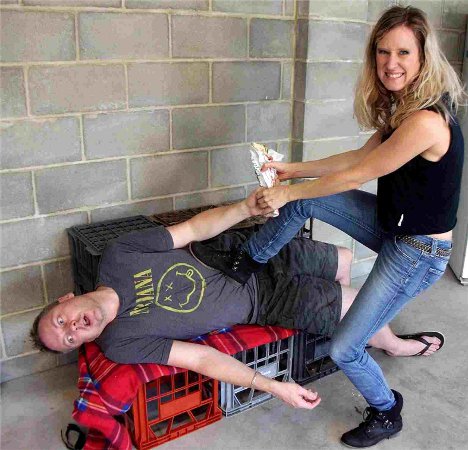 Hunger pains: Melissa (Krysia Wiechecki) tries to wrestle the famous felafel
from dead guy Geoffrey (Murray Jackson)


Catch the hugely popular 1990s cult novel He Died with a Felafel in His Hand on stage this month at The Flying Scotsman's Velvet Lounge in Mount Lawley.
It's a must see cult classic that explores the madness of sharing house with the good, the bad and the ugly.
Written by John Birmingham and adapted by Simon Bedak, Steve Le Marquand and Michael Neaylon, Groovy Boots Theatre is bringing it to life and taking the show back to its pub origins at The Flying Scotsman.
Described as one of the funniest Australian novels ever written with sales of more than 300,000 copies and counting, He Died with a Felafel in His Hand also has the record of the longest-running stage play in Australian history.
Not seen in Perth since its WA debut 10 years ago, the playwrights have updated their script to give it a local feel, meaning this version has never been seen before.
He Died with a Felafel in His Hand is the tale of JB and the various dubious house mates he's lived with over the years, including Neil the albino moontanner, war-gamer Marlene, sex-mad Warren and Chrysola, marijuana-loving Milo, B&D mistress Deborah and the mad Latvian Popov – and that's just the beginning.
Directors Phil Barnett and Chris Thomas chose to stage He Died with a Felafel in His Hand because many people of a certain age know and love the book's cutting-edge, in-your-face grunge-style humour.
"Anyone who's shared a house will instantly recognise and relate to many of the characters, whether it's a rent dodger, dole bludger or obsessive food labeller," Thomas said
"That's part of the book and play's appeal and success – when people see the characters, they instantly think 'I used to live with someone like that'.
"It may feature a lot of extremes and is quite graphic in parts but it's all based on real experiences."
Setting up Groovy Boots Theatre as an independent production company in 2010, Barnett and Thomas deliver paid acting opportunities for actors, under a profit-share agreement.
The results have been sell-out season of the Australian wedding farce Dimboola and the WA premiere of the dark and bizarre Christmas comedy The Eight: Reindeer Monologues.
"Staging He Died with a Felafel in His Hand is a big jigsaw puzzle with 15 actors playing more than 40 different roles," Barnett said.
"Everyone plays about three parts each and the trick is to make sure they put enough variation in so we the audience will believe they are different people.
"Costumes will obviously help and we've also got some atrocious wigs."
Event Details
Dates: He Died with a Felafel in His Hand plays at 8 pm, June 13, 15, 20, 22, 27 and 29 and 7pm June 16 and 23 (Thursdays, Saturdays and a slightly earlier show on Sundays).
Bookings: Tickets are $27, $24 concession (plus transaction fee) – book through TAZTix on 9255 3336 or www.TAZTix.com.au
Please note: this is a strictly adults-only event that contains coarse language, adult themes, simulated drug use, nudity and sexual references and scenes.
Venue: The Flying Scotsman's Velvet Lounge is at 639 Beaufort Street, Mount Lawley, on the corner of Grosvenor Road (near Walcott Street).
For more information, contact Chris Thomas on 0430 374 250 or Phil Barnett on 0433 695 538 or email groovyboots @ hotmail dot com
If you enjoyed this article, please share it!