Details

Category: Events
Published: Saturday, 26 October 2013 11:32
Written by Greg Letts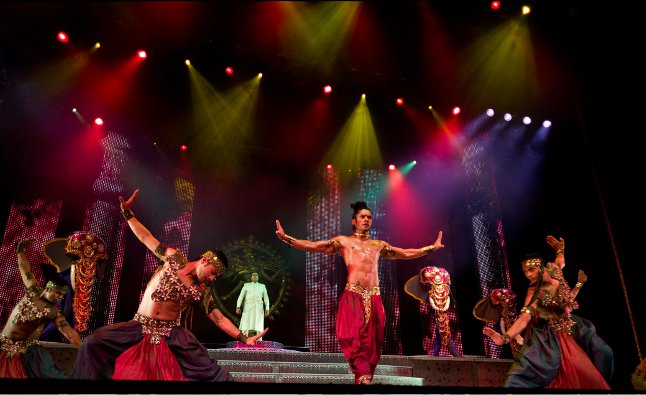 Merchants of Bollywood
Photo Credit: Tony McDonough
The Merchants of Bollywood are in Perth, performing at Regal Theatre in Subiaco till 1 November.
According to the hit show The Merchants of Bollywood, Bollywood was created to lift the spirits of the Indian people in times of national depression. And nearly a century later, in these uncertain days of global financial crisis, The Merchants of Bollywood continues to inspire, enthuse and gladden the hearts of those fortunate enough to get a seat to their sold out performances.
Taking the best of song and dance from Bollywood movies over the years, The Merchants of Bollywood presents a story based on the real life Merchants of Bollywood (Hiralalji and his granddaughter Vaibhavi Merchant), live and in vivid colour. As the show itself says, Bollywood films are based on the repetition of many tried and true themes - and this time it is the story of the young passionate artist struggling to make her mark in an industry her disapproving grandfather once dominated, but now views as being soulless and shallow. She cuts her family ties and leaves home to follow her dream but finds her success to be unsatisfying, finally returning home to her roots and hoping to reconnect with her family and childhood sweetheart. But can she ever really go back?
The storyline isn't overly complicated, but that works perfectly for this type of production - it gives just enough narrative and structure to tie together all the different songs and dances performed in the show, ranging from traditional dances to 70's Bollywood moves, right through to modern numbers. And despite the fact that none of the songs are sung in English, the storyline and enthuasistic performances allows us audience members to stay engaged and follow the proceedings with enjoyment.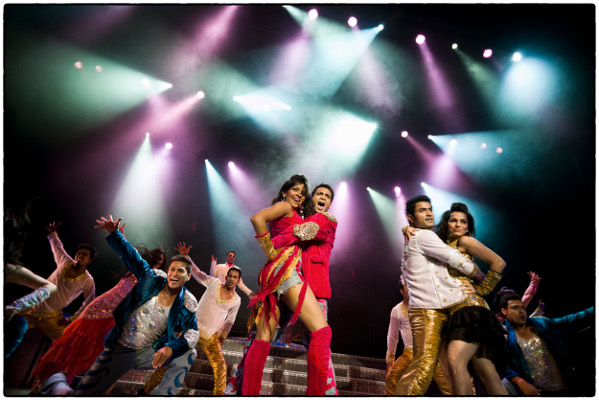 Merchants of Bollywood
Photo Credit: Tony McDonough
That brings us to the real star of the show - the production numbers. For over 2 hours, the cast sway, slide, spin and strut around the stage, to the obvious delight of the crowd. And while the dancing is incredibly sharp - watching a riot of movement and colour on stage suddenly snap into perfect synchronisation for a series of complex dance moves is something to see - what really sells the show is the obvious enthusiasm and enjoyment of the cast, which is something they share with us. Often during a number a performer will shout out just from sheer excitement, and the cast really reach out to the audience and acknowledge our presence, making us feel a part of the show. It all looked like such good fun that even a non-dancer like myself felt the urge to get up and boogie for a bit, and a few lucky audience members actually got the chance to dance with the stars for a while!
I've watched a Bollywood movie or two in my time without being a devotee, but I can honestly say that the difference between watching on the screen versus having 30 or so performers dance and spin right in front of me is like night and day. There's a electric pulse of energy between the cast and the crowd, bouncing back and forth and building as these young men and women bring movie scenes to life right before your eyes.
The Merchants of Bollywood is two hours of complete and utter entertainment - it's light and bright but with an obvious love for Bollywood and its role in Indian culture and mindset. Anybody who like good music, great dancing and watching attractive young performers do their thing on stage will enjoy The Merchants of Bollywood.

Event Details
Event: Merchants of Bollywood
Venue: Regal Theatre
Dates: now playing until 1 November, 2013
Bookings: Call Ticketek on 1300 795 012 or book online at ticketek.com.au
For more Related Articles, please scroll to the bottom of this page.
If you enjoyed this article, please share it!