Details

Category: Events
Published: Wednesday, 25 January 2012 12:34
Written by Nita Teoh
Happy Chinese New Year to everyone in Perth!
In Perth, we are lucky enough to be exposed to a range of people from a diverse set of cultures and backgrounds, including those who are of Chinese and Vietnamese ethnicity.
According to the Lunar calendar, 2012 is the Year of the Dragon and is celebrated from the 23rd January for 15 days.
ABC Interview with Ken Lee on Celebrating the Lunar New Year Dragon Style
For the best low down on what Chinese New Year is all about, hear from Ken Lee at the ABC site. Ken is one of my long time friends, and I really enjoyed his interview on the ABC with Brooke Bannister.
Ken talks about what Chinese New Year means for his family, and talks about the do's and don'ts during Chinese New Year. I learnt a few new things from Ken's podcast about New Year traditions. Thanks Ken!

ABC Interview with Ken Lee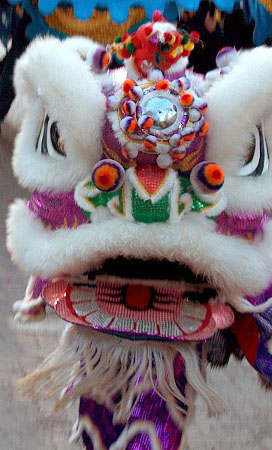 Chinese Lion Dance Costume
Photo Credit: Wikipedia/Dr Haggis


There are lots of festivities going on in Perth to celebrate Chinese New Year - here is a round up of the various activities that are happening around Perth:


Lion Dancing at Claremont Quarter and Other Shopping Centres around Perth

Lion dancing at various shopping centres, including at the Claremont Quarter, the Colonnade in Subacio, The Mezz at Mt Hawthorn and at 235 St Georges Terrace in the city.
For more information on exact times and locations, visit the news section of the Hawaiian group.


Lion Dancing at Garden City Shopping Centre
South of the river, keep cool from the summer heat and watch lion dancing at the Garden City shopping centre. The clever lion will make its way from the Dymocks book store and finish at Citibank. It commences at 1pm. Visit the Garden City website.



Chinese Banquets Galore
Frequent any of the major restaurant strips in Perth, peek inside the Chinese Restaurants and you'll see a host of activity with diners eating their special fish and other delectable delicacies at 10-course banquets during Chinese New Year.

Some of the popular café strips with an abundance of Chinese new year banquet festivities include Northbridge, and Albany Highway, Victoria Park.
The lion dancing groups will be out in full force visiting restaurants to bless them with luck and prosperity. Watch those lions skillfully collect their red packets!


Perth Chinese New Year Fair



There will be a Perth Chinese New Year Fair Street Festival in Northbridge this Sunday, 29th January from 12pm to 9pm. This is the first event of its kind to celebrate Chinese New Year on James Street, Northbridge with the street being closed for the special occasion.

The highlight of the street festival will be the street performance at selected times during the day.
Watch the street procession, and immerse yourself in cultural events such as calligraphy demonstrations, and the lion and dragon dancing performances.

Feeling a touch peckish? – there will be food stalls galore with appetising food from around the globe. Note that the stalls will close at 8pm, so if you are interested you had better get in quick.
Visit Perth Chinese New Year Fair for more details.


Chinese Feature Films at Northbridge Piazza
If you still need a fix to celebrate the festivities, during the week of 22nd to 29th of January, there will be screenings of special cultural movies and events. The Piazza will also screening special shows on all things Chinese related…..Chinese feature films, and segments on cooking, music and travel.

Visit Show Me Perth.


Lunar New Year goes off with a bang at Burswood – Fireworks Display
As part of the Movies by Burswood, there will be a fireworks display after the family screening of Happy Feet 2 on Saturday 28th January. Don't miss the stunning fireworks display presented by the Burswood Entertainment Complex. It will also be a great opportunity to catch a movie during our summer outdoors movie season in Perth.

Visit Movies by Burswood


Celebrate the Vietnamese New Year Festival (Tet)
The Vietnamese celebrate the lunar year, and their festival is known as Tet.

Help to celebrate the Vietnamese New Year Festival or Tet at the Wanneroo Show Grounds on Friday, 27th January from 6pm to 11pm and on Saturday, 28th January 2012 from 10am to 11pm.
There will be lots of delicious food on offer, traditional dance and music, live music, and dragon dances to celebrate this special occasion. The Wanneroo Show Grounds are located at the corner of Ariti Rd and Wanneroo Road.

Visit the Vietnamese Community in Australia site for more info on the Vietnamese New Year Festival.



Interested in All Things Chinese
Visit the site of the Chung Wah Association for more details on cultural events and activities.