Details

Category: Events
Published: Friday, 21 December 2012 12:04
Written by Nita Teoh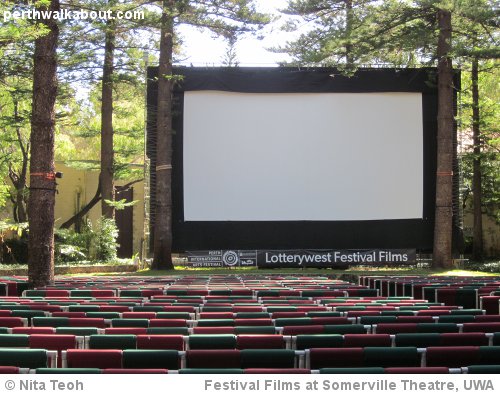 The Perth film festival is back and locals are enjoying a smorgasbord of films as part of the Perth International Arts Festival 2013.

Shown at two locations in Perth – the Somerville Theatre at UWA and Joondalup Pines at Edith Cowan University, the festival films are a popular annual event that Perthites look forward to each year.
This year, the festival film season kicked off on the 25 November 2012 and will run till the 14 April 2013. The screenings are staggered a week apart with films being shown firstly at the Somerville Theatre, followed by screenings at Joondalup Pines a week later. So if you happen to miss out on watching a film at the Somerville, you have a second chance to catch it at the Joondalup Pines.
Whether your favourite genre is a comedy, drama, or thriller, you will find something in the pick of movies that will be shown during the Lotterywest Film Festival. To whet your appetite, here are a selection of international films to be shown during the season.
Miss Bala from Mexico is a powerful thriller that revolves around the drug trade, a seedy world of crime and violence in which the key character Laura strives to realise her dream of becoming a beauty star queen. The film will be shown from the 19 to the 24 February, at Joondalup Pines only.
There is also a fine selection of French movies including the Australian premier of the French farce "What's in a Name" from the 4th to 17th March. The comedy revolves around a dinner party table, with a real estate agent and his entourage of friends. Guaranteed to unleash several barrels full of laughter, it was one of the top box office films in France this year.
The Patience Stone will be shown from the 25th March to the 7th April. Set in the Middle East, the Patience Stone follows the poignant journey of the lead character Golshifteh Farahani who has to tend to her disabled husband. Out of her mouth come things untold that she would not otherwise say to her husband. Her journey is arduous and this movie based on an Old Persian fable will warm your heart with its tale of human spirit.
Details
For bookings and information, you can view the list of movies at the Perth International Arts Festival website.

Locations:

Somerville Theatre, University of Western Australia
Joondalup Pines, Edith Cowan University
Dress warmly as the summer nights in Perth can be cool.
Catering available onsite at both locations, or bring your own picnic basket.


For more Related Articles, please scroll to the bottom of this page.
If you enjoyed this article, please share it!