Details

Category: Events
Published: Tuesday, 12 March 2013 12:59
Written by Nita Teoh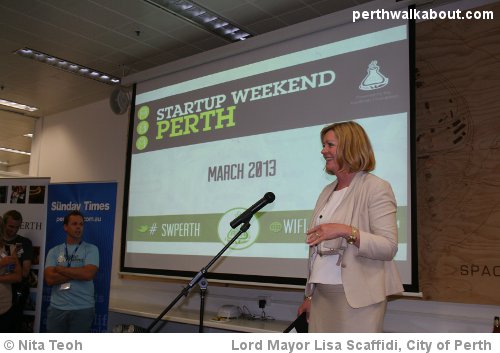 It's late Friday afternoon in Perth, and while the din of the traffic quietens in the city as office workers head home for the weekend, things are just getting started at 45 St Georges Terrace. The best brains around town are gathered together at the co workspace SpaceCubed to gear up for the Perth Start up Weekend.
The Perth Start Up Weekend is one of the key events of the year where budding entrepreneurs gather together to begin the process of transforming their ideas into reality. There is a combination of excitement and a buzz of nervous energy in the air as participants mingle and chat. Some have come to contribute their development skills, some to design and others to add their marketing mojo.
Ironically, once upon a time, 45 St Georges Terrace was home to the Reserve Bank. Its vaults are one sign of its former life, and since any one of these web or app ideas at the Start Up Weekend could well be the next online success, perhaps those old vaults will come in handy after all!
City of Perth Lord Mayor Lisa Scaffidi kicks off proceedings with her opening speech, while Auckland's Rowan Yeoman is there to facilitate the event, having run many successful Start Up Weekends around the globe.
Phil Morle, co-founder of start up investment company Pollenizer in Sydney, gives his words of advice as a key figure in the industry who has helped many start ups come to fruition.
"For participants, it's a great excuse to get started on your idea. It also provides an excellent opportunity to test your ideas, meet people, and to build your skill set."
"There has been an impressively high standard of ideas at this year's Start Up Weekend."
Friday night kicked off with the pitching of ideas – a fast and furious process to meet the 1 minute time limit. There were 44 pitches in all, with 15 ideas being selected for further exploration during the weekend. Participants formed into teams for each idea, and the brainstorming began!
Some themes had an Aussie theme…an app that lets you know when the weather and surf conditions are just right to visit your local beach, or an app that delivers food and drinks to your seat whilst at your favourite sporting event.
Other ideas took on a more serious note, such as developing an app to provide mental health assistance for those in need of support. Or how about finding a date by answering 3 questions to connect you up with a single person who lives in your neighbourhood?
Saturday and Sunday saw a fair bit of pivoting (and even pirouetting for some!) amongst teams, hacking code, and validation of ideas with potential customers. Pivoting is the process of revising the strategy for your idea as you get more information from your customer validation, in order to develop a solution to the problem that your idea solves.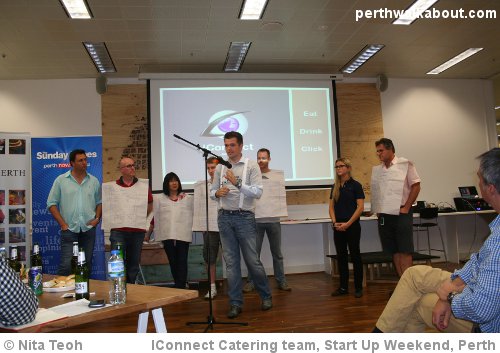 Come Sunday evening it was time for the 15 teams to display their working models with a 5 minute pitch to the panel of experts. Teams were put in the hot seat to answer questions from panel members about their prototypes.
The judges were Joe Ziegler (Amazon Web Services), Jeffrey Paine (Golden Gate Ventures), Phil Morle (Pollenizer), Michelle d'Almeida (The Sunday Times and PerthNow) and Rob Newman (Stone Ridge Ventures).
It was a challenging task for the panel to decide on the top 3 awards given the high standard and wide range of ideas present.

Here is a snapshot of a few:
Styleable man lets you see how your man would look in an outfit when shopping online for clothes through an online display of how he would look in the outfit – you also get to ask your friends about what they think about his new outfit.


AirTutor is a web based platform that helps students connect with their tutor on request outside the usual tutoring sessions.


Op Shopping co is a one stop shop that brings select items such as vintage items and clothes at op shops all in one convenient location online.



WhatSportsWhere have built Game Genie to connect sports viewers with bars around Perth.
The panel judged the ideas based on three criteria: customer validation; the business model; and the execution of the idea.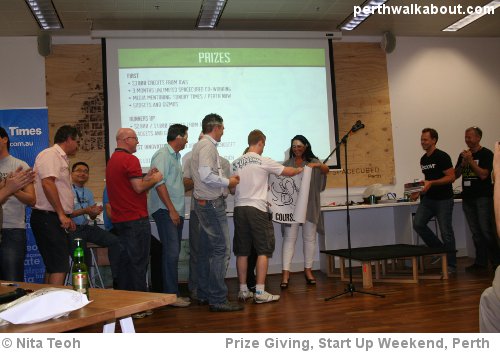 First prize went to iConnect Catering's "Eat Drink and Click" - have food and drinks delivered to your seat so you don't miss out on any action whilst watching the game at your favourite sports event.
Paul Kam, a first time participant at the Start Up Weekend had this to say about the event:
"It has been an amazing weekend. It's incredible how much you can get done in a high energy, focused environment with the support of mentors and volunteers who have given up their time to help during the weekend."
"We pivoted 50 minutes before the end of Saturday night. Working in a small team of 3 (which started out as a team of 4 on Saturday), the trust and bond that we built up between team members over the 54 hours was amazing." - Fletcher Ehlers
"Our team will continue our work with Op Shopping co after the event. One thing that I got out of the experience is that it is not as hard to validate an idea as I thought." - Meriam Salama


The next Perth Start Up event will be held later in the year. If you are a budding entrepreneur in Perth and would like to pitch an idea at the next event, stay tuned by visiting the Perth Start Up Weekend website.
When the iConnect Catering app becomes available, Perthites can look forward to having their food and drinks delivered straight to their seat as they watch the cricket at the WACA or West Coast Eagles at Subiaco Oval - no more waiting in line for a pie!
If you enjoyed this article, please share it!