Details

Category: Events
Published: Friday, 28 December 2012 12:03
Written by Nita Teoh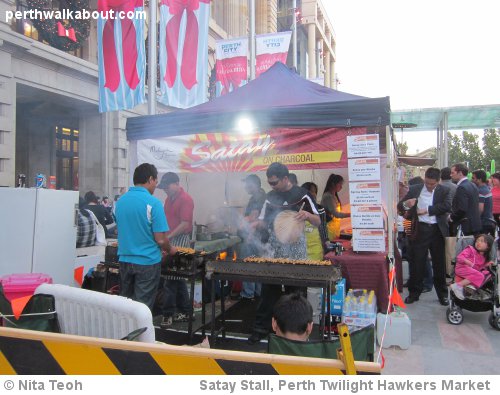 On a fine summer's Friday night I set off with a friend to check out the Perth Twilight Hawkers Market. If you have a penchant for foodie events, the markets are a fun event showcasing food from cuisines around the world, cooked by locals. Now in its second year, the event is organised by the City of Perth and is being held in Forrest Chase. The Twilight Hawker Markets run from December through to April so get your butt on down there to enjoy some tasty food.
On this particular night, the Twilight Hawkers Markets were bustling…..people crammed into Forrest Chase to enjoy their Friday night. The atmosphere was laid back, with a band playing and people chatting and enjoying their meal on makeshift tables and chairs. What a great use of the empty space in Forrest Chase, which ordinarily on Friday evenings is a quiet spot.
Being the foodie that I am, I wanted to check out each stall to see the special delights that each cuisine had to offer. My eyes are usually bigger than my tummy, but since I'm eating healthier these days, I've learnt to curb my voracious appetite.


Scanning the stalls I spotted takoyaki which are Japanese flour dumplings…yum. The dumplings at the Perth Twilight Hawkers Markets have a Western twist and are made with cheese and vegetables instead of the traditional ingredient of octopus, along with other ingredients such as flour, eggs, red ginger, spring onion and fish seasoning.
Of late, I've been getting quite a taste for these tasty melt in your mouth morsels. The signboard in front of the Japanese dumplings stall hinted that one can get addicted to them and I can relate. The long queue was evidence that for some, the task of securing some Japanese dumplings for the night was a critical mission.

With deft hands, the ladies and gents at the takoya stall were pumping out their dumplings as fast as they could. Within minutes, the soft shaped round balls of dough transformed over the heat into a piping, hot snack. With the final touch of a sprinkle of bonito flakes and seaweed seasoning, they were hot off the press and ready to go. And so was I in terms of eating these delectable morsels!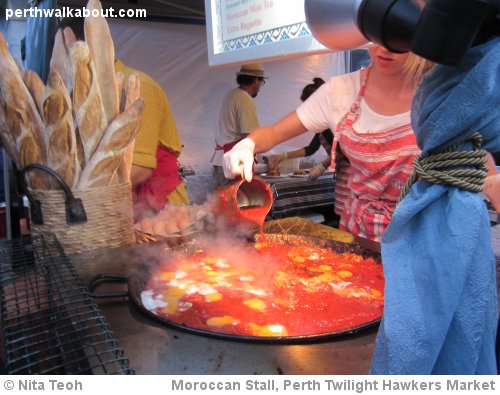 From out of the corner of my eye, I could see a long line for churros. Yum. The satay on charcoal stall was also very popular. Amidst the smoke, the satay man fanned away and tendered to his sticks, whilst the hungry hoards crept closer.

The cooking pots and pans used by the stall holders appeared to be on steroids. Seriously, ladies and gents, check out the size of those bbq and pans, including the huge flanks of meat on the barbecue at the El Asador Argentinean stall. Is that a BBQ or what?!
Whether you are after a snack, or catching up with over friends, there is food to sample from many nationalities….more than you could count on your fingers. You can whet your tastebuds with your familiar favourites, or you can lash out and try something new.
Moroccan, Mexican, Argentinean, Indian, Chinese, Japanese food, you name it…..it's there to try. Or perhaps you're just after a simple snagger in a bun…..you can get that too.
Japanese stalls for the usual suspects, dim sum morsels anyone?
The Maya Masala stall for their piping, hot fresh samosas straight out of the oven. Their lamb samosa had a nice bite to it, from a chilli perspective.
Melittas Empenadas…need I say more? Melittas Empenadas are well known around Perth for their tasty little fried polenta dumplings that feature regularly at the Mondo's Markets and the Beaufort Street Festival as well as at many other events. These tasty little dumplings come in 3 different fillings – pork, beef and potato.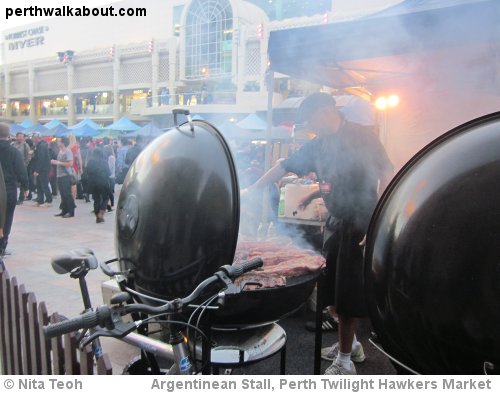 The Twilight Hawkers Markets kicked off its season in December and will run through till April 2013. Based on its popularity, I hope it will become a regular event in Perth for years to come. It has certainly bought lots of life into the city for Friday night shoppers.
What is so nice about the Perth Twilight Hawkers Markets is the diversity of food on offer, a great reflection of the cross section of all the different cultures that make up our Perth population.
Do yourself a favour and get on down to Forrest Chase to grab yourself some tasty morsels and to enjoy a night out with family and friends. You won't regret the food extravaganza. You may be rather full though!
For more Related Articles, please scroll to the bottom of this page.
If you enjoyed this article, please share it!