Details

Category: Events
Published: Monday, 04 February 2013 09:29
Written by Nita Teoh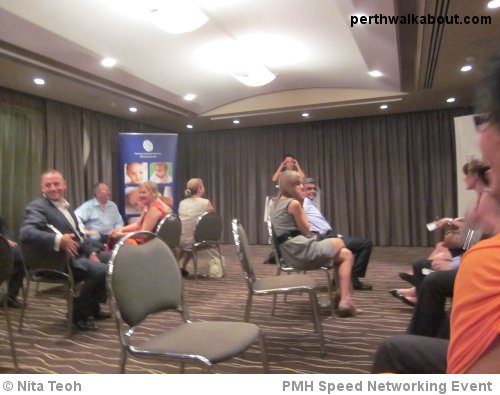 A fun night was had by all at the PMH first speed networking event, which was kindly organised by Westpac Premium to raise funds for the PMH Foundation. $2100 was raised , with Westpac generously matching the money collected at the event to double the donation to PMH Foundation to $4200.
Formalities for the evening kicked off with drinks on the balcony top of the Rydges Hotel. It was a warmish night and we were grateful for some drinks to keep us cool before the night's proceedings got going.
Like myself, most of my fellow participants had not attended a speed networking event before. For the uninitiated an event such as this can be daunting or take us outside our comfort zone. Fortunately we received some good advice from Dominique Pratt and Christine Sutherland before getting down to business.
Dominique Pratt, TV presenter from Channel 7's lifestyle show was MC for the night, and set the atmosphere by sharing her own "10 commandments of speed networking ". We were also prepped by Christine Sutherland of Speed Business Networking Perth on what and what not to do. "Forget about your business elevator speech for the night," Christine advised. "Keep the conversation casual."
Whatever preconceptions you may have about what a speed networking event may entail, there is nothing like attending an event to see for yourself. It turned out to be a fun night as we zoomed around from chair to chair – with under 1 minute to talk to each person before we moved on to the next person, the night whizzed by!
At intermission time, we walked out to the balcony top for some refreshments and some informal chat. Break over, we headed back into the conference room for a raffle and some more official speed networking.
The night ended up with the auctioning of some collector's items including a Joshua Risdon Perth Glory t-shirt signed by the Perth Glory team, a worn tshirt at that so hopefully minus the sweat! Other items that were auctioned on the night included life coaching sessions and a book by Louise Evans titled "Tell Me How to be Happy" and the book "Old Masters, Young Guns" by John Ross. MC Dominique honed her skills as an auctioneer and really got into the swing of things as the bidding war took on a life of its own for each of the items being auctioned.
What was most enjoyable about the night was the diversity of people who met each other, the fun and laughter that was shared amongst the participants, and the new connections made.
One final word from Christine Sutherland was the importance of follow up after a networking event. Pick up the phone and organise a catch up with those people that you felt you had a connection with, and get to know each other with a chat over coffee or drinks.
Thanks to Paul Fox at Westpac Premium for organising the PMH speed networking event – the first of its kind for the year for their organisation. Thanks also to MC Dominique Pratt for keeping us on the right track as we chair hopped and connected with people in an atmosphere of controlled chaos! We look forward to the next event, where another charity for a good cause will be selected to raise funds for.
If you enjoyed this article, please share it!