Details

Category: Events
Published: Saturday, 09 February 2013 09:23
Written by Greg Letts
Xavier Toby - White Trash
Sun Room Theatre - Perth Fringe Festival
7 February, 2013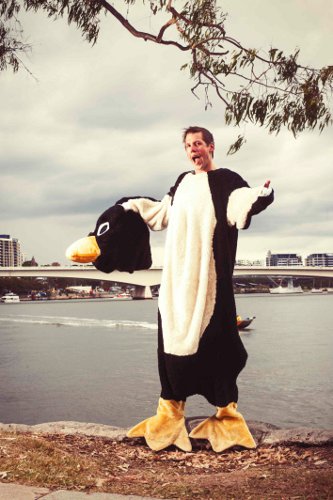 My partner and I headed out to the Perth Fringe Festival on Thursday night to check out Xavier Toby's comedy act, titled White Trash. With its focus on racism amongst ourselves, our family and friends, and Australia as a whole, I was interested to see how Xavier would tackle this touchy topic while still attempting to get a laugh from the audience.
From a quick glance around the intimate tent seating, it appeared that Xavier would at least have a receptive crowd. There were quite a few mixed couples, and a healthy proportion of people from all sorts of racial backgrounds.
Any questions as to how Xavier would approach his subject matter were soon put to rest with his first couple of jokes. Unashamed bad taste, a healthy disregard of where the line should be drawn, and enough laughs to allow the deeper insights buried underneath the superficial comedy to hit home.
Racism in Australia is a subject worthy of serious discussion, but Xavier demonstrated that humour can also be used as a weapon to combat old prejudices (and a few new ones!). But regardless of how well meaning the comedian is with his choice of subject, the premise won't work unless he or she can bring the funny as well. Fortunately Xavier succeeded quite well in this department, with a range of jokes varying from laugh out loud funny, through to wry groans and even a couple of "I don't believe he actually went there, but I'm laughing anyway" moments.
A whole show about racism can be a little unrelenting, but Xavier wisely takes a few detours along the way, venturing into i-phone territory and informing the ladies in the audience that he's quite a catch. Racism is still definitely the star of the show though, and while Xavier goes about it in a manner fitting his bogan roots, he still manages to make his point that all racism is baseless, while giving the audience plenty to laugh about along the way. His monologue involving penguins and racism is well worth the cost of entry.
Trying to make a comedy hour out of a hot-button topic like racism is a tough ask. But Xavier Toby does a pretty damn good job of it. I came, I saw, I sniggered, I groaned, and I laughed. I even came away with a new insight or two about how to handle racism in others when we encounter it, instead of merely standing by and saying nothing. Not a bad effort from a guy in a penguin suit!
More

Details

Event: White Trash, Perth Fringe Festival

Dates: 10, 11, 12, 13 February, 2013

Venue: Sun House Tent, Perth Cultural Centre, Northbridge

For more information and to book tickets for this event, visit Fringe World.

If you enjoyed this article, please share it!