Details

Category: Events
Published: Saturday, 08 March 2014 14:40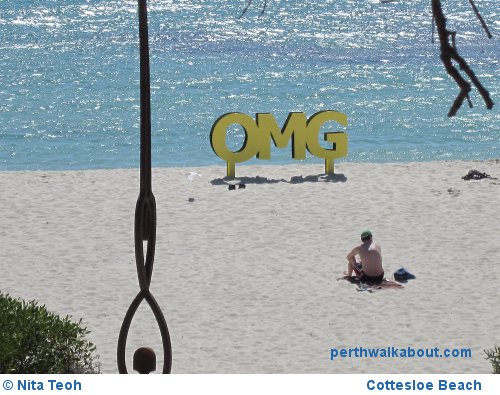 Sculpture by the Sea at Cottesloe Beach has come around again, and we are lucky to be able to enjoy this favourite free to public arts event, with the organisers overcoming some challenging times to be able to launch this year.

It seems a while ago now that the creator of Sculpture by the Sea David Handley had a dream, and it was his dream that a free to the public community arts event be created for Sydneysiders. Handley was inspired by large community art events like 'Opera in the Park' and 'Symphony Under the Stars', and this resulted in the Sculpture by the Sea being held in Sydney for the first time in 1997.

From there, things got bigger, and the event spread to Perth, when the event was launched at Cottesloe Beach, a beautiful location, that we all know, love and enjoy. This year's event has attracted over 70 local, interstate and international artists, whose art works will be on display from the 7th March to the 24th March to create this beautiful sculpture park.

Here is a round up of activities that will be held at the event:
The ALCOA School Education Program
The ALCOA School Education Program at Sculpture by the sea has been specially put together to assist teachers and students get the most out the exhibition, with the opportunity for learning through a range of programs and experiences.
Artist Spotlight Talks
The Artist Spotlight Talks will be a special feature on the weekends where visitors can relax on bean bags and have the chance to interact with artists and to learn more about their works. The talks will be held from 9am to midday, with sessions running for around 20 minutes.
Sculpture Inside
The indoor exhibition of sculpture will be based at the Cottesloe Surf Life Saving Club, running alongside the main Sculpture by the Sea event. The exhibition will be held from the 7th to 24th of March daily between 9am to 6pm, with works on displays from both Australian and international arts, available for purchase.
Tactile Tours
Tactile Tours is another exciting addition to the event and provides visitors with a disability and their carers the opportunity to experience Sculpture by the Sea, through a combination of dialogue and touch. The tours will be available from Tuesday 11th March to Saturday 15th March, and on Tuesday 18 to Friday 21 March, at 10am and 11:15am.
Getting There
There will be a free Rail to Beach 'Cott Cat' Shuttle bus, which is a free shuttle service that will run between the Cottesloe train station and the beachfront. The shuttle bus will be available during 1030am to 5pm daily, and run every 15 minutes.
If you enjoyed this article, please share it!
Nita Teoh pens her passion for Perth at Perth Walkabout. For more insider tips on events happening around Perth, follow us @PerthWalkabout