Details

Category: Events
Published: Wednesday, 27 November 2013 08:35
Written by Felicity Glencross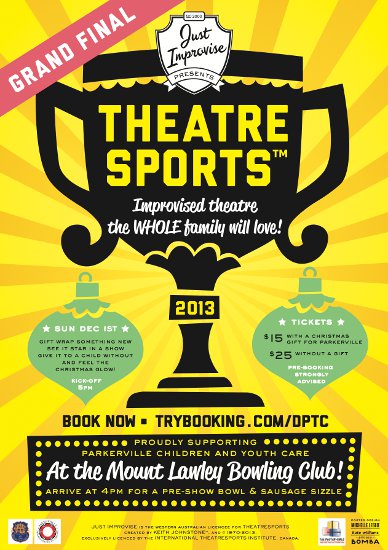 It's finals time! It's your last chance to come and scream for your team in 2013 – as improv veterans & rookies battle it out to win the coveted WA Theatresports Championship Cup.

The Theatresports 2013 Grand Final will hit the stage on Sunday, 1st December at the picturesque Mount Lawley Bowling Club. As an audience member you will get your chance to keep the performers, comedians and game punters thinking fast on their feet with your suggestions. There will be a pre-show lawn bowl and sausage sizzle from 4pm, with the show commencing at 5pm.
Gift wrap something new
See it star in a show
Give it to a child without
And feel the Christmas glow!
Theatresports, created by the legendary Keith Johnstone, is the original improvisation competition. It throws performers, comedians and game punters quick challenges, requiring teams to think fast and act ever faster as they perform scenes and scenarios inspired by audience suggestions.
Directed by Just Improvise's Chris Bedding and Esther Longhurst, the show promises to be an festive evening of improvised theatre the whole family will love - inspired by your Christmas gift donations for Parkerville Children and Youth Care.
The teams competing in the 2013 Grand Final challenge consists of:
Manfred Yon and Tegan Mulvany
Adelaide Buchanan and Michael Breeze
Glenn Hall, Sal Briggs and Chris Ratcliffe
Bri Williams, Chantelle Magnus, Sophie Hawkins and Hannah Rice
Jessica Messenger, Lance Magnus and Shane Adamczak.
MC's Esther Longhurst and Neil Barnard will be at the helm to make sure that it is an entertaining and fun night for all.
EVENT DETAILS
Event: Theatresports 2013 Grand Final
Date: Sunday, 5pm, 1st December 2013
pre-show lawn bowl and sausage sizzle from 4pm
Location:
Mount Lawley Bowling Club (Corner of Storthes
and Rookwood Streets, Mount Lawley)
Tickets:
$15 with a Christmas Gift for Parkerville
$25 without a gift
Proceeds: All profits and gifts will be donated to the
Parkerville Children and Youth Care Christmas Appeal.
Tickets now on sale through www.TryBooking.com/DPTC
If you enjoyed this article, please share it!