Details

Category: Events
Published: Wednesday, 11 April 2012 16:10
Written by Alex Taucher
Last weekend (April 4th) my brother and I headed off to the West Coast Blues n Roots Festival!
Both of us had work on Sunday morning, but after a quick clothing change (raybans…check, doc martins…check, cool festival hat…check) we jumped on the 106 and headed down Canning Highway to Fremantle.
Everyone knows that food at festival events = long queues and exuberant prices, so we grabbed a pie from the Fremantle bakehouse (best pies in Freo) and a cider at the Sail and Anchor and made our way to the gig. The West Coast Blues n Roots Festival (WCBR) is held at Fremantle Park, just a short 10 minute walk from the centre of town.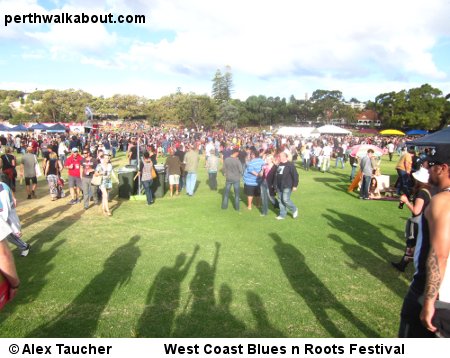 It was still quite early in the day, and the band that we wanted to see (The Pogues) didn't start till 7, so we had a few hours to kill. There were two main stages at this years festival, the smaller stage under the big top, and the larger one in the middle of the field. The awesome thing about WCBR is that because it is a family-friendly, chilled out vibe festival, there are no crazy crowds and heaps of space to spread out and lounge around under the sun just listening to music and people watching. There were plenty of environmentally friendly recyclable chairs to sit on, a lovely selection of ciders, wines and soft drinks to drink, and heaps of people had crackers, cheese and dip spreads (talk about prepared!).
Our first taste of live music was Blitzen Trapper, a country/folk band from Oregon – they were awesome, the type of band you listen to when you're sitting on your front porch in a rocking chair.
Keb Mo' and his wailing blues were up next (along with a cider and a lie in the sun) – it was easy to almost fall asleep to his voice…but we had to stay awake because Trombone Shorty was up next. I had never heard of Trombone Shorty and Orleans Avenue – but just for the sake of the name I was determined to see them.




We were right up front for those TSOA – and he went off! This was one of those acts where you don't really know what to expect, but when you see them you are blown away. Man, could he play the horn – his circular breathing skills were epic and his band was freaking awesome. The drummer was having the time off his life and the bass player was probably the coolest person at the festival. The best part was the final song when they ALL SWAPPED INSTRUMENTS and still sounded amazing.
FINALLY it was time for the Pogues. Luckily we had got a spot right at the front. I had to fight my way to get there (and lost my hat) but it was worth it. The lead singer walked on stage with a drink in one hand and a fag in the other. The crowd went wild. He mumbled incoherently into the microphone, the accordion started with the tin whistle and we were transported to a Dirty Old Town. Seeing the Pogues was amazing, the crowd was rowdy without being aggressive, I lost my voice singing fiesta and the night ended with the accordionist playing ontop of the speakers and the tin whistle man keeping rhythm by banging his dead against an oven tray – that's how you make music in Ireland.
Unfortunately, the music couldn't go all night and it was time to head off and catch a bus home – the sound of the last song in my head, a ringing in my ears and my voice gone.