Details

Category: Great Outdoors
Published: Friday, 27 April 2012 16:30
Written by Alex Taucher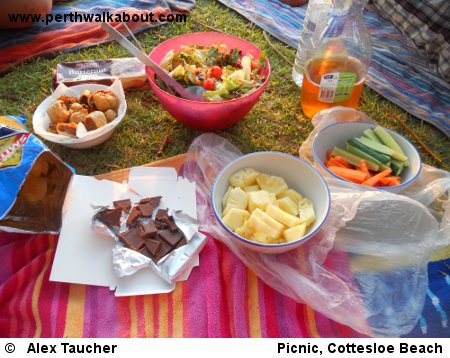 I love picnics. I love them more than peanut butter. I love them because you bring one delicious edible item and get to try more delicious edible items in the company of friends, usually outside in the sun, in a spot with a great view. So, I would like to tell you all my fail-safe-foolproof: 10 easy steps to hosting a picnic in perth.
1) Choose a date: This is the most important detail. You want a date that is easy for a majority of your friends and family to get to. You also want a time of the year where it is not too hot, but not too cold. It's a while after Christmas, so probably a good time to catch up with someone you haven't seen for a while. Personally, March is my favourite time of the year in Perth for picnics. The sun doesn't set till around 7:30 pm, the weather is awesome plus there are outdoor movies and the Cottesloe Sculpture by the Sea to go and check out. As for the day of the week, Wednesdays and Sundays seem to suit most people.
2) Choose a location: For March picnics, I always choose Cottesloe Beach. Simply because there is the beach – to have a pre picnic swim, the parking is free, it's easy to get to on transport , the setting is beautiful and because it makes my friends do something cultural (sculptures!).
3) Choose a time: The best time for evening picnics is around 5:30 to 6pm. Its light enough to get a swim and some eating in before you can't see your food, and there is enough time for people to get there after they finish work
4) Choose friends: A funny one, but you need friends that will gel well. Make sure if you are inviting lots of friends from different groups that everyone knows someone (otherwise you will end up talking to them all night).
5) Figure out what food you need: A rough guide to picnic essentials: bread/condiments, cooked chicken, salad, dessert, fruit, drinks, chips/dip. You can opt for BYO drinks if you like. It's easier to delegate certain foods to certain people (especially if you have a friend like me that makes awesome desserts). Demand finger food. No one likes trying to eat pasta without utensils. Also, as designated picnic host it is your job to bring knives/forks/napkins/plastic cups.
6) Send a mass message! Facebook. Need I say more? If you don't have Facebook, then get Facebook and create an event. If you still don't have Facebook, then I guess texting/calling will work – but I can't say I've tried that. Because Facebook picnic events are way to easy. It's also an easy way to get confirmation what people are bringing (as food).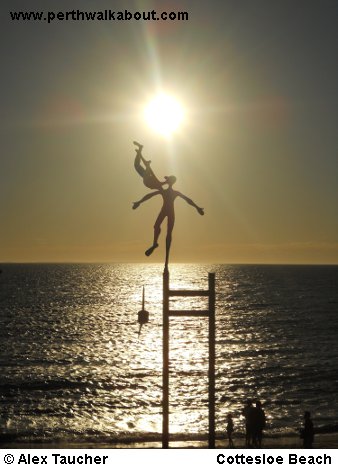 7) GET TO LOCATION EARLY: Get to designated picnic area around 10 minutes early. Find a good spot. Find an easy landmark – so that when people call and say 'where are you' you can reply 'I'm in front of the big rock on a blue picnic blanket wearing a red floppy hat'. Bring something to sit on.
8) WAIT FOR EVERYONE TO ARRIVE: Set up food in the middle of the picnic blanket, people sitting around the edges, drinks on the grass (so if they spill some it doesn't matter). Open any packets that need opening etc etc.
9) EAT, TALK LAUGH, DRINK…ENJOY!

To read more Related Articles on enjoying the outdoors in Perth, please scroll to the bottom of this article.