Details

Category: Great Outdoors
Published: Friday, 02 March 2012 12:06
Written by Emily Cordz
Great weather is something Perth is known for and there are tons of ways to get out and enjoy it. Are you someone who likes more purpose to their outdoor exploits than just relaxing on the beach? Don't limit yourself to a jaunt around the neighbourhood and or picnicking in the park as your only outdoor excursions, below are some ideas of things to do in Perth that are active, outdoors and, best of all, free.
Walking is one of the best exercises a person can do, because it is gentle on the joint and is something you can enjoy your entire life. Perthites are lucky to have many great walking paths in parks and around the city. No matter what path you choose you can be sure you'll enjoy beautiful scenery along a relatively flat route. One popular walking path is along the banks of the Swan River; my favourite section is from the CBD to Guildford. The well maintained, multi-use footpaths extend for several kilometres in both directions, so you can make it a brief walk or an all day excursion.
Kings Park is a popular choice for walking, especially in the spring when the flowers are in bloom, but it is also a destination for weekend warriors and exercise junkies. They don't flock here for the flowers, although I'm sure they enjoy them, their destination is Jacob's Ladder. Descending 242 steps down from Kings Park to Mounts Bay Rd, a round trip (or more) on the ladder will challenge novices, long time runners and everyone in between. Between gasps for air be sure to enjoy some of the best views of the city and Swan River.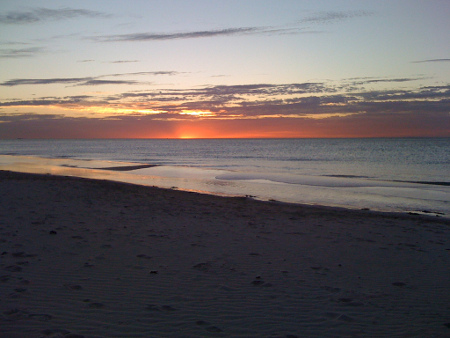 Perth Beach
Photo Credit: Flickr/Destination Europe


Not keen on stairs, but still want to work up a sweat and get your heart rate pounding in a beautiful setting? Skip the pavement and head to the beach. Running on sand works more of the small stabilising muscles in your legs, not to mention gives a more intense workout for you calves. According to some, it can burn up to 50 percent more calories in half the distance. Find a clear stretch of beach and relish your stunning surroundings as you work out. If you enjoy running with a group, you can swing by lululemon athletica Cottesloe to find out about their complimentary run club that meets each week in the morning (sometimes they have outdoor yoga too).
Even better than running, is swimming. Of course as a lifelong swimmer I may be a bit biased, but it does tend to be easier on your joints while providing a workout for your entire body. Pools can be expensive and long lap sets can leave you bored out of your mind. Give yourself a new challenge in a gorgeous environment and try open water swimming. Scarborough Beach, Cottesloe Beach, City Beach and North Beach are all popular swimming beaches that are relatively easy to get to with public transport. Be sure to stay between the flags and be aware of any strong cross currents, rips, shark sightings and other dangers.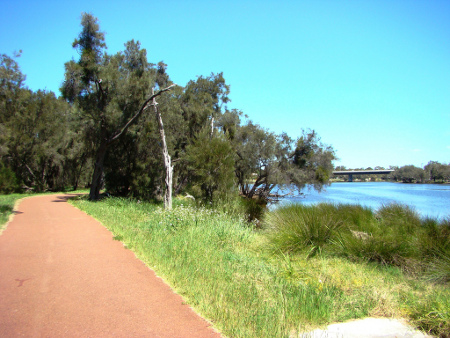 Guildford to Perth Cycle Trail, Swan River
Photo Credit:Flickr/Don Pugh


Cycle Around Perth

Do you have a bicycle? If yes, then you've got a great way to discover more of Perth that you might miss otherwise. The Department of transport website has cycling maps that you can print or pick up in most bikes shops to help you plan your excursion. There are also several biking blogs that review routes and give suggestions for trip planning. Enjoy a change of scenery from city and pop up to the Swan Valley, home to delicious wine, beer, cheeses, chocolates and more. There are a variety of trails that families and more serious cyclers will enjoy. Don't forget your helmet.
Now, the next time you find yourself wondering what to do in Perth, you'll have a few more ideas that will allow you to enjoy the wonderful weather, won't hurt your budget and will get you moving. Don't forget your sun protection and to stay hydrated!

Scroll to bottom for more Related Articles.

Did I miss one of your favourite free outdoor activities in Perth? Share your thoughts on what to do in Perth by adding your comments below.