Details

Category: Great Outdoors
Published: Wednesday, 15 February 2012 11:47
Written by Emmanuela Dias
This is a guest post by Emmanuela Dias.
For those of us who know this little treasure and make use of it on a day to day basis we are indeed lucky, and for those of us who are still to stumble upon it here is a short introduction.
Hyde Park is known for its unique twin lakes and its grand old plain trees which line the lakes and provide a wonderful canopy whether it is summer, autumn, spring or winter. It is the place where many people come to get married, take family photos, enjoy birthday BBQs, and where some seek solitude and rest from the stresses of everyday life.
The very name Hyde Park has a distinct call to it. It is the name of a few wonderful parks around the world: London, Sydney, and Adelaide all have their Hyde Park, and our city of Perth in Western Australia is no exception. The park's life as Hyde Park began in 1897 when it was first gazetted as a public garden by Lyall Hall. Hall seeing the potential of this water basin to become a grander recreation Park had different species of European trees planted in typical Victorian Gardenesque style.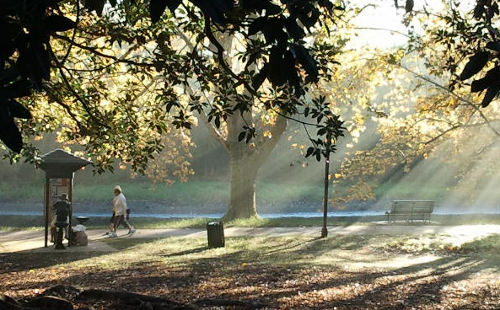 Hyde Park, Perth
Photo Credit: Emmanuela Dias


A hundred years later and counting, Hyde Park, situated in the City of Vincent, is a place where life and form join together in a magnificent display of beauty and evocative imagery; its natural chemistry attracting all to its grounds. 'It's a magical place!' I've heard people say. But don't be fooled, Hyde Park with its distinctive European feel has surprised many with its earlier origins.
Between 1833 and 1897 exactly, Hyde Park was known as Third Swamp Reserve, and was used as a duck shooting place and drovers' camp. Can you picture a miner's camel drinking from the lakes? Yes, it is true that our Hyde Park has had other lives.
Hyde Park's very first name was boodjamooling, and it was a meeting place for the Aboriginal people from the South-West region, and I also heard that people as far as the Kimberley came here to meet and trade some goods. What would it have been like then? Can you picture it? It is no surprise that throughout the last hundred years this area situated among the now established suburb of North Perth has seen much change: an evolution of culture and nature. In knowing its history we all can connect with the deeper meaning of this important Reserve, and find a new sense of self in this context.
Ian Ellies, the park curator whose passion and knowledge has helped see Hyde Park through its first century of life. Ian is responsible for the small indigenous garden up on the north east corner of the park where we can enjoy a bounty of native flowers in springtime. We all know that Australia has a diverse fauna and flora and when we think of how big it is, we really are only seeing a small percentage of its beauty. It takes time to get to know a place, but the more we invest the bigger the rewards.



Hyde Park, Perth
Photo Credit: Emmanuela Dias

'I love Hyde Park!' I say it often, but I also hear it often. As a local in the area and as someone who has done a lot of research into the history of this park, I have asked different people their thoughts on Hyde Park. People have shared with me a myriad of stories. Some have caught gilgies in the 'lakes', others have swam in it, one gentleman shared with me that when he was a little wee boy, the maid took him down to the park in the pram and he ended up rolling down the hill and into the water as the maid let go of the pram too soon. He got lucky and survived to tell his story, others haven't been so lucky. I also found out that there were air raid shelters in the Park and at one stage there was a big aluminium fence around the whole perimeter that was taken down, as through the war years, they needed all the metal they could get their hands on for ammunition.
My favourite thing is to indicate to people two old melaleucas that have survived the last hundred and fifty years of water dredging. A long time ago, you would have been able to row a boat from Lake Monger all the way down to Perth via Hyde Park, of course, that would have happened in the rainy season. I recommend you look into the Northbridge History project for a larger view of the history of this area. Dr. Felicity Morel-Ednie Brown's work has been fabulous to understand the progression and evolution (if we can call it that) of this area in the last two hundred years.
Hyde Park is a special place, where you can still find plenty to reflect on and if you are ever so dedicated the City of Vincent library has a wonderful walking tour you can listen to making your experience of Hyde Park quite a memorable one.
Enjoy!
Emmanuela Dos Santos Dias began writing in English eleven years ago when embarking on a new journey back in the country that she was born. She decided to study Writing at University. Her love of languages stems from having been brought up bilingual with a Portuguese father and an Australian mother. Recently she completed a Documentary Film Certificate at the Film and Television Institute believing that there are some stories that need to reach wider audiences.

For more Related Articles, please see below.