Details

Category: Great Outdoors
Published: Thursday, 05 May 2016 12:28
Written by admin2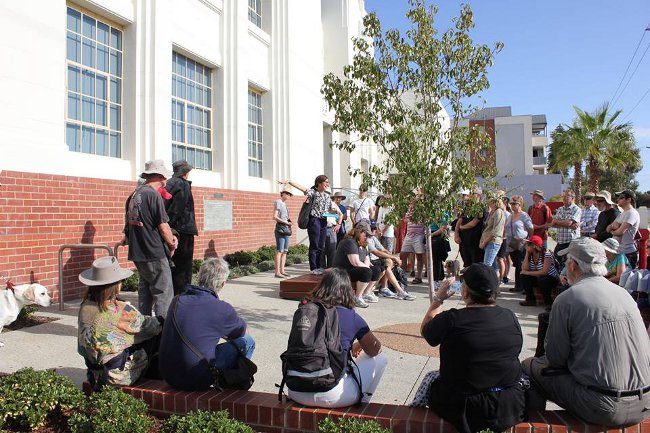 Jane's Walk, Maylands

"Meet local legends, discover lost lakes, find out about hidden stories, See your city from a different perspective." (Jane's Walk)

Anyone for a free city walk?

Another year has come and gone and Jane's Walk is on this weekend in Perth. Broadening its base from the fantastic walks that we had around Maylands last year led by Tina Askam a PhD candidate at Edith Cowan University, this year, Jane's Walk in Perth brings to locals and visitors an excellent selection of free local walking tours from the 6th to 8th May.
Some of the walks will be held in the Perth CBD at the Perth Town Hall, and at new locations such as Elizabeth Quay, along with walks held in the suburbs of Bayswater, Mt Hawthorn and Daglish.
Jane's walks are part of a global weekend of free citizen-led walks that run in over 190 cities. The walks could be described as "walking conversations about neighbourhoods" – a fun and informative outing that provides the opportunity to share stories about what makes a place unique, learn about your heritage, and meet people in your neighbourhood.
Jane's Walk was named after the famous author and urban activist Jane Jacobs who has left her mark with her insights and observations on cities. Her influential book "The Death and Life of Great American Cities", published in 1961, is still very much relevant today as we face the challenges of creating liveable neighbourhoods within the constraints of urban growth and regeneration.
Free City Walks in Perth This Weekend
Here is a list of the Jane's Walks that will be held for 2016:
Friday 6 May
10am Don't Let it Happen Again? – A Heritage Walk through Perth's Past, Present and Future led by Richard Offen. Meet at Council House.
5pm How Elizabeth Quay Came to Be – A Walk through Perth's New Waterfront led by Dr Julian Bolleter and lead architects Ashton Raggatt McDougall. Meet at the Florence Hummerston kiosk on the island.
Saturday 7 May
10am Beautiful Bayswater Walk led by Peter McKimmie. Meet at Bayswater Station.
10:30am Indigenous Heritage Tour of Kings Park led by Greg Nannup. Meet at Wadjuk Car Park Wadjuk Way, Kings Park.
12:00pm Street Art Tour led by Ryan Mossny. Meet at Perth Town Hall.
2pm What Lies Beneath? – Explore the Lost Wetlands of Inner City Perth led by Sally Lake and Dudley Maier. Meet at Robertson Park (cnr Stuart, Palmerston St).
4pm Urban Sustainability Walk led by members of Transition Town Mt Hawthorn. Meet at 160 Anzac Road, Mt Hawthorn.
Sunday 8 May
10:30am A Green Suburban Dream? – Explore Daglish, Perth's First Garden Suburb led by Don Newman. Meet at Daglish Stn.
12:00pm Perth Street Art Tour (repeat) led by Ryan Mossny. Meet at Perth Town Hall.

You don't need to register for the walk. Jane's Walks are open to everyone. So just turn up!

For more information, check out the website www.janeswalkperth.org or search Facebook for 'Jane's Walk Perth'.
If you enjoyed this article, please share it!
Find out about the hottest events around Perth, by following us at @PerthWalkabout