Details

Category: Great Outdoors
Published: Sunday, 20 September 2015 09:24
Written by Nita Teoh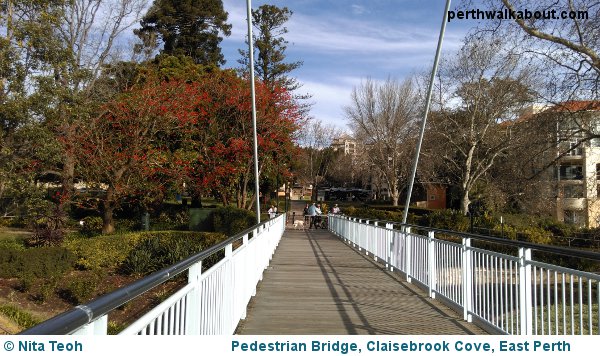 There are many beautiful scenic walks out and about Perth to explore including many walks along our foreshore and the Swan River.
An easy walk to access from the Perth CBD, is the Maylands to East Perth walk which is an easy 2km return trip from Banks Reserve, Maylands to Claisebrook, East Perth.
You can either start at Maylands and walk to East Perth, or do the trip in reverse. If starting from Maylands and coming by car, turn off at East Parade into Joel Terrace and park at Banks Reserve. If coming by train, get off at East Perth train station, and follow the same route to get to Banks Reserve – it's about a one kilometre 15 minute walk.
From Banks Reserve, Maylands, follow the path along the river till you reach the end of Claisebrook.
On your walk, you'll spot some interesting landmarks including the old East Perth Power Station, currently unoccupied and up for sale by the State Government to potential developers.
Once you get to Claisebrook, you should pass some basketball courts, and have a nice scenic view across to Victoria Gardens, a popular spot for picnickers especially on the weekend.
Walk to your right along Brown St, and take the overhead pedestrian bridge that connects across to Victoria Gardens and Royal Street.
As you walk across the pedestrian bridge look toward your left, you'll see a limestone wall with a mural created by artist Joanna Lefroy Capelle depicting the history of East Perth and stories of life.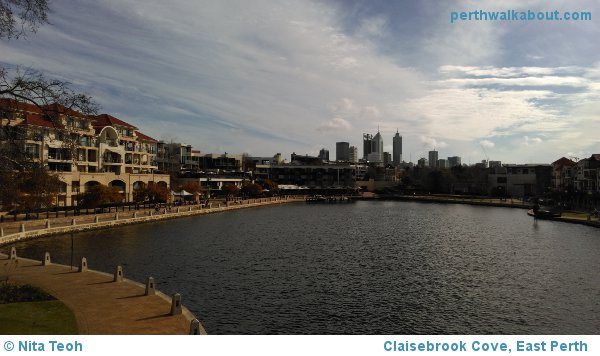 Walk around the Claisebrook Cove inlet to check out some of the waterfront restaurants such as the Korean restaurant Shilla and cafes further along such as The Partisan (for Mediterranean food), Toast (for all day snacks and beverages), The Royal (for drinks and meals) and through the tunnel, Blackbird (European food with a French focus) where you can take some time out to enjoy the views and grab a bite to eat.
Or alternatively, instead of checking out the waterfront restaurants, after you have crossed the pedestrian bridge, turn left at Victoria Gardens, to continue your scenic walk - through the Victoria Gardens, along the East Perth foreshore with views towards Burswood (Crown Perth), past Gloucester Park, and Trinity College, and onwards.
This is one of many beautiful scenic walks around Perth to explore and enjoy within easy reach of the Perth CBD.
If you enjoyed this article, please share it!
Nita Teoh enjoys the outdoors and exploring Perth on foot.

For more insider tips on Perth and surrounds, follow us @PerthWalkabout