Details

Category: Great Outdoors
Published: Wednesday, 30 December 2015 14:58
Written by Nita Teoh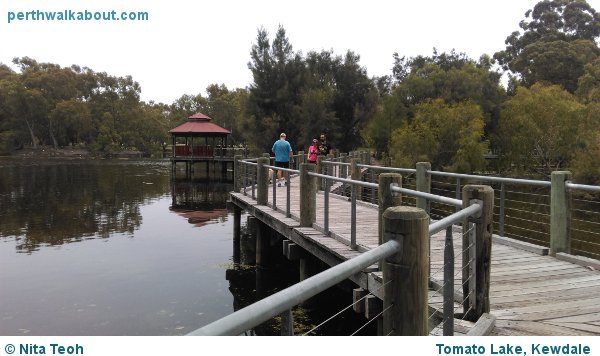 Did someone say "What, no tomato?!"
There are truly no tomatoes to be found at Tomato Lake (not today anyway!) – however the lake has much to offer both locals and visitors to Perth.
Located on Oats Street in the suburb of Kewdale - an easy 20 minute drive from the Perth CBD will take you to a scenic nature reserve with offerings to suit everyone.
The lake is the centre piece of the reserve, surrounded by wetlands, and a series of boardwalks that snake across the lake, and attract an abundance of birdlife.
Top 10 Things to Do at Tomato Lake in Kewdale
Here are some of the many activities to enjoy at Tomato Lake:
Taking a relaxing stroll or run around the lake. The circuit loop is around 1.6 kms;
Have a picnic or BBQ with family and friends;
Take the kids to the children's playground to burn up some energy;
Take your dog for a walk;
Enjoy coffee and snacks at the Tomato Lake Café. Note - for dog owners in Perth, there is seating outside which makes for a dog friendly location to bring your pooch along for an outing;
Workout using the exercise machines dotted through the parklands;
Do some birdwatching;
Learn about the history and wildlife of Tomato Lake via the signboards that are dotted throughout the park;
Join a recreational group that meets regularly at this spot;
Join your local community group to help with bushland restoration and maintenance of this beautiful nature reserve.
So what's with the name "Tomato" Lake?
It's an interesting name for a lake, that has had a few name changes over time.
Prior to being known as Tomato Lake, it was called as Smith's Lake, and then before that Craig's Swamps.
As with many other Aboriginal sites around Perth, it was a meeting place for Aboriginal people from the Guildford and Canning areas.
Back in the late 1800's and early 1900s, Stephen Craig was a poultry farmer and gardener who wanted to grow maize in the area. He wanted to grow tomatoes in the area to use as feed for his poultry. The tomatoes turned out so well, that Craig ended up selling most of his produce to the locals.
In the 1950's, there was a plan to develop the lake into a trout fishing resort by a Vic Markovic, and during this time, the lake was filled with trout and an angling club established.
Fast forward to the early 1980's, and Tomato Lake underwent development to provide a nature reserve with facilities for the public, as we know it today.
Tomato Lake attracts an interesting range of birdlife and on any given day, bird watchers may be in luck to spot birds such as pelicans, ibises, spoonbills, ducks, swans, parrots, cormorants, and honeyeaters.
If you don't feel like having a picnic or BBQ, there is on site kiosk called The Tomato Lake Café is open from Wednesday through to Sunday from 9am to 4pm. Note that it is closed on Monday and Tuesday. The café food is simple food fair which is reasonably priced…think hot chips, fish & chips, toasted sandwiches, burgers, coffee and tea, and cool drinks. It also has a selection of breakfast items including an all day breakfast.
Tomato Lake is a lovely recreational reserve in the eastern suburbs of Perth that is well worth a visit.
If you enjoyed this article, please share it!
Nita Teoh enjoys exploring on foot to find the best places to visit in Perth.

For more insider local tips on what do in Perth and WA, follow us @PerthWalkabout