Details

Category: Local Area Guide
Published: Friday, 11 May 2012 12:25
Written by Alex Taucher

I am one of those people who are lucky enough to live in Applecross. It is the best location in Perth, and I love being a 15 minute train and walk from the city, a 30 minute bus ride to Fremantle and five minutes from the river. But one of the best things about living in Applecross is the wonderful fact that I am within walking distance to Applecross Village on Ardross Street.
The words 'Ardross Street' most commonly refer to the little gathering of shops between Macdonald Road and Kintail Road in Applecross. This quaint little street is lined with Jacaranda trees, and in November, the City of Melville and the Rotary Club hold an annual Jacaranda Festival (which is great fun). Alas, it is not November, but early autumn is a great time to explore Ardross Street, as the leaves are turning gold and just starting to fall.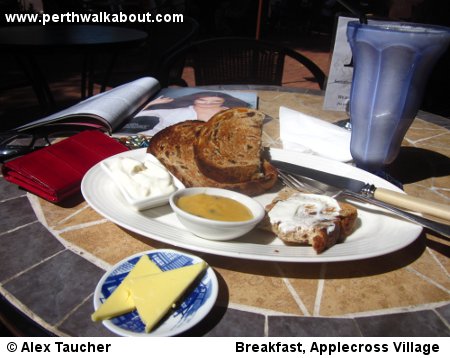 So why do I love Ardross Street so much? Well, there is a butcher, a baker (no candlestick maker), but a bookshop, and parking is free! There are five yummy cafes to work your way through – Next café, which has crazy frappuccinos, Jacs with a yummy cocktail selection, Sensations which is my favourite because of their all you can eat passionfruit curd and cheap milkshakes, Cioccolato which makes amazing breakfast muffins and another little coffee place Coffea Fine Expresso which is the last café along the row and which does amazing brioche French toast.

Once you're done with a coffee and something to fill you up, have a browse at The Well Bookshop, which always has those quirky one off books you can never find in Dymocks. The vintage clothes shop always has stunning dresses in the window, or there are a couple of designer boutiques. Once you've found the perfect dress you can trot on down to Escalatoo Shoes for a fabulous pair of (Italian) heels. Or into the homewares shop for a mirror to admire yourself in.
Don't worry if you just need to pick up groceries, because there is the wonderful Good Grocer – with an amazing deli selection, a very reasonably priced Asian grocer next door (who also stocks Asian foods as well as fruits and vegetables), a butcher's shop, the local newsagents, post office, Vietnamese bakery and even a pharmacy.

If its pampering you're after, there are two beauticians in Applecross Village, one adult hairdresser, and one kid-friendly hairdresser – who has mini cars or horses that the kids can sit on while they get their hair cut (I wish I was small enough to fit on)! Don't forget the dentist, doctor and chiropractor.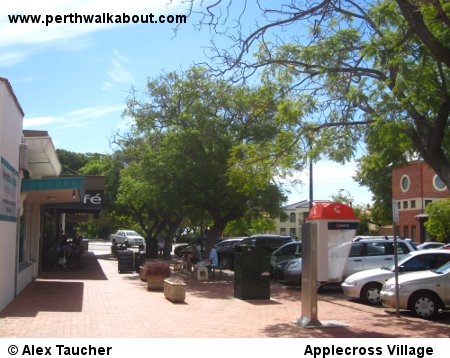 Now, if you think that's almost enough, I haven't got onto the late night dining. Jacs is open in the evenings (like I said…cocktails), and there is 7 Spices for anyone who loves a good, spicy Indian. I am a fan, but my favourite place on Ardross Street for dinner is Gucce. They do cheap pizza on Tuesday nights, and last time I checked, pasta deals as well. Their vodka chicken pasta is to die for, but don't leave without trying the home-made tiramisu!
The shops in Applecross Village are a short walk from canning Highway (if you want to catch the bus) – or an easy drive. The Good Grocer has lots of free parking or you can always park on the side of the road (not on the verge though)!
All this talk of cafes in Applecross is making me hungry, so I am going to take my dog for a walk and stop off for a milkshake. Yum!