Details

Category: Local Area Guide
Last Updated: Friday, 26 August 2011 09:04
Published: Sunday, 24 July 2011 02:09
Written by Lee-Ann Khoh
Bull Creek (also written as Bullcreek) is a white collar southern suburb of Perth about 15km from the city, roughly a 20 minute drive down Kwinana Freeway (exit at South Street) or an easy train ride down the Mandurah line. Bull Creek was first developed during the 1960s and 70s and named after early settler Henry Bull.
Bull Creek isn't wild or fancy but it typifies the homey suburban lifestyle that attracts families to the area and is equipped with everything you need.


Conveniently located on South Street is Stockland Bull Creek Shopping Centre. It is also down the road from Murdoch Station and several bus routes including the CircleRoute stop there. The main stores at Stockland Bull Creek (often referred to simply as "the Bullcreek shops") are the Target department store and Woolworth's supermarket. But there are a number of specialty stores too, where you can buy clothing, jewellery, and much more. If you're feeling a little hungry, there are several options to choose from including fast food, baked goods and pastries, cafés and lunch bars inside and outside the Bullcreek shops.


The Bull Creek shops are not only on a main road, but also in a residential area and within close range of local schools – making them the convenient choice for families' daily needs as well as an after-school hangout for students.


Directly opposite Stockland Bull Creek (on the other side of South Street) are several health and professional services including a doctor's surgery, optometrist and solicitor. Behind the shopping centre is the Bull Creek Library and Community Centre (accessible from Leichhardt Street or Hassell Crescent).

The other shopping complex in Bull Creek, located on Parry Avenue, is open seven days a week and known as Parry Village. It's an appropriate name, because it's laid out a bit like a small village with a friendly atmosphere. There's a distinctly foodie flavour here, with several restaurants and an oriental supplies shop, as well as an IGA supermarket.

The Bull Creek Hawker specialises in Malaysian and Singaporean cuisine and has a loyal fan base, serving delicious dishes such as laksa, chicken rice, hor fun and yee mee. Other Parry Village restaurants include Bull Creek Curry House, Bullcreek Chinese Restaurant, and Kai Japanese, which is quite popular but a bit small and cramped, so many choose to order takeaway from them instead of dining in.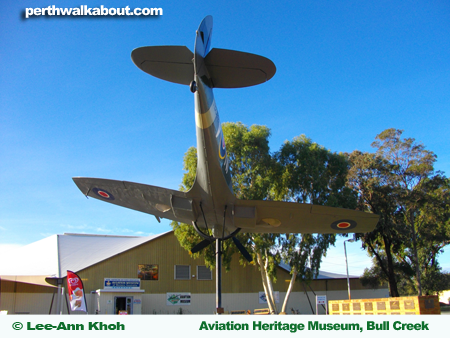 One of Bull Creek's hidden gems – especially if you're an aviation or history buff – is the Royal Australian Air Force Association of Western Australia's Aviation Heritage Museum. It's located within the Air Force Memorial Estate – which also houses the AFA Club headquarters and aged care facilities. The Aviation Museum officially opened in 1979 and is home to the largest collection of aviation memorabilia in Australia. On display are old restored planes and replicas along with other relevant artefacts such as books and photos. You can easily spend a couple of hours at the museum and highly knowledgable volunteers are available to answer your questions.

As far as recreation goes, there is no shortage of parks and reserves in Bull Creek, many of them near schools. It's common to see local sporting matches at these grounds, as well as people simply having fun when there aren't any organised games on. Bullcreek Tennis Club, located in Bob Gordon Reserve, hosts tennis tournaments and social matches, along with social events.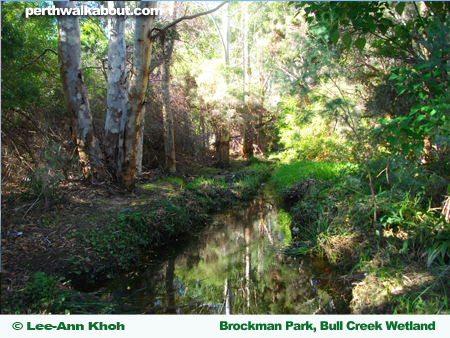 To the north of the suburb is the Bull Creek Wetland, which encompasses a series of reserves near All Saints College and Rossmoyne Senior High School – culminating in the Canning River inlet at Leach Highway. The actual creek runs from Brockman Park, and through Reg Bourke Reserve, Richard Lewis Park and Bateman Park before joining up with the river. If you're looking for a beautiful spot to explore or relax while still being within reach of everyday facilities, you can't go past these reserves.
How to get there:
From Perth Train Station, take the Mandurah Line down to Bull Creek Station or Murdoch Station (which is down the road from Stockland Bull Creek). From there, you can walk to your destination or catch the appropriate bus service.

Other Perth Walkabout Articles

Leeming - Suburbia that Strikes a Cord with Families

Willetton - Families, Fun, Fitness and a Taste of Asia

South Perth - A Shining Star that Beckons with Old Favourites