Details

Category: Local Area Guide
Published: Wednesday, 19 September 2012 12:32
Written by Shana Chong

At last, spring is in full swing! In Fremantle, the terraces are buzzing and the chants of the market traders are matching the beats of the baristas. There's a certain character about Freo that makes you feel wholly connected to the community. With its somewhat laid back atmosphere and kaleidoscope of cultures, the city seems to come into its own during the warmer months. Its splendour provides a colourful backdrop to the Indian Ocean.

Fremantle has always been bustling. Over the years I've also noticed its gentrification tipping over into South Fremantle. Keep venturing along South Terrace and you will come across some up and coming establishments. Discover the great coffee and breakfasts at the Oolong & Lincoln café. Missy Moos happens to be one of the most talked about burger bars in Perth. There are also a bevy of hotels and pubs to choose throughout the south end of the terrace.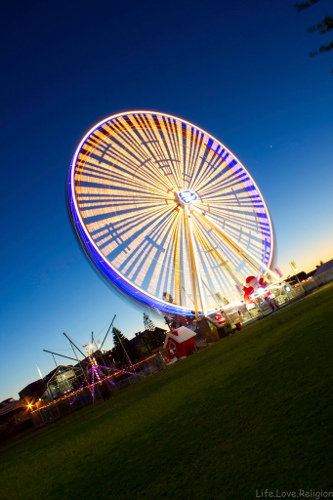 Ferris Wheel, Fremantle
Photo Credit: Flickr/Daniel Lee

Take advantage of the warm balmy weather and explore some unfamiliar sights. You might be surprised that there is a neighbourhood gem right under your nose. Here are some of my top picks for a visit to Freo during spring.


Fremantle Markets
Going to the weekend markets here is one of my all-time favourite pastimes. What's not to love? There's fresh fruit and veggies in abundance and gourmet delights. It's often tempting to come here on an empty stomach and just work your way through, starting with curry – it's hard to choose between Thai or Indian - and snacking on curly fries or organic doughnuts along the way. You can stop by the specialty bakery stores and stock up on artisan style breads. Whatever happens, always leave room for the creperie from Michele's Crepe Suzette stall. My favourite is the nutella crepes. They even cater for dairy free, egg free and rice and batter crepes. I'm going back for seconds. Ooh la la! If you're a sweet tooth, you will certainly look out for the confectionery store that stocks UK, USA and New Zealand lollies.

As a local, the markets appeal to me as I can often source local and hand-made beauty products such as soaps, oils or hand creams. It's rustic, chaotic and attacks you on all senses. If the crowds get to you, you can always pause for a massage treatment. It simply is one of the most visceral forms of shopping left in Perth.
Fishing Boat Harbour
In contrast, the Fishing Boat Harbour offers attractions of a different kind. The newest addition to the harbour area is the ferris wheel. Officially called the Skyview Observation Wheel, in Esplanade Park, the site has good potential. It's situated near the high pedestrian traffic flow linking the Esplanade to the Harbour. Launched for a limited time last summer, I hope they make it a permanent site. Location is critical as we've seen the fate of the observation wheel at the Perth Esplanade and not to mention the multi-million dollar investment in Melbourne, which has seen a number of delays.

On the harbour itself, there's dining choices aplenty with seafood restaurants surrounding the area. For nostalgic reasons you can dine at the one of Fremantle's fish and chips institutions, Cicerellos, or one of the other restaurants/cafes along the harbour. Fish and chips always taste better near the water.
Dare I say Little Creatures?
It seems this establishment keeps on growing and growing each year. The empire has stretched to Victoria, with a dining hall in Brunswick Street, Fitzroy, and a new brewery planned for Geelong. For those uninitiated, Little Creatures has put craft beers on the national map. There's a brewery, restaurant and Creatures Loft is a nice alternative to the brewery space. On a Sunday afternoon, enjoy a few drinks and snacks, along with the fresh sea breezes. Bring the kids along too, the Loft has board games for their amusement.
WA Maritime Museum
Just around the corner from Fishing Boat Harbour, the WA Maritime Museum on Victoria Quay is home to Australia II, the winning yacht of the epic America's Cup race in 1983. The museum itself is an architectural marvel and its design is symbolic of the significance of maritime events that shape our identity as a nation. The building should be as celebrated as the Sydney Opera House. As one of the more underrated tourist spots in Fremantle, this landmark attraction is highly recommended. Opens daily (except public holidays, check the WA Museum website for details).
S
unset views from South Mole
There are so many reasons to explore Fremantle Port. You can cycle, walk or take a leisurely scenic drive. Find a park on the north mole or south mole and watch the sun go down. For me, there's nothing more breathtaking than watching a golden sunset. At south mole, which is at the end of the pier on Fleet Street, you're surrounded by scenery from the lighthouse and recreational fishermen (or women).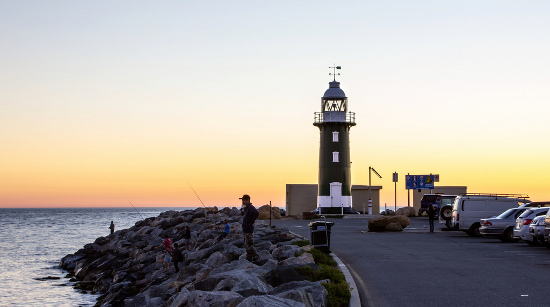 Relaxing Sunset, Fremantle
Photo Credit: Flickr/Daniel Lee
University of Notre Dame
For a scenic walking tour, the University offers free tours to the public every Friday. This presents a novel way to explore some of the more historic buildings around Fremantle and a fresh look at the historic campus.
The Norfolk Hotel
Locally known as 'The Newie', the hotel has a great local vibe and its kitchen produces delicious meals. I'm fond of the pizzas, steak and seafood dishes available. The combination of locally made beers and fresh local ingredients make a perfect accompaniment for a night out. Check out the ginger beer on tap!

Below are some events coming up in the spring calendar at Freo, including:
The Fly by Night Club

The popular Fly by Night Club 'The Fly' offers live music and a fully licensed bar. Kick off the spring season in style and attend a live performance by local and international indie artists and bands. From blues to folk and rock, you'll be sure to find something to suit your taste in music.
Fremantle Festival
28 October – 11 November
Fremantle's celebration of parades and popular street festivals returns for another year.

Shana Chong has a passion for travelling, wellbeing and good food. She studied journalism in Perth and can be found at www.mouthtomouthfoodie.blogspot.com.au. She is a frequent visitor to Perth and currently lives in Melbourne.
For more things to do in Fremantle and other top spots in Perth, please scroll to the bottom of this page to read our Related Articles.
If you enjoyed this article, please share it!