Details

Category: Local Area Guide
Published: Wednesday, 23 May 2012 11:52
Written by Alex Taucher
I like to go out for breakfast on Saturday mornings. It's usually the only morning that I get off on a week. I had been out with a friend on Friday night in Freo, and it was only fitting that I ventured back for breakfast. Surely such a good night out could be followed by a fabulous breakfast?
I parked at the 3 hour parking lots by the Old Shanghai – because I thought it was the cheapest at only $1.70 an hour to park there, and then found out its only $1.50 an hour at Queensgate…duly noted for the next time I head to Freo, although I recommend always taking public transport there, it just takes the hassle out.
I decided to try something new this time, and head to La Tropicana for breakfast. La Tropicana is a brightly coloured open air café with a fabulous tree located on the corner of High Street and Queen Street. It is next door to a second hand bookshop, in case you are friendless (like me) and want a good book to read to pass the time. Because it was so late in the day, I decided to actually have lunch (a burger) instead of breakfast (pancakes). I followed that with a watermelon and pineapple juice, grabbed a (free, cold) bottle of water and set myself up at a table under the tree.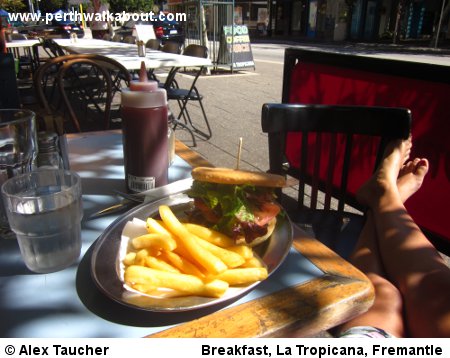 Now…my burger was pretty good, it was a lovely meaty patty, nicely toasted bread, plenty of salad and a side of chips for just $14. The chips weren't as crispy as I'd like them to be, and the tomato sauce really let the burger down, but other than that, it was fresh, healthy and filling. I like the juices at this place because you can make your own combo and they don't put ice in the glass so you get maximum juice and minimum loss – I did have to ask for ice coz it was such a hot day. And so, I sat…for about an hour…eating, drinking, reading and people watching. It was wonderful! Oh, and my friend Matty came to join me later, and ordered the eggs benedict with salmon…on very very crusty bread. It was a generous serve, and apparently tasted delicious!
Now the main reason for getting breakfast in Fremantle was so that I could go to the op-shops. I had a very important 'party shirt' party to go to on Saturday night, and where else to get a party shirt than an op shop?! Freo has 3 main op-shops…Good Sammys (Good Samaritan), Vinnies (St Vincent de Paul) and the Salvos (Salvation Army) – all conveniently located across the road from La Tropicana.
Good Sammys is my favourite…it is the cheapest, with a wide range of clothes and a separate store for books, videos and toys. I actually ended up getting two party shirts here (because they were half price!) and had fun trying on a spectacular denim trench coat.
The Vinnies in Freo is more like a vintage boutique – most of the clothing is hand picked form the other Vinnies stores, and its usually quite 'expensive' for an op-shop. Although, because the clothes have already been chosen as 'the best' you don't have to search through endless clothing racks to find something good.
The Salvos is usually the best place to find something…mostly because it is the most 'popular' op-shop, when you think of getting rid of clothes, you usually drop them off at a salvos before any of the other stores. The Freo Salvos also has a large range of books, kitchen accessories and furniture.
(Note, that because the Fremantle op-shops are so popular with the hipsters, it is sometimes hard to find something good).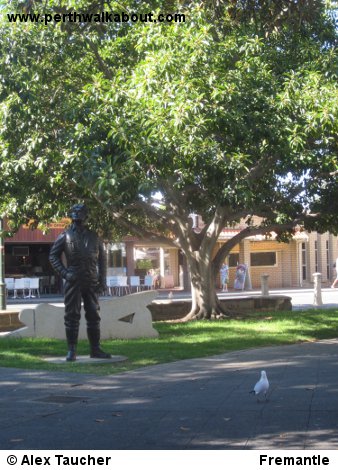 Before heading off, we had to check out the markets set up outside the Fremantle Town Hall. These markets are set up on a Saturday, and unlike the 'Freo markets' (on the corner of Henderson Street and South Terrace) they have constantly changing stalls and (as far as I know) only there on Saturdays. We stopped to listen to some live music there, grabbed a coffee out of a camping van (set up as a coffee shop) and tried some spicy chilli sauce. There was a great range of funky gift ideas, jewellery and some good looking Thai food (note to self).
So find a sunny Saturday morning, and get yourself down to Freo for some cheap eats, cheap shopping and a wander in the markets!