Details

Category: Local Area Guide
Published: Friday, 11 January 2013 12:39
Written by Nita Teoh

Highgate may be one of the smallest suburbs in Perth but don't be deceived as it has many temptations to lure you in for a visit, including some hidden gems that you may not be aware of if you're not from this neck of the woods.
Its popular café strip on Beaufort Street has a fantastic mix of pubs, restaurants and shops and is easy to get to, being only 2 kilometres north of the Perth CBD and an easy bus ride from the city.
Most Perthites are familiar with Northbridge, and possibly Mount Lawley, depending whether you are a north or south of the river person. Highgate is wedged between these two other well known suburbs.
The suburb's residents are a melting pot of ethnicities - you only have to walk by the Highgate Primary School to notice the many different nationalities that make up the residents of this suburb.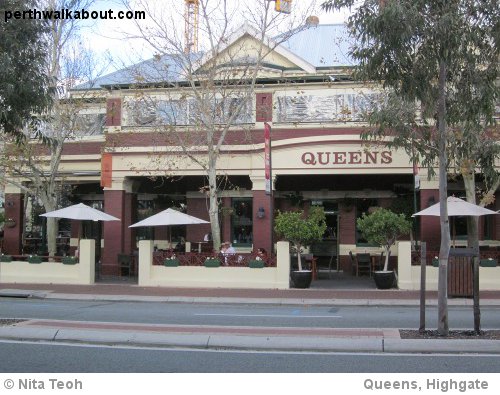 Walking down this strip you will notice the ever so popular Queens Pub, set in a lovely historic building amongst beautiful plane trees. Its alfresco area is always lively, and is a regular institution for Sunday session goers.
Lincoln Street is a landmark for finding the best cafes and patisseries where the locals go. You can find an unassuming French patisserie shop conveniently located on the way to Hyde Park if you walk down Lincoln Street heading towards William Street. Cycling along this route to Hyde Park with my focus firmly on the traffic ahead, I can't stop myself from gazing inquisitively into the windows of the French patisserie to see what delights Nick has on offer for the day.
Set amongst the residential houses in Highgate, the patisserie building's only giveaway is its orange awning. Nick, the French owner and baker, makes a delicious range of pastries on his premises - a repertoire of tarts, croissants, and bread to keep hungry appetites at bay. He's not much into bread machine slicers, and if you want your bread sliced, he will slice it by hand the good, old fashioned way.
Just across the border is Hyde Park and after your pastry gastronomy, you may feel that some exercise is in order. There is a circuit of exercise fitness stations around the lake, so if you need your fix of exercise amidst very beautiful surroundings it's the place to head to. You'll also find groups doing tai chi and boxercise, and cultural groups practicing their dance routines on stage.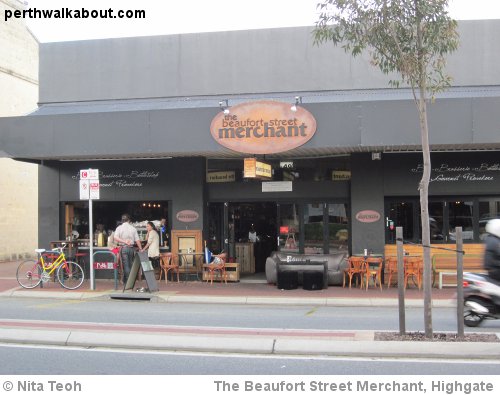 If you need a caffeine fix, Highgate is spoilt for choice. Favorite Highgate coffee haunts by locals include Beaufort Street Merchants on the main drag and Lincolns 102.

Lincolns 102 is tucked away in the burbs on Lincoln Street, just off the main drag of Beaufort Street. The décor of Lincolns 102 is cosy and inviting, and the range of sandwiches, rolls and cakes even more so! The locals love Lincoln 102 and it's a popular spot on the weekends for breakfast and every morning where you'll find Highgate residents having their morning fix of caffeine to charge up for the day.
Soto Express Cafe on the corner of Mary Street and Beaufort Street has now closed, so it will be interesting to see what it is replaced by.
For Asian groceries, try the Daily Supermarket at 527 Beaufort Street (closest corner is Harold Street). One nice thing about Daily Mart is that if you're looking to cook a recipe that calls for different ingredients, the shop does a fantastic job of labelling all its aisles so that you can easily locate exotic spices and herbs for your culinary cooking adventures.
It also usually has on tap a range of interesting tropical fruits, think funky pink dragon fruit or smelly durian, and Asian vegetables such as the bittergord (a name given for very good reason!) or Chinese kai lan and other Chinese vegetables.
You'll find a whole range of interesting cafes, restaurants, and shops along Beaufort Street in Highgate. Try Elmar's Smallgoods for German small goods provisions, cured meats, cheeses, and if your are dropping in on a Saturday morning, a tasty German snagger in a bun.
Cosy wine bars in Highgate include the Must Wine Bar at 519 Beaufort Street, and Luxe Bar at 446 Beaufort Street. Across the Highgate border in Mt Lawley, you'll find Clarences Bar at 566 Beaufort Street, and the Five Bar at 560 Beaufort Street.

Then there's a degustation of many courses at Jackson's if your wallet is up for the food gastronomy.
There are old favourites like Mykonos which has had a facelift, and the Old Saigon for Vietnamese food.
Some restaurants to have hit the strip and which are well worth a try are El Publico for Mexican tapas, Raah for Middle Eastern food, and Barolo at 448 Beaufort for North Italian food. Then there's also Bos Taurus steakhouse at 550 Beaufort Street and Gurkhas for Nepalese food on the corner of Beaufort and Bulwer Street.

Going past Bulwer Street, a hop, skip and jump will bring you onto Brisbane Street and William Street in Northbridge.
If you continue along Beaufort St, you'll find yourself on Brisbane Street and William Street, with a whole plethora of Northbridge restaurants, cafes and eateries to discover. Another Perth Local Area Guide for another day.

For more Related Articles, please scroll to the bottom of this page.

If you enjoyed this article, please share it!