Details

Category: Local Area Guide
Published: Friday, 07 October 2011 09:34
Written by Nita Teoh

Maylands - an inner city suburb located on the eastern side of Perth, is approximately 4 kilometres from the Perth CBD. Its local café strip on Eighth Avenue has seen interesting changes over the last few years, and has been transformed from a relatively quiet area to a bustling and thriving café strip.
Eighth Avenue offers an interesting and eclectic mix of retail shops and eateries. Browsing the strip, you'll find restaurants offering tasty culinary delights from all over the world, trendy cafes, specialised retail shops, and essential services.
The café strip receives a steady stream of visitors as commuters make their way to the nearby Maylands train station, located at the end of Eighth Avenue. If you are standing on the corner of Whatley Crescent and Eighth Avenue, and cast your eyes over the tracks past the Maylands train station, you'll spot a lovely looking heritage building of Edwardian style. Back in the 1900's it was home to the Peninsula Hotel. Today, it is home to Dome Café Maylands, one of many Dome cafes in Perth.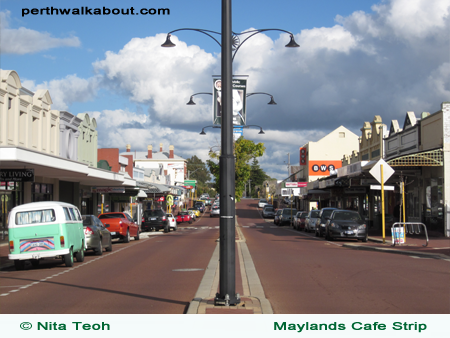 Some of my favorite picks of cafes along the strip include Mrs. S, located on the corner of Whatley Crescent and Eighth Avenue which has a relaxing ambiance and tasty food. Looking down Whatley Crescent heading away from the city, you'll discover Chapels on Whatleys, a homeware shop offering antique style furniture and homeware with an Asian theme. Don't forget to stop for a cuppa at Chapels on Whatleys. They stock a great range of leaf teas, and their courtyard is a pleasant escape from the hustle and bustle of Eighth Avenue.
Still heading down Whatley Crescent away from the city, you'll also find the Sherbet Café and Bake Shop. The Sherbet Café is especially popular with the ladies in the mornings for a shot of caffeine and a muffin to go.
Returning back to the main strip of Eighth Avenue itself, there is a small IGA, a vegetable shop and a few Asian grocery shops, including an Indian, a Thai and a Vietnamese shop for groceries and other special provisions.
If you're dining out, there's The Ploy Thai Restaurant, which is well established and reliable for Thai food. Leo's Pizza and Pasta is a Maylands institution that has stood the test of time, and serves traditional Italian fare. Those looking for a quick takeaway or dine in meal, could try a kebab, pide or pizza at Oscar's, or the old fish and chips cum curry (sounds strange, but both are good!) at Maylands Indian Take Away Curry House. The Maylands Indian Take Away Curry House offers tasty and authentic food at a very reasonable price.
Heading to the corner of Eighth Avenue and Guildford Road you'll find Rifo's Cafe, know affectionately by the locals as Rifo's. It's busy and cheerful all day, and serves up a mean brew of Italian style coffee, along with a good range of lunch and dinner choices.
Other cafes to try include the Bakery Café, and Milkd (the sister shop of the Milkd on Angove Street in North Perth). If you are looking for local gifts, browse the Art Gallery of the Bakery Café for some eye-catching pieces of pottery, artwork and jewellery.
Milkd is popular for office workers catching breakfast in the morning and for the cycle brigade on the weekends. You can sit back, enjoy an alfresco coffee on the sidewalk, and watch the world go by. You'll spot an interesting mix of local residents and visitors across many ethnicities.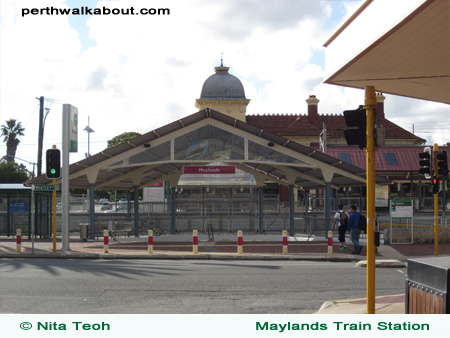 Maylands has been dubbed as the next trendy Subiaco. The Government's latest development plans includes rezoning the area to create six special areas surrounding the train station, with a transit oriented focus. The transit oriented development is starting to take shape as new residents and businesses occupy recently constructed premises along the strip.
Maylands is a suburb that has many attractions, whether you want to enjoy the café strip or venture further to explore its natural beauty – such as a long walk along the Swan River. Stay tuned at Perth Walkabout for a future article which will explore favourite recreational spots in Maylands.
Its slight roughness around its edges, and its up-and-coming vibe is what makes the Maylands strip unique and a delight to explore. Its starting to get trendy, but hopefully not too trendy.