Details

Category: Local Area Guide
Published: Wednesday, 26 October 2011 11:23
Written by Nita Teoh
Mt Lawley is a wealthy inner city suburb located approximately 4 kilometres north of the Perth CBD. It is a grand old suburb whose heritage homes and mansions display the architecture of yesteryear, and whose avenues are tree lined with the blooms of the beautiful flowering Jacarandas during late spring. From rambling homes to pristine, manicured gardens, the suburb is only a step away from a bustling cafe strip. Its traditional grid structure makes it easy to navigate, just remember the avenues, Beaufort Street and Walcott Street, and you should be able to orientate yourself quite easily.
If you take a walk through Mt Lawley, you'll find Perth College, the oldest Anglican girls school in Perth, whose establishment dates back to the early 1900's. Some of the old architecture is still in existence, juxtaposed against the structures of its modern buildings, whose presence has expanded throughout Mt Lawley to meet the growing needs of the school community.
From Perth College, you can walk to the top of Farnley Street, which has commanding views of the Perth city skyline. Throughout Mt Lawley, you'll find cafes tucked away in nooks and crannies such as Coode Street Cafe, known only to the locals, and part of many families Sunday brekkie ritual. There are also some lovely B&Bs, such as Durack House, that are scattered through Mt Lawley for holiday makers seeking a relaxing stay in Perth, yet at the same time close to all the action.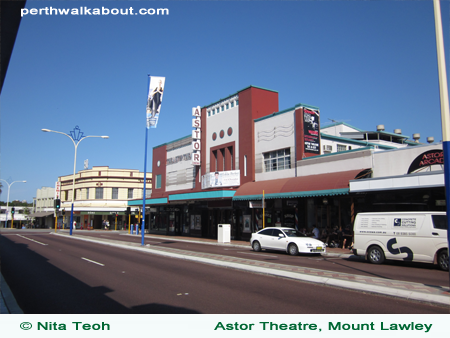 If you are a fan of Art Deco architecture, talk a walk along Beaufort Street and Walcott Street. There you'll find the iconic Astor Theatre at 659 Beaufort St, somewhat of an institution for movie buffs. It's had an interesting past, with fits and starts such as its well publicised closure back in the 1980's. It has kept up with the demands for entertainment today, and currently it is a thriving venue for local and visiting bands, and independent cult movies. Returning back to the topic of Art Deco, other examples of fine Art Deco architecture can be sighted at the Alexander Building, home to the Dome Café and other retail shops on the corner of Beaufort and Walcott Street, and Clarkes Building, home to the Flying Scotsman Bar and Restaurant.
If you are looking for some home entertainment, Planet Video caters to a wide range of eclectic tastes, ranging from Festival, cult and anime movies through to more mainstream options - you'll be sure to find a movie or genre to your liking. Or if you're an avid bookworm, wander through from Planet Video to Planet Books to browse their unique selection of books.
Eateries, dining and pubs line the Mt Lawley strip, as punters head to their local favourites for some weekend action. Along the strip, you'll find a range of cafes and restaurants such as Monte Fiori and the Globe Coffee House on Beaufort Street.
You'll also find sushi on a conveyor belt tucked away down the arcade off Walcott Street, or the cheap and cheerful Tampopo that has shifted from the depths of the arcade to a front store position along Beaufort St.
Hanami does a roaring trade on most nights of the week. Then there's the Flying Scotsman opposite the IGA, who's facade has seen numerous facelifts over time.
Take away Swish and Chips is reputed to have some of the best fish and chips in Perth. If you're in the area during the weekdays, their daily specials could be convenient. Grill'd along Beaufort Street is popular with the younger crowd for a burger at any time of the day. The burger joint serves up delicious burgers made with quality ingredients, along with the usual sides of fries. Cantina 663 in the Astor Arcade serves up fine European fare and next to Grill'd is also a popular spot for coffee.
Cafes, Caffissimo, ExoMod coffee and DOME café are all plugged in with free wifi if you're needing to do a spot of web surfing. The Scents of Taste is a French bakery that is popular - it's tucked away on Walcott Street.
Head further down Beaufort Street to discover more eateries and temptations, including curry houses, tapas, and wine bars. You'll find more cafes, pubs and wine bars in neighbouring Highgate, and further afield in Northbridge.



All that talk of cafes in Mt Lawley has certainly made me peckish, and I could continue with the round up of best restaurants along the strip, but I will save that for another article to guide you through the remaining restaurants as we head down Beaufort Street.
Catching the train is an easy option to get to Mt Lawley. The Mt Lawley Train Station is a stone's throw from the Mt Lawley café strip, and the strip itself is about a 3 kilometre walk. Not all trains stop at the train station, so you'll want to check the train's schedule before boarding the train to Mt Lawley.
Enjoy your explorations in Mt Lawley - you'll discover something different along the strip each time you visit. Mt Lawley has one of those café strips that has stood the test of time and which has a little something to offer everyone. It is also a grand old suburb steeped with a lot of character and history, in contrast to the hip and happening vibrant café strip.