Details

Category: Local Area Guide
Published: Wednesday, 17 April 2013 09:42
Written by Nita Teoh
Did you know we have our own Broadway in Perth? It may not be as famous as a Broadway show, but it's definitely worth checking out if you live in the metro area.

The iconic Crawley Edge boatshed, windy Pelican Point and the bustling café strips on Broadway and Hampden Road are just some of the popular landmarks that you'll find in the suburbs of Nedlands and Crawley.
Nedlands and Crawley are adjoining wealthy river suburbs located north of the river approximately 7 kilometres from the City. Their population includes a mixture of long time residents interspersed with the students of the University of Western Australia. If you walk along the foreshore in Crawley, you can enjoy the views of the Swan River and the ebb and flow of life around the river - it's a prime piece of Perth real estate.
Yachting and boating on the Swan River is especially popular on the weekend, and Crawley is home to the Mount Bays Sailing Club and the Royal Perth Yacht Club, both located at Australia II Drive.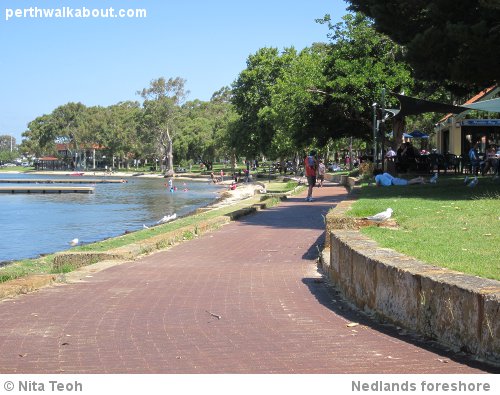 The foreshore along Crawley is a great spot for a picnic or a meal whilst enjoying the scenic views of the Swan River and the city skyline.
If it's coffee time, head to the Matilda Bay Tearooms at 5 Hackett Drive, Crawley for a cuppa, a tasty snack or a light meal. Fish and chips, toasted sandwiches, and cakes are some of the treats on offer at the tearoom. While you are busy eating, the kids can stay entertained splashing in the water, or having a go at paddling their kayaks near the tearooms.
Heading up the road to 3 Hackett Drive, the Matilda Bay Restaurant is a popular venue for fine dining and weddings. Continue your walk along the Matilda Bay foreshore, and you'll hit Pelican Point, where you'll find kite surfers and windsurfers chasing the wind at one of the popular local haunts for water thrillseekers.
Continuing along Hackett Drive, you'll find another classic fine dining restaurant at Jo Jo's on the Broadway Jetty. If you then head across from Jo Jo's heading towards Broadway and veering towards the left, you'll find yourself at the bottom of the steps of the heritage home Dunlop House.
The two main café strips in Nedlands are Broadway which is to the left of Stirling Highway if you are travelling from the city and heading towards Claremont. On the right of Stirling Highway is Hampden Road. Both café strips have an abundance of great cafes, restaurants and pubs.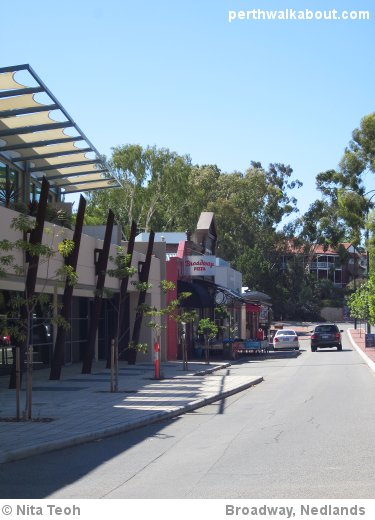 On the Broadway side, you've got Heather's Hutch, perfect for lunches, including their tempting dessert slices. There's the iconic Steves pub which has transitioned over the years to its modern premises and is a popular watering hole for students and workers alike.
There's the French patisserie La Galette at 125 Broadway that offers coffee, crepes and little delectable pastries in their enticing showcase. Take note that on Sundays they close early at 2pm. It will be all tears for lovers of fine patisserie if you arrive to find La Galette shut…don't say you weren't warned!
Further along the strip, there's the Broadway shopping centre, with a selection of Asian restaurants, the Ararat Turkish kebab takeaway, an IGA, and Kong's for Asian groceries tucked away at the back. There's also the Japanese restaurant Kido's at 1/126 Broadway Crawley that serves up delicious Japanese food.
Continuing along Broadway, there's the cheap and cheerful Chilliz - at $5 a pop hordes of hungry students descend on this small eatery every day to satisfy their hunger. Note that their chicken dishes are free range chicken, sourced from Mt Barker. On the dessert front, tempting Asian desserts like sago are on offer.
When you get close to the corner of Broadway and Stirling Highway, you'll find Barrett's Bread at 19 Broadway which is a regular coffee pitstop for cyclists taking a break during their early morning bike rides.
Swinging across to the other café strip on the Hampden Road side, one of my favourites is the Italian restaurant Lambretta Cucina at 45 Hampden Road. They do a roaring trade at dinner times, with tempting pasta dishes and main dishes such as veal scallopini on offer. One would be remiss in not mentioning their tasty tiramisu. The atmosphere is warm and lively at Lambretta and upon leaving the restaurant, don't be surprised if you get a toot toot by Morris the owner from his fire engine red car to say goodbye!
There are plenty more restaurants to check out on the strip, that cover the whole spectrum of palates. There's the G'fun Café for cheap and cheerful Asian to La Lola for Italian, and Wild Duck for some modern Australian cuisine.
All that talk of food has made me hungry, yet again. As with all café strips, restaurants come and go, so if you have noticed any changes to the Nedlands café strip and would like to report on any new outstanding stars, we'd be most delighted if you could let us know in the comments below.

For more Related Articles, please scroll to the bottom of this page.
If you enjoyed this article, please share it!