Details

Category: Local Area Guide
Published: Tuesday, 23 August 2011 13:53
Written by Vicki Sly
West Perth is a suburb located just a heart beat away from the inner city centre of Perth that is often overlooked by visitors but has plenty to offer if you care to get up close and personal.
It is home to an eclectic mix of businesses ranging from medical specialists to mining and commerce, swanky high-rise residential apartments and restaurants and retail outlets. It is bordered by Perth, North Perth, Subiaco, Northbridge, Leederville, West Leederville and Perth's stunning Kings Park.
During the working week, West Perth hums with the buzz you would expect in the commercial world and often people don't visit the area unless they have some business that takes them there. Many of the shops and restaurants exist to service the working population so come the weekend and the pace changes somewhat.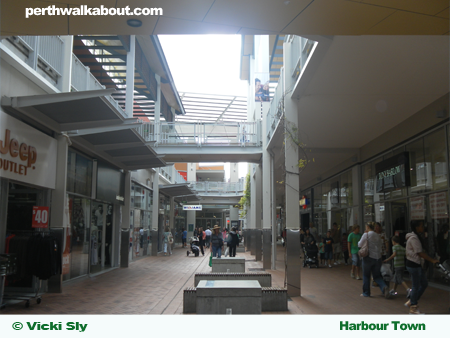 What West Perth does have however, is a large number of high quality restaurants and a retail outlet complex called Harbour Town which is open every day of the week. It is also home to Western Australia's Parliament House, a number of lovely gardens and it is a stone's throw away from Kings Park. All this should be enough to tempt visitors to at least come and take a look at this lovely suburb.
The brand outlet shopping centre Harbour Town at 840 Wellington Street is a shopper's heaven with two levels of stores that offer bargains at below retail price. It has everything from clothing, jewellery, kitchen and music stores through to cafes, restaurants, books and sports. Parking is at the door.
The centre opened in 2003 and is located on the site of the old Perth Metropolitan Markets which were a local landmark between 1929 and 1989 before relocating to Canning Vale. I am showing my age when I can remember driving up from the country with a truck full of potatoes to the middle of West Perth!
If politics and history are more your style, then a tour of Parliament House may be the way to go. Located on Harvest Terrace in West Perth, public tours are conducted every Monday and Thursday from 10.30am. People wishing to take a tour are asked to assemble at the main entrance at least five minutes before the tour starts.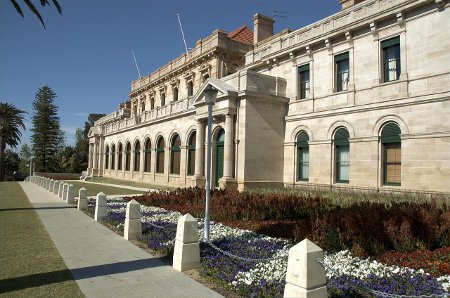 Parliament House, Perth, WA
Photo Credit: Wikipedia/Nachoman-au


Despite all of the infrastructure and buildings, West Perth is a very green suburb with a number of lovely gardens scattered throughout. One of the most popular, particularly for weddings, is Harold Boas Gardens which is located on the corner of Wellington and Havelock Streets. The gardens take their name from architect and former councillor Harold Boas and feature a playground, waterfall and some beautiful trees originating from the early 1900s. If you visit there on a weekend, you are bound to see at least one wedding in full swing.
If nothing else takes you to West Perth then let the wonderful mix of high quality restaurants tempt you. One of my favourites has to be the Royal India at 1134 Hay Street. It specialises in fine dining Indian cuisine and although not cheap on the purse, it is a lovely restaurant with fabulous service and consistently great Indian food.
Another charming eatery is Perugino Restaurant at 88 Outram Street. This is considered one of Perth's premium Italian restaurants, and that's a big call considering how many Italian restaurants Perth has to offer. Chef and owner Giuseppe Pagliaricci goes over and above to make sure everything is perfect.
How to Get to West Perth
West Perth is literally walking distance from the centre of Perth if you are reasonably active and have a decent pair of shoes. Otherwise, jump on one of the free yellow CATS (central area transport service) that run from East Perth to West Perth every eight minutes on weekdays and every 15 minutes on weekends.
Do you live, work or play in West Perth and have a secret to share? How about letting us know so we can spread the good oil?