Details

Category: Markets
Published: Wednesday, 03 October 2012 11:30
Written by Nita Teoh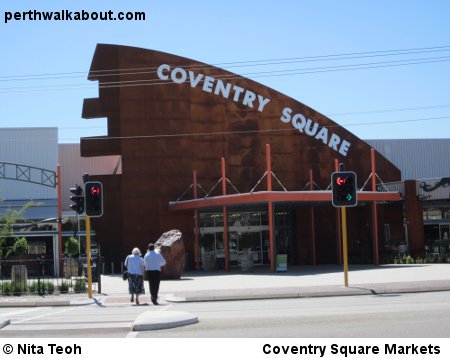 Perth can finally boast its own big markets in Morley, which have become a popular attraction with locals and visitors coming from far and wide.

Coventry Square Markets opened its doors in late 2011 after major development works were completed to transform the old Coventry Group's site to what it is today. Its brand spanking new premises offer up a selection of 170 shops to browse through, sprawled over an area of 11,000 square metres. So it's time to get your walking shoes on!

Located in the heart of the burbs, Morley is approximately 10 kilometres north east of the Perth CBD. The suburb is a busy shopping precinct with Centro Galleria, the old Morley Markets, and retail shops along Russell Avenue and Walter Road servicing the local population.

The markets are open 7 days a week, with the busiest times during the weekends, and things being a tad quieter during the weekdays. The markets span the range of local produce shops – from fresh fruit and vegetable stalls such as Five Seasons Fresh and The Missing Ingredients, to seafood shops such as Chi's Fresh Seafood and Jim's Fish Markets. There are also butchers, speciality retail outlets, and cafes and restaurants.

If you are looking for that elusive ingredient to cook up your favourite Asian dish, there are shops such as Asian Oz Groceries with a Chinese and Vietnamese focus, and Indian Bazaar with an impressive selection of Indian grocery products. When searching for that special Indian spice to cook up your favourite curry, ask away at Indian Bazaar - they will whisk their way down the aisles and find it for you.

The ever popular Abhi's Breads from Fremantle with its range of organic and sourdough breads, cake and pastry delights is always a temptation and for very good reason. And for those wine lovers amongst you, you might just want to know that WA Cleanskin Cellars is located opposite Five Seasons Fresh. Oh yes, and foodies may also enjoy a browse through Perth Online Gourmet or the Fenside Deli.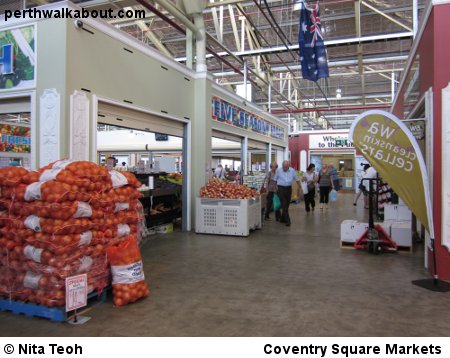 Are you hungry for a snack or a meal? Then head towards the Walter Road West end of the markets. Dotted along this side are a selection of restaurants to choose from that include Basil & Mint for Vietnamese, Chinese and Thai cuisine, the Green Gram Indian Restaurant for a curry or two, and the Sushi Master for sushi on a conveyor belt. Along this strip, you'll also find Hi Tea bubble tea, smoothies and ice drinks. They have even got durian ice at Hi Tea if you are up for the challenge - hopefully it doesn't smell too much in its ice form!

As you enter the markets from the Walter Road side, there are a range of food hall style eateries to choose from. A few of the popular eateries located here include Sevim's Turkish Cuisine and Bula Fijian Indian Cuisine - interesting dishes and friendly customer service.

On the non food side of things, there are $2 shops for the bargain hunters, and other speciality shops selling all manner of clothing, furniture, household stuff, and bric-a-brac. On a related note, it would be nice to see more shops selling locally sourced products and gifts, and I will be keeping an eye out for local stuff as more shops open up at the markets.

There are some comfy lounges in the foyer, which makes for an easy spot to arrange for meeting up with friends, or to just put your feet up and have a break from browsing the shops.

Coventry Markets is still expanding and it will be interesting to see what other shops decide to take up home there in the months to come. It's still early days for Coventry Markets and hopefully it will grow and evolve over time to meet the needs of a market hungry crowd in Perth.

Hope you have fun exploring Coventry Markets.
How to Get There
Getting to Coventry Square is a 30 minute bus ride from the Perth CBD (try Route 21, 22, or 60 from the Beaufort St Museum Stand 1, Stop No 12132) to the Morley Bus Station, which is located along Russell Avenue, then an easy 5 minute walk to the markets. If coming by car, the car park is located next to the complex with access via Wellington Road. For cyclists, bike racks are located on the entrance side of Walter Road East and just outside the entrance to the markets nearest the car park.
If you ejoyed this article, please share it!