Details

Category: Markets
Published: Wednesday, 22 February 2012 11:59
Written by Emily Cordz
Do you want to enjoy delicious, fresh foods, support the local economy and maybe save yourself a little money along the way? If that sounds like you, then you should head to a farmers market in Perth. Living in Perth means you're lucky enough to have lots of markets nearby to choose from. Before you grab your wallet and head out the door, below are a few tips about how to maximise your shopping experience as well as a list of where and when to find farmers markets in and around Perth.
Farmers markets are full of fresh produce, meats, dairy, baked goods and more. It's really easy to go overboard and buy way more than you need. Save yourself the disappointment of spoiled produce and stale bread by making a list first. Having a list helps you focus your shopping so you purchase what you actually need and can consume instead of everything that looks good to you. It will help if you have a general idea of what is in season when, but even if you have no clue you can still create a general list and adjust once you arrive. Remember if there is something that really catches your eye, substitute it for something on your list, that way you don't overbuy, but don't feel limited to what is on your list.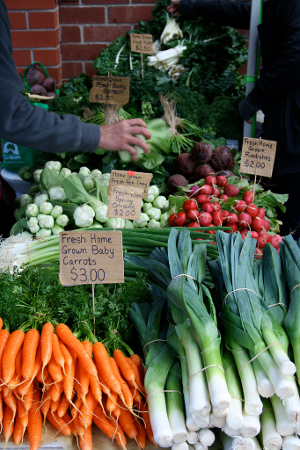 Fresh Veggies
Photo Credit: Flickr/Rusaila Bazlamit

Make sure you bring cash. Some sellers have eftpos machines, but most don't. Even better than cash, bring coins. When it is busy, exact change helps speed the exchange and is always appreciated by sellers. Try to bring a set amount of money so you can stay on a reasonable budget. Farmers markets tend to be more economical in terms of price, quality and nutrition than a supermarket, but if you end up buying everything that catches your eye, you won't only be wasting food when you don't consume it in time. You're also wasting money.
No matter how much preplanning you do before heading for the market, or how many times you've been to the market, the first thing you want to do when you get a market is take a walk around. See what is on offer this week; what looks good and what catches your eye. A walk around allows you to adjust your shopping list accordingly for the offerings that week and helps you spot the best deals. Peak season will have lots of sellers offering the same product, but take a walk around to spot the best price and/or find a seller you like. And that brings me to the next tip for optimising your market experience.
Talk to the merchants. A farmers market isn't just about buying food, it's about forming connections. If you're a neophyte to the farmers market scene, you might feel overwhelmed with choice and find you don't know many of the products on offer. Ask about it. Farmers markets have less middle men, so the people selling the products tend to know the product inside and out. A good seller is more than willing to help you expand your palette and food knowledge. They can tell you about the growing conditions, good ways to prepare various produce, share stories, give you tips on choosing products for what you want to make, and give taste tests.

Don't forget to bring your reusable shopping bags. It helps the environment and is much sturdier than the bags the sellers have on hand. Just remember to wash it between trips.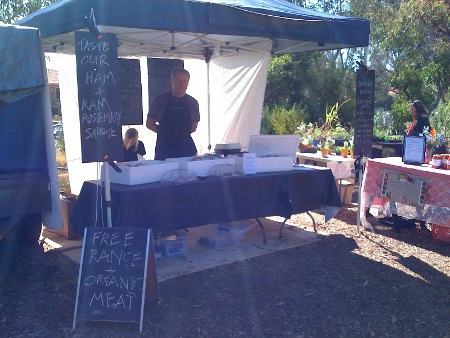 Mount Claremont Farmers Market
Photo Credit: Flickr/Annie Kavanagh, Spencers Brook Farm

Farmers Markets in and around Perth

Below is a list of the farmers markets in and around Perth and time of operations:

Midland Farmers Market: Sunday, including public holiday weekends, 7am till 3pm behind the Town Hall clock in Midland (Old Great Northern Highway, Midland)
Subi Farmers Market: Saturday, 8am till 12:30pm at Subiaco Primary School (271 Bagot Road, Subiaco)
Foothills Farmers Market: Third Sunday of each month, 8:30am till 12 noon at Kelmscott Senior High School Agricultural Centre (Cnr Railway Ave and Cammillo Road, Kelmscott)
Mt Claremont Farmers Market: Saturday, 8am till 12 noon at Mt Claremont Primary School (103 Alfred Rd, Mt Claremont)
Perth City Farm Organic Grower's Market: Saturday, 8am till 12 noon at City Farm (1 City Farm Place, East Perth)
Poynter Farmers' Market: Fortnightly on Saturdays (check website for schedule), 9am till 12 noon at Poynter Primary School (39 Poynter Drive, Duncraig)
Springfield Farmers Market: Second and fourth Saturday of each month, 9:30am till 12:30pm at Springfield Primary School (31 Bridgewater Drive, Kallaroo)
Stirling Farmers Market: Sunday, 7:30am till 11:30am at Council Carpark (25 Cedric Street, Stirling)
The Farmers Market on Manning: Saturday, 8am till 1pm at Clontarf Campus(opposite the Chem Centre) Curtin University (295 Manning Road, Waterford)
Kalamunda Farmers Market: Sunday, 8am till 12 noon at the Central Court in Kalamunda

The above information can change, so double check it on each community or farmers market website. If I missed any, please comment below and let others know about it. Enjoy!

Scroll below for more Related Articles.