Details

Category: Markets
Published: Friday, 13 July 2012 10:59
Written by Nita Teoh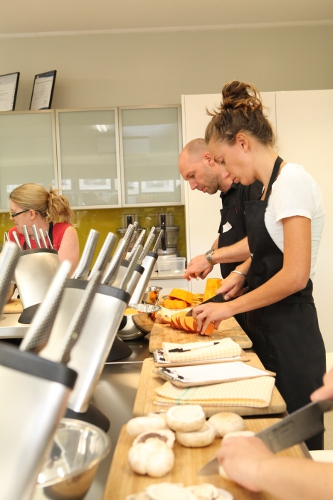 Photo Credit: Electrolux Cooking School at Fremantle Markets

The Fremantle Markets are well known for innovation and diversity, so it's no surprise that they are the home to a place where you can go to not only try new taste experiences, but learn how to whip them up yourself - Electrolux at Fremantle Markets Cooking School.

This hands-on cooking school is the latest brain wave of Alison Clarke, owner and editor of Cravings magazine - which she has established as one of Australia's premier food magazines. So you can be sure that Alison knows her onions!

Alison's main goal is to ensure that her students have the opportunity to be exposed to new foods, tastes and techniques, all under the guidance of a food expert. As Alison says, "This school is about teaching people to cook and be confident in the kitchen and above all, to enjoy sharing new found skills with others".

Alison's cooking school in Fremantle is Western Australia's branch of the prestigious Electrolux Cooking Schools organization that has taken off all around Australia, where all the latest Electrolux appliances are available for students to use in class as they experiment with new culinary creations.

Alison personally hosts all the current classes (along with her team of chef's), and also caters for team building (social and corporate) or children's parties, all tailored to your needs. For further information visit the Electrolux Cooking School at the Fremantle Markets.

For more Related Articles, please scroll to the bottom of this article.