Details

Category: Markets
Published: Monday, 22 December 2014 10:56
Written by Nita Teoh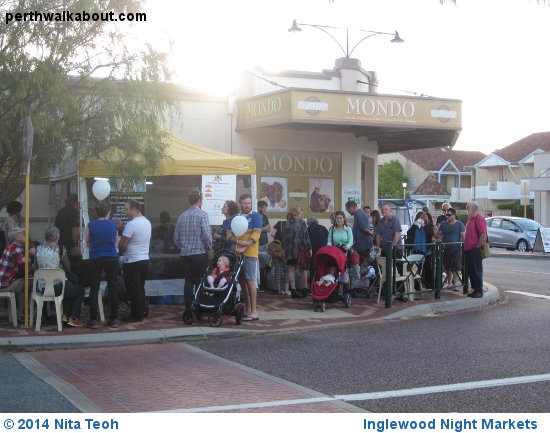 The suburb of Inglewood in Perth was buzzing with a hive of activity as we headed to the Inglewood night markets on a Monday night.

The person behind the idea for the markets is none other than the "Prince of Flesh" Vince Garreffa of Mondo Butchers whose vision is to bring to life the laneways of Inglewood. The markets have been running since their big opening night on Monday 8 December 2014, and it has certainly brought out every man, woman and his dog from the burbs which are usually quiet on Monday evenings.
The Inglewood markets run along Beaufort Street between 6th avenue and 10th avenue with a mix of food vendors, arts and craft stalls, and street entertainment.
On the food front, there is an exciting array of vendors with the likes of Marcelita's Empanadas, Balkan food, Turkish food, Satay on Charcoal, woodfired pizza, pulled pork rolls, falafel, sweet crepes, churros…..you name it, it's likely that tasty food from across many continents will find its way to these markets.
Whilst punters across the road queued up at the pop up food vans, restaurants along the strip were also busy with the Estia Restaurant offering Greek street food, and Jaya and Jessie of Jessie's Curry Kitchen offering hot and spicy options.
Diners enjoyed the balmy evening alfresco at Miss Kitty's Saloon, and at the recently opened and popular A Fish Called Inglewood on 9th avenue.
Pooches in tow also had a ball meeting up with fellow doggie friends in the neighbourhood.
On this evening, we decided to get some satay on charcoal, beef and chicken satay sticks, with rice cubes and cut cucumber pieces in spicy satay sauce. It was delicious as per the last time that we sampled Satay on Charcoal at the Maylands Hawkers Markets.
Our mains was followed with some dessert from my lovely friend Silvana at Peruanisima, whom I last caught up with at the World of Food Festival within the grounds of the beautiful Government House Gardens.
As well as food offerings, there are also fresh fruit and vegetable for sale, live performances by artists at the library area – there was a lady playing on her harp, and arts, crafts and knick knacks for sale.
I picked up cold pressed apple juice from The Naked Apple Beverage Company, a local business based in WA which was refreshing and has great ingredients.
At 730pm, formal proceedings kicked off at the local Inglewood library with a blessing by Pastor Graham Mabury and speeches by Vince of Mondo's and Giovanni Italiano, Mayor of the City of Stirling.
A street party is planned for 31 March 2015 with a possible closure of Beaufort Street which would be a blast – we hope this gets the nod from the councils and planning organisations involved.

The Inglewood markets have been a huge hit and a huge boon for local residents in Inglewood and surrounding areas.

Hats off to Vince, the Inglewood Association / Inglewood on Beaufort, the City of Stirling and all those involved who have made it happen.

It's Monday night again so head on down to check out the action at our own Inglewood night markets on Beaufort Street.

Patrons are encouraged to walk or cycle down to the markets.

The suburb of Inglewood, Perth rocks!
If you enjoyed this article, please share it!
Nita Teoh follows her nose to find more delicious food in Perth! To get the insider's perspective on upcoming events at Perth, follow us @PerthWalkabout