Details

Category: Markets
Published: Saturday, 15 November 2014 07:42
Written by Nita Teoh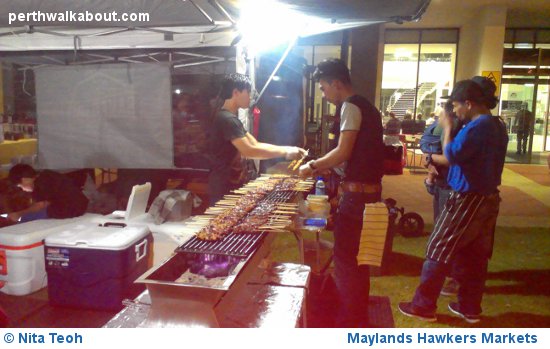 Maylands hawkers markets kicked off the season on Saturday 1 November with the theme of Day of the Dead and it certainly kicked off with a bang. It was a full house and when we arrived, we were greeted to a huge crowd of patrons, family, kids, and dogs in tow, in the area outside the Maylands RISE.
Though it was quite crowded, it was a friendly atmosphere, with people enjoying their meal, chatting, talking, and checking out the food stalls. Kids were kept entertained playing amongst themselves, and running around on the grassed areas.
The markets had a lively atmosphere, and the usual suspects were there including Marcelita's Empanadas, Bangkok Jump, Satay on Charcoal, Delicious Bites for nonya kueh, Amaizing for Venuezuelan food, Portuguese custard tarts from the Tapas Man, to name but a few. There was also a special stand for those with pooch in tow, called Deezi Beez Snackz offering home baked doggie treats and presents.
On this particular evening, we decided to try the offerings from Satay on Charcoal. For a plate of either beef, chicken or mixed beef and chicken, their satay plate also comes with cucumber, pressed rice (or ketupat for the Malaysians and Indonesians), in a tasty satay peanut sauce. The satay meat was tender, the sauce was tasty without being overly too salty, and the cucumber and pressed rice were freshly made.
Satay on Charcoal runs a slick production run – their focus is satay, and the guys manning the charcoal grills, oversee the satay and keep the production running very smoothly. I was impressed by their friendly service, efficiency, and the authenticity and tastiness of their satay, which reminded me of the satay that you get in Singapore and Malaysia. Speaking to the lady at the counter, I also discovered that Satay on Charcoal is also present at the Friday Twilight Hawkers markets in Forrest Chase each Friday night.
We also tried the grilled squid on a bed of coriander, chilli, served with thinly, shredded cabbage from Bangkok Jump. The squid was tender, and nicely done – it had quite a high level of chilli hotness and definitely hit the chilli spot. We finished off the night foodwise with a Portuguese tart from The Tapas Man, and coffee, and staggered back home. The Portuguese tart was very tasty and the pastry was very thin and light.
Maylands Hawkers Markets has been a huge success, and will continue to thrive this season. Each week showcases a slight variation on food stall offerings depending on who turns up for the night. It's Saturday night, so get on down to the Maylands hawkers markets for your local fix of tasty food and cuisines from around the world. Other markets that have sprung up this season to check out include the Mt Hawthorn and Guildford Hawkers Markets.

The Maylands Hawkers Markets runs each Saturday evening from 5pm to 9pm outside the RISE, corner of Eight Avenue and Guildford Road.
We are very lucky people in Perth!
If you enjoyed this article, please share it!
Nita Teoh follows her nose to find more delicious food in Perth! To get the insider's perspective on upcoming events at Perth, follow us @PerthWalkabout