Details

Category: Markets
Published: Wednesday, 06 April 2016 08:52
Written by Nita Teoh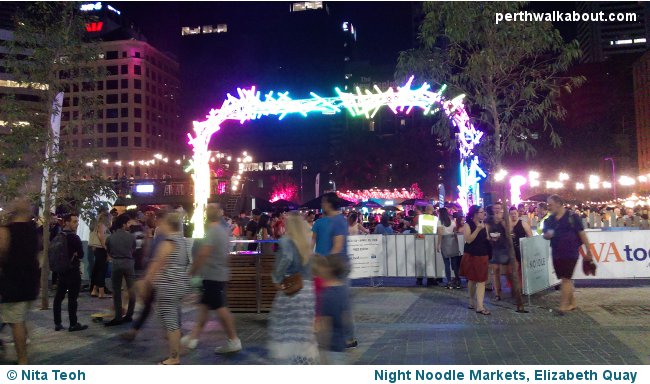 It was cooking hot at the Night Noodle Markets last weekend, and I don't mean just the noodles in the wok, as a friend and I turned up at the markets to be greeted by a very lively market atmosphere.
The Night Noodle Markets at the Elizabeth Quay is being held as part of Good Food Month Perth.

There was a long line to get into the markets, as the guys at the entrance checked bags for any unsafe items, in particular, any items of glass before letting us through to the markets. It's a licensed event with no BYO.
Many different cuisines were present at the market, ranging from Malaysian food, through to Filipino, Vietnamese, Taiwanese and fusion twists on Asian food. Stalls present included Lucky Chan's Laundry, Roti Road, Bao Stop, Bangkok Jump Street, Every Hoy Pinoy, and Everybody Loves Ramen.
The satay stall was cooking hot, as the guys at the helm manned row up row of satay skewer sticks, turning them deftly to cook evenly, as the line of customers to get satay got longer and longer.
Spoilt for choice, we decided to try food from a couple of stalls – chicken satay and beef and potato curry puffs from the friendly girls at Cili Padi Catering by Aunty Muni and some steamed dumplings from the Let's Do Yum Cha stall. All up, the food was tasty.
As we headed off for the evening after our outing to the markets, we took a picturesque walk over the Elizabeth Quay bridge. Visitors and locals alike were enjoying the night time atmosphere of Elizabeth Quay, happily posing for a scenic night time shot of our beautiful Perth city at night by the Swan River.
The Night Noodle Markets at Elizabeth Quay is a hugely successful event that has attracted the crowds.
Get in quick for more wok action at the Night Noodle Markets….there are only a few more days to go before the markets winds up on Sunday 10 April.
If you enjoyed this article, please share it!
Nita Teoh follows her nose to find the latest foodie event in Perth.
Find out about the hottest events around Perth, by following us at @PerthWalkabout