Details

Category: Nightlife
Published: Friday, 25 May 2012 11:57
Written by Becky Jean
Perth is great. We both know that, and that is why you are here right now reading about all of the fantastic things that it has to offer.
So of course, I am always happy to pass on my knowledge of this wonderful City. Such as the best places to go to of an evening if you are a little like me: A 'Nearing 30 Something'.
As I near the big 'three-oh', I am finding that I am not so keen on the club scene anymore. Frankly, I'd rather be in bed, or having a nice glass of red on the couch watching 'Full House' re-runs.
That being said, I do enjoy the odd night out. Getting out of my daggy's for the evening, dressing up a little and socializing over a few drinks. However the tricky part now is finding a place that doesn't make me feel like I'm too old to be there, or like a teenager at a 50th.
So, here I will guide those who feel the same to some of my favourite bars and cocktail lounges in Perth that will make you feel just right.

Photo Credit: Tiger Lil's


TIGER LIL'S
Tiger Lil's has been my number one favourite spot around town for many years now. You never get any trouble, the staff are fantastic, the set up and atmosphere is intimate and funky, and the vibe is always relaxed and fun. There's not much more you can ask for in a venue.
If I'm up for a night out, I will often start with a meal and bottle of wine here. Not just because I can't handle a night out without a good feed before hand, but because the food is amazing.
Having recently changed their menu, you might think it couldn't get any better than it was. But it did.
I urge you towards the Char Kway Teow: Rice noodles with chicken, pork, omelette, bean shoots and spicy sauce. For only $23.95, you won't find a meal like this at this kind of price at too many other great places in Perth.
Tiger Lil's
Restaurant, Bar & Function Centre
437 Murray St, PERTH, WA
Phone: 08 9322 7377
Fax: 08 9481 2008
Trading Hours: Tuesday to Saturday, Lunch & Dinner


CANTON LOUNGE BAR
The same sort of feel as Tiger Lil's but a smaller venue, this intimate lounge bar also offers affordable bites, and a great atmosphere.
Canton is the perfect venue for those folk who like a drink in a chilled and funky venue on a Friday afternoon. Every Friday from 4:30pm, you can enjoy live music, whilst sipping on a cocktail or sharing a few tapas plates.
Proscuitto Wrapped Prawn Skewers, or the Home-Made Thai Fish Cakes are my picks for the 'best of'.
Canton Lounge Bar
532 Hay St, PERTH, WA
Phone: 08 9325 9900
Trading Hours: Wed - Thurs: 4pm to 10pm, Friday: 12pm to midnight, Saturday: 6pm to midnight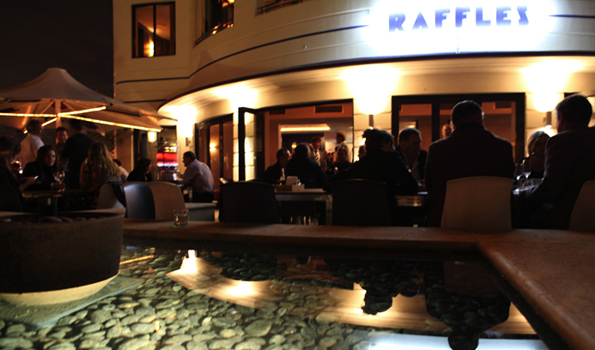 Photo Credit: Raffles



RAFFLES HOTEL
One can't go past a ritzy looking hotel with river views, so the Raffles makes my list.
You may remember this hotel back in the day when it was a little less lovely, hosting bands and musical talent from around the country.
As much as I love a live gig, its refurbishment and official reopening in 2006 made more sense, with such great views available to the public of an evening or Sunday afternoon.
The quality Deco Restaurant lies upstairs, with their lounge bar below boasting a most impressive wine list.
I find it's lovely of an evening to dress up a little bit swish and head here to swirl some wine around in a glass, whilst enjoying the views of the water.
It just makes me feel a bit special.
The Raffles Hotel
67-71 Canning Beach Road, APPLECROSS, WA
Lounge Bar
Mon - Fri 10am - Late
Sat and Sun 8am - Late
Deco Restaurant
Sun - Fri 12pm - Late
Sat 6pm – Late
Bookings Phone: 08 9314 9000
So clearly, you can't go past a good cocktail or lounge bar when you are over those clubbing days. They're the best place to go with a group of friends to enjoy the chilled out vibe, and savour that great tasting wine which has now taken place of those dodgy Vodka Cruisers. There are plenty more bars in Perth that I could list of to you in ten seconds. So, I will. Now get out there and enjoy.


Must Wine Bar - 519 Beaufort St, Highgate
1907 Cocktail Bar - Alleyway, 26 Queen Street, Perth
43 Below Restaurant Lounge Bar - 43 Barrack Street, Perth
Wolfe Lane - Wolf Lane, Perth
Cheeky Sparrow - 6/317 Murray Street, Perth (access via Wolf Lane)
Niche Bar - 663 Newcastle Street, Leederville
Luxe Bar - 446 Beaufort Street, Highgate
Universal Bar - 221 William Street, Perth
Hula Bula Bar - 12 Victoria Avenue, Perth
Pure Bar - 331 Hay Street, Subiaco
The Royal - 60 Royal Street (corner of Plain Street)