Details

Category: Perth City & Surrounds
Published: Wednesday, 10 July 2013 09:31
Written by Nita Teoh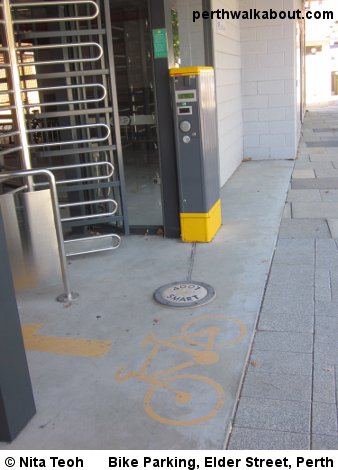 A big thumbs up to the City of Perth which provides bike parking facilities at its Elder Street car park in the Perth CBD - this means that cyclists, whether you are commuting to work by bike, or just coming in to the Perth CBD for leisure, have somewhere to park.
There are two entrances to this car park, with one entrance on Murray Street, and the other off Elder Street. For cyclists, note that there is a dedicated entrance for cyclists to access bicycle parking off Elder Street, with 54 bicycle bays available.
Once you get to the bicycle parking entrance, there are two turnstiles, one for your bicycle, and one which is a pedestrian access. You will need both at different stages of parking your bicycle and entering/exiting the car park.
When you get to the bicycle parking entrance, swipe your bike over the smart loop and take a ticket. Once you have your ticket, you can enter the car park through the bike turnstile.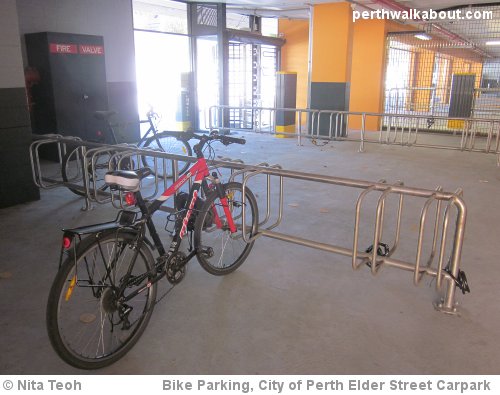 There is ample parking for cyclists, and remember to bring your own lock to secure your bike. The hourly rate of 20 cents and day rate of $1 for a maximum period of 12 hours for cyclists is a bargain and a great incentive to consider cycling into the Perth CBD rather than driving in to avoid traffic and parking hassles. It also a great way to get some exercise and do your bit for the environment.
When you are ready to exit the car park, you will need to pay for your ticket at one of the pay stations. There are pay stations located directly ahead of you and to the left hand side, if entering the car park from Elder Street. You then need to take your validated bicycle parking ticket and insert it into the ticket machine, and walk through the pedestrian turnstile to pick your bike and exit.
On my way out, after I inserted my ticket to exit the car park, the City of Perth machine wished me with the message "drive safely"! I had a good chuckle there, since I was on my bike and it would have been nice to have been wished a message "ride safely"!
All in all this is a great initiative from the City of Perth and I hope to see more car parking facilities that offer dedicated bicycle parking. It's great for bicycle commuters, and those who wish to visit the city for a trip and need somewhere to park their bike in a secure location.
Details
Car Park: City of Perth Elder Street Car Park
Address: 490 Murray Street and Elder Street, Perth
Note: Entrance for bike parking, off Elder Street
For more Related Articles, please scroll to the bottom of this page.
If you enjoyed this article, please share it!