Details

Category: Perth City & Surrounds
Published: Wednesday, 28 December 2011 08:44
Written by Emily Cordz

You know how some things can hide in plain sight? enex100 in the Perth CBD is one of those places. When I worked at one of the stores in enex100 the retail centre had been open over a year and we still had people regularly commenting that they had no idea it was open before they walked in. Once you discover it for shopping in the Perth city, you'll find yourself going again and again. Not only is it located in a convenient location between Hay Street Mall and St Georges Terrace, but it also offers a different shopping experience than most retail centres.

The first thing most people notice when they enter enex100 is how much space there is. Instead of narrow walkways and crowded store fronts, you have lots of open space with scattered soft seating arrangements that offer an excellent opportunity to rest your feet. The ceilings are high and the whole space feels airy, even when full of people.
enex100 is comprised of three sleek levels. The storefronts are unobtrusive to the open feel of the space, which is probably one of the reasons people who just walk by without walking in think the centre isn't open. But once inside, you will find a number of chic stores offering exceptional products.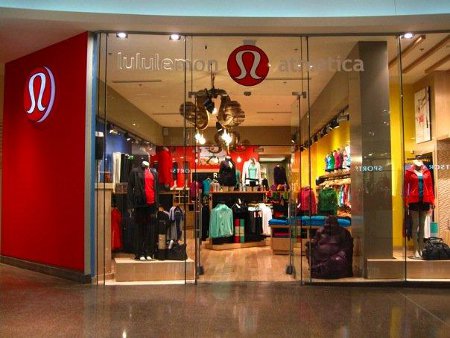 Photo Credit: Flickr/Lululemon Athletica


The Hay Street Mall level is lined with stores selling clothes, accessories, beauty products and organizational tools. Here you can find things like French Connection, MARCS, lululemon athletica, Nine West, Veronika Maine, kit Cosmetics, Calvin Klein, and more. All that shopping will make you hungry, but don't leave; just head up one level.
The third level has more stores like Dangerfield, JB Hi-Fi, GNC Livewell, but its main attraction is the food podium. The space offers excellent dining options (burgers, sushi, pizza, salads and more), along with comfortable seating, which is much more extensive than it seems on first glance with lots of seating arrangements tucked behind and around the food outlets, perfect for small meetings.
But what really sets it apart is the artistic design. The materials, patterns and colours are all designed to reflect the spirit of Western Australia both past and present. One of the best ways to enjoy the aesthetically interesting architecture is to swing by Cimbalino to grab a cup of coffee, or tea, and a light snack (I recommend a macaroon if you're in an indulgent mood), and sit down and observe. I prefer near the escalator because it has cushioned benches as well as normal chairs, and I enjoy watching the coloured lights in the ceiling change colour.
The lowest level is just off St Georges Terrace and its main feature is a large Woolworths, which is particularly busy during the lunch hour and after work with people coming in to pick up a quick lunch or some groceries for dinner that night. Thankfully there are lots of checkout and self-checkout lines, so there never is too long of a wait when you're ready to go. Along with the groceries on this level you can find a massage, vitamins, barber, and chemist.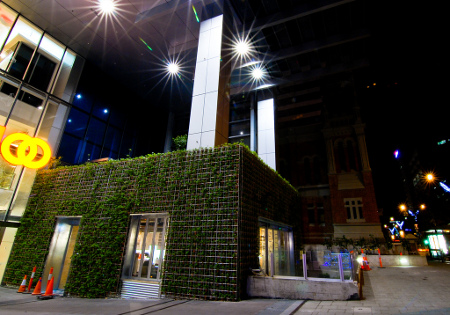 Photo Credit: Flickr/Nate Robert


Right beside this entrance is a unique, environmentally conscious restaurant known as the Greenhouse. It's easy to spot as it is probably the only restaurant covered in a trellis of plants in terracotta pots. The entire building and menu was designed to create a better place for people and the environment. Not only is it a good concept, but the food is also delicious. A win win situation.
Getting there
enex100 is easy to reach from either Hay Street Mall or St. Georges Terrace. It is closer to the William Street end of things. From the Perth Train Station you'll want to take the Murray Street Mall exit and either walk around on William Street or cut through the Piccadilly Arcade, which puts you almost directly across from the Hay Street Mall entrance of enex100.