Details

Category: Perth Personalities
Published: Wednesday, 27 February 2013 12:42
Written by Nita Teoh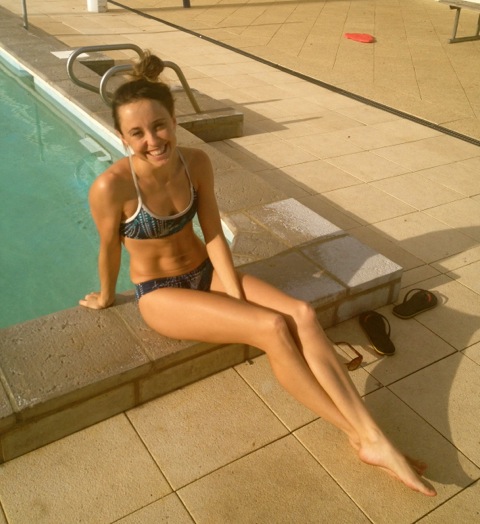 With our beach culture in Perth, swimming is a popular activity for most of us, whether it is at our local pool, the Swan River or the ocean. I got together with Dominique Pratt, TV presenter for the Home in WA lifestyle program, to chat about her swimming career and life in Perth over a cup of tea, thus combining two of Dominique's favorite passions - swimming and tea!
Dominique provides inspiration to others to live a healthy lifestyle and is certainly a fantastic role model when it comes to keeping active every day - not a day goes by without Dominique making time out of her hectic work schedule to have a swim at her local pool.
At a tender age of 4, her mother Pauline had an instrumental role in coaching and developing Dominique's swimming talents. After migrating to Perth from the United Kingdom, they embarked on a journey to swim the English Channel, and notched impressive records in teams that swum the fastest times.

In Perth, Dominique continued to achieving swimming stardom, when at the tender age of 13 she qualified for the Olympic trials for her favourite event - the 50 metre backstroke.
As we sipped tea from our cups, Dominique shared some of the many benefits that swimming provides.
"Swimming keeps you healthy – it's great exercise, great for endorphins,
not taxing on your body, and is calming on the mind."

The dynamic duo pair of mother and daughter can be found at their local pool - the Barrucada Swimming Club in Churchlands - coaching the young kids with their swimming. The club caters to all ages, with members ranging from 7 to 74. If you are thinking about getting into swimming but haven't yet, take the plunge - it's never too late to get in the water!
This year saw Dominique resume competitive swimming, when she competed in her first Masters Swimming Competition in Perth recently. She got off to a flying start and came 1st in her event. Not bad for someone who's not been on the competition scene for around a decade.
At the recent Masters Swimming Competition Dominique also met an 86 year old lady who won the 50 metre butterfly event.

"At such an age to be active and competing in the Masters Swimming Competition this is certainly an inspiration to all of us," Dominique said.

Her words of advice are that when you compete in your sporting endeavour, you should compete for the joy of it.
By day, when not in the pool, Dominique is a researcher for a documentary series with local company Great Western Entertainment. In a few month's time she will commence filming the next exciting season of the Channel 7 lifestyle program "Home in WA", now in its 14th year on air.
As a seasoned traveller, she says that Perth is a top city for many reasons and it will always be home for her. To sum up her top 3 reasons to visit Perth, Dominique says that Perth's weather is the best, that the people are the friendliest ever in the world (not that us Perthites are biased :-)), and that we have a nice relaxed pace of life.
Chatting between sips, we had to call it a night when Dominique exclaimed "I've run out of tea!". For a tea lover, that's quite a tragedy and not to be taken lightly! But from one tea connoisseur to another, there will always be time for another cuppa of tea or two very soon!
Dominique Pratt beams into WA households every Saturday, presenting on Channel Seven's lifestyle show Home in WA which showcases the best home ideas and tourist spots in WA. She is also a sought after MC and has hosted a number of events, including the prestigious WA Music Industry Awards and Channel Seven's Telethon for the last three years. You can find Dominique at her blog.


For more Related Articles, please scroll to the bottom of this page.
If you enjoyed this article, please share it!