Details

Category: Perth Restaurant Reviews
Published: Friday, 29 June 2012 08:12
Written by Emily Cordz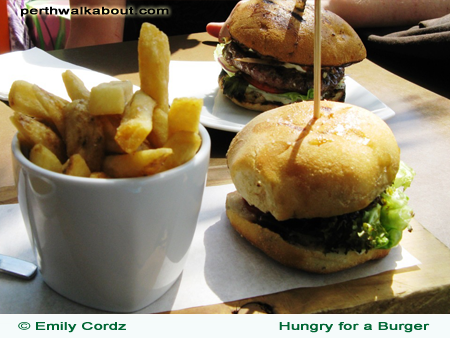 Some days you just don't feel like cooking or doing the dishes afterwards. You decide you're going to eat out. But where is an eco-conscious consumer to go that will give them a good meal and still support their efforts for a more sustainable world? You're in luck. Below I've compiled a list of several restaurants that source many, if not all, their ingredients from local producers around Perth and Western Australia.

Jus Burgers
One word: Yum! I discovered Jus Burgers after shopping at the Subiaco Station Market, but you can also find them in Freemantle, Northbridge and Leederville. The combination of content looking diners, delicious smells and somewhat long line to get food convinced me to give it a try. One thing I've learned while travelling, if there is a long line for food and the people don't look like they are together in a tour group, then you'd do well to get in line too. It was quite possibly my best decision that day. Not only is the food scrumptious, it's also local and fresh. Jus Burgers has developed strong relationships with several local producers and they process their burgers on site. Don't forget to try one of their tasty house made smoothies.
Source Foods Café
Armed with the simple mission of "providing fresh, tasty food, coffee & juice options with minimal ecological impact," Source Foods Café will satisfy your hunger while delighting your taste buds and conscious with scrumptious, sustainable fare. Conveniently located on Beaufort Street in Highgate, it is hard to resist popping in to grab just a little something every time you pass by. They prepare everything daily with locally sourced ingredients and offer many options for their vegetarian, vegan, organic, gluten free and/or free range customers. Stop in once and you'll find yourself coming back again and again to enjoy your favourites and to discover new ones.
Jean-Pierre Sancho baker
Opened in 2010, this French bakery has expanded to two locations in the CBD and one in Northbridge. In early 2011 they joined Buy West Eat Best, which requires all ingredients to be sourced and processed from local WA producers. Local ingredients combined with their delicious breads and pastries make this a great place to grab a light breakfast, lunch or midday pick-me-up. Treat yourself to one of their colourful macaroons or croissants for a truly decedent experience.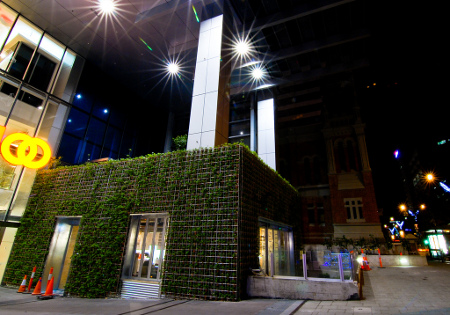 The Greenhouse
Photo Credit: Flickr/Nate Robert


The Greenhouse
One of the first things people notice about this restaurant in the lower level of the enex100 centre is the trellis of terracotta pots and plants covering the external walls and the rooftop garden. Step inside and you'll see the uniqueness doesn't stop there. Everything from the construction of the building to the items on the menu were chosen after considering their sustainability, recyclability and practicality. The rooftop garden serves many purposes, but one that most people enjoy is the fresh addition to their dishes and drinks. Couple that with many other locally sourced ingredients and you'll see that fresh, sustainable food really does taste that much better.
Padburys Café Restaurant
Not only is Padburys located in the historic Padbury's Stores and Residence building in Guildford, which was built in 1869, but they also dish up fantastic locally sourced food that pairs nicely with the selection of Swan Valley wines they offer. Since they use local ingredients, their menu is always changing to reflect the seasonal variation. Swing by one night and enjoy the flavorful dishes and the warm, historic atmosphere.
Cafe Del Pescatore
Nestled next to the water, fresh seafood in Perth is something to be enjoyed. One place where you can indulge in fresh from the water seafood sourced from local fisherman is Cafe Del Pescatore. In the restaurant industry many places barely last ten years, so you know that to be open for fifteen years Cafe Del Pescatore must be doing something right. Enjoy perfectly cook calamari and fish as you gaze out over Scarborough Beach to the Indian Ocean.
Many restaurants are starting to source more from the local region, especially because there are lots of great local products to be enjoyed here in Perth. However, many of them don't advertise that they do. The best way to find out if your favourite restaurant is sourcing locally is to give them a call. Even if they aren't yet, your interest in whether they do or not is a great way to let them know you care about where your food comes from, which can encourage them to look at more partnerships with local producers.
Do you have a favourite place in Perth to eat out at that not only is delicious but also locally minded when it comes to sourcing their ingredients?
Please share it below.

For more Related Articles, please scroll to the bottom of this article.