Details

Category: Perth Restaurant Reviews
Published: Monday, 06 January 2014 11:28
Written by Nita Teoh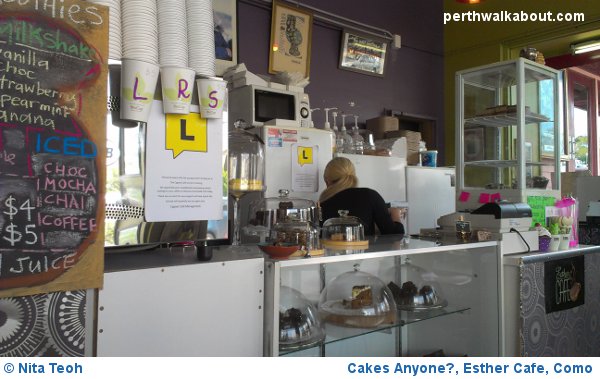 If you are looking for a cosy place to sit down and have a chat with a friend over a refreshing cup of coffee or tea, along with a cake or toasted sandwich, then follow your nose to the Esther Café at 16 Preston Street in Como (also known as the Cygnet Café, since it is located next to the Cygnet movie theatre in Como).
This cheerful café is run by the charity group The Esther Foundation, which helps young women who have come from difficult situations develop their life and work skills, and gain work experience in a hospitality setting.
The girls behind the counter who run the café are friendly, and while chatting to them I learned a bit about the history behind the Esther Café and the Foundation that has been set up to support its members. Apparently the name for the Esther Foundation was inspired by the story of a beauty queen from a Jewish orphanage dating back to biblical times.
My family and I stumbled onto the Esther Café when we decided to explore the Preston Street café strip, having not visited this area in ages. Over the years we've watched movies at the Cygnet movie theatre from time to time, and it was a good chance to reacquaint ourselves with what is on offer nearby.
My first impressions of the Esther Café is that it is a cosy, unpretentious place to visit – you can spot the flaking paint on the ceiling which just adds to its charm. The café is an ideal place for spending time with your family, or for catching up with a friend over a pot of hot tea and a home made cake or delicious melty cheesy toastie. The toasted sandwiches use ingredients that support local produce such as New Norcia bread and Mt Barker free range chicken, and other quality ingredients such as Mersey Valley cheddar from Tasmania.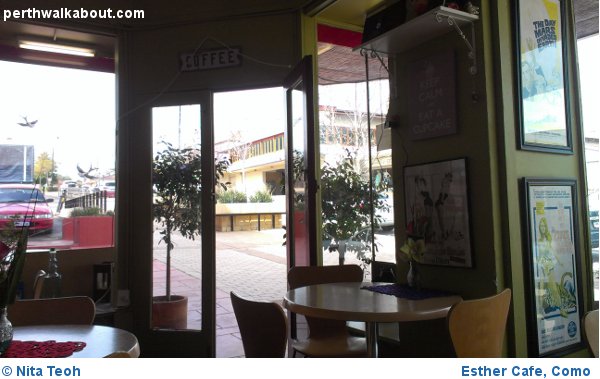 The menu has a selection of beverages including Fiori brand coffee, pots of tea for one or two, milkshakes in a range of flavours and fresh juices. There are a few alfresco tables outside – as I was looking out I noticed that the tables slope ever so slightly because of the street incline, and I chuckled because it just adds to the character of the place, along with signs such as "Be calm, eat a cupcake"! The cakes displayed under their glass domes look enticing and very home made, and there are also other sweet delights to tempt you such as brownies and cookies.
Inside the café, you'll find movie posters of yesteryear - I assume they are a collection of movies that have been shown at the Cygnet over the years – a movie poster of "The Day Mars Invaded Earth" is a possible hint about the typical movie genre.
All up – visit The Esther Café if you're looking for a snug café to while away a couple of hours. One benefit of the Como café strip is that it is easy to get to - there is ample parking along the street, and the best landmark to look out for is the Cygnet movie theatre housed within its historic art deco building.
If you enjoyed this article, please share it!
Nita Teoh pens her passion for Perth at Perth Walkabout. For more insider tips on Perth and surrounds, follow us @PerthWalkabout