Details

Category: Perth Restaurant Reviews
Published: Friday, 23 November 2012 14:26
Written by Helen O'Connor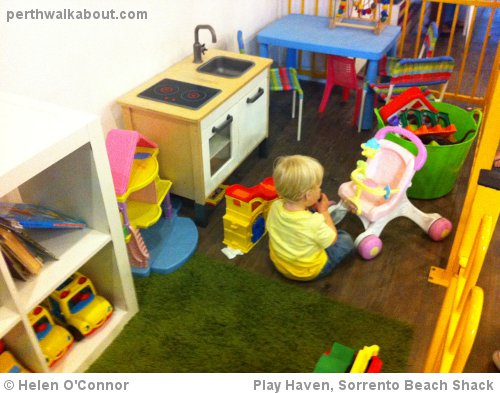 Dining out changes somewhat when you bring children into the equation. You look at your choice of restaurant through different eyes, and what might be a perfectly fantastic restaurant for a romantic rendezvous might not have the same appeal when you add a couple of toddlers into the mix. That said, Perth offers a plenitude of family friendly restaurants that superbly cater for the family market. For some families, a restaurant with a play area tops their list of favourite places, for others it's where they know that there will be something yummy for their kids to eat. For others, it's simply knowing that kids are allowed in the restaurant. Here's a list of some top restaurants and cafes in Perth for you to enjoy family dining.
1. Sorrento Beach Shack
Shop 57 Sorrento Quay, 28 Southside Drive, Hillarys Boat Harbour

This colourful little restaurant is a great place for families. Not only is the food delicious and tasty enough to tempt the fussiest of eaters, but the attention to detail that the restaurant has given to child diners is outstanding. For the littlest diners, there is a selection of high chairs in addition to a carefully appointed play corner. For the older child, there is a selection of board games in addition to colouring pencils and a vast array of colouring in books. We've rarely ordered off the kids menu as the adult portions are large enough to share with our toddler. However, there are 8 options on the kids menu and the Spaghetti Bolognese is adult sized. If you do find that the kids' portions are too big, ask the friendly staff to box up the leftovers, and they will happily oblige. Kids' meals are $9.90 with the option of an upgrade for $4.50 to add on an ice cream sundae and a soft drink. Booking is recommended, especially if you want to sit near the play area or if you are coming for breakfast. The size of the pancake stack alone has caused quite the following on a Sunday morning!
2. Salt on the Beach
42 Port Beach Road North Fremantle
Without a doubt this is one of the most popular (and best) family dining spots in Freo. It's a winning combination of fantastic food, friendly staff and a beautifully equipped kids' playground. It's a perfect place to spend a dinner with your family. The kids' menu has 6 items on it, ranging from $10-14 but portions are big. I've ordered the fish and chips for my toddler previously and thought his portion was the adult one - it's that generous. If you are taking a couple of small kids with you, one portion between two will likely suffice. For extra family dining value, take your kids on a Friday night between 5.30pm and 7.30pm and they can join the kids club, have some free face painting, and meet the Salt's penguin mascots. This is a huge hit with the little kids and will cement in their minds that this is the restaurant where they want to be taken to for dinner in the future. Look out for money off vouchers and special events on their website. They regularly have some great fun evenings (and days) planned with kids in mind. Booking is recommended as this place has a very loyal following of mums and dads.

Another absolute winner with families in Freo is the Little Creatures brewery, a great dining experience with a fun sandpit for the little people.
3. Wanneroo Tavern
18 Dundebar Rd, Wanneroo
This pub/restaurant is a winner with families who are seeking some indoor playground activities for their kids. The playground is a vast one, with lots of tubes, slides and climbing areas. Not ideally suited for toddlers, but if you've got older kids, you'll likely find this an appealing feature. There are some great meal deals throughout the week, not least the 'Kids Eat Free on a Tuesday' offer (if you purchase a main meal), and it's worth checking their website for details of the offers so that you can plan your visit. This wouldn't be the place to go for a peaceful dinner with the family as there is a lot of noise from the playground. That said, if you've got kids aged 5-10 with you who don't like waiting for their meals, then this is a great choice. The menu is vast for kids and adults alike and portion sizes are generous. Booking in advance is needed as not only is this popular with the locals, there are a limited number of high chairs.
4. Feral Brewery
152 Haddrill Road Baskerville
This is popular brewery in the Swan Valley and always a top choice for families. This is a great place to celebrate Father's Day as there are some fantastic beers on tap for the menfolk. Feral Brewery is an award winning micro brewery, regularly taking out some of the top medals at the Australian International Beer Awards. The kids' menu isn't vast, but for $12 you can grab a children's meal, including a drink and an ice cream. Kids' menus are in the form of a colouring in sheet, so some quick entertainment to be had in solving the puzzles and colouring in the animals. The friendly staff will happily supply you with a case of pencils. If that's not enough to keep the kids amused, there is a sandpit play area and a few swings which allow the little guys to burn off some energy whilst waiting for their food order. If you want your family to all eat together, let the staff know as they will otherwise bring all the kids orders out first.
If breweries are your thing, another great family friendly option is Mash Brewery, also in the Swan Valley.
5. Siena's of Leederville
115 Oxford Street Leederville
Siena's is a great Italian family restaurant based in the heart of Leederville. The restaurant includes a children's play area that is separated from the restaurant through glass windows and a safety door. This compact play area provides a safe area for kids to play, but due to its location at the side of restaurant, does not intrude on fellow diners. Prior to having kids, I'd been to Siena's a number of times and never even noticed the play area. The menu features 10 kids items - all for a budget friendly price of $8.50. For me, Siena's is a restaurant where you can be happy that your kids will be welcomed, that they can have a play and also a great meal. For yourselves, you can really enjoy the food on offer as it is delicious. But make sure you save room for the gelato - it's so yummy!
6. Ninniku Jip
867 Albany Highway, Victoria Park.
This Korean fusion restaurant was created with families in mind. In the heart of the restaurant is a well equipped play area, amidst the trendy dining scene. The play area includes a cubby house and slides, and as this restaurant is still a little bit of an unknown gem, it is rarely crowded here, so lots of room for the kiddies to play. It's a little on the pricey side for Asian food (about $25 for a main adult meal) but the food is delicious and there are some interesting combinations that I've not seen before. Ninniku Jip offers 5 kids' meals, all priced at $9.50 each or $12 if you'd like to add on an ice cream dessert. The honey soy chicken, with its sticky honey sauce and yummy steamed rice, is a real kid magnet. For the non Asian food lover, there is chicken nuggets and chips on the menu. For the adults, this is one restaurant where you are so well catered for and you'll be really glad of the play area as you spend your time mulling over the extensive menu. The sizzling dishes are particularly noteworthy.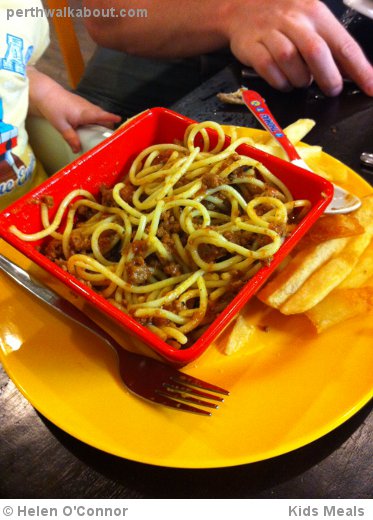 7. Fab Burgers
Shop 205,
Sorrento Quay Broadwalk
Hillarys

Fab Burgers is a chain restaurant offering a huge array of really tasty and wholesome burgers. Our local FAB burgers is at Hillarys Boat Harbour and I've always enjoyed the ease of dining here with kids. It's quick, it won't break the bank, and I love how the table cloths are paper and thus become a blank canvas for your budding little artist. Each table is provided with a cup of felt tip pens and this keeps the kids entertained until the food arrives. For under 12's you can choose a junior burger for $9.95 and this comes with fruit or chips. The beef is butterfield beef which makes for the most delicious burgers, with melt in the mouth qualities. I could not complete this review without also mentioning the thick shakes (huge and delicious) and the Cajun onion rings; not to be missed. If like me, you become a regular diner, don't forget to sign up to their loyalty card to save yourself 25% off.
8. Portofino's Cafe
2 Quinns Road Mindarie

Based in Perth's northern suburbs, Portofino's Cafe overlooks the Indian Ocean and provides a great place for a family lunch or a coffee and cake play date. Handily, the cafe comes complete with a fully enclosed and gated play space, with a spiral slide and lots of climbing equipment. The menu is varied and the kids' meals ($12) are very generous. I've ordered the lasagne for my son a number of times and asked for the leftovers to be boxed up to take home which makes for a great lunch the following day. This is a popular weekend breakfast spot with a kids sized pancakes setting you back $10.
9. IKEA
6 Sunray Dr Innaloo
Ok, so perhaps not a family dining experience that would spring to the forefront of all parents' minds. However , as so many parents of Perth find their way to IKEA far too often, I should highlight that the in shop restaurant provides a great spot to grab a bite to eat to break up the fun of shopping with kids. IKEA take their family dining options seriously and offer a play area, microwave for heating up meals, bibs, bottle warming and some really cheap eats. From 3pm every day you can purchase a hot kids meal for $2.50 complete with drink. At other times you can purchase kids' meals such as pasta, meat balls or nuggets for $2.95. A more healthy option is the snack pack including a wholemeal cheese sandwich, fruit bar, popcorn, muesli bar, fruit yoghurt and a soft toy all for $3.95. Prices aren't too shabby for the adults either. A breakfast on a Saturday morning will only cost $1.95.
10. Ones with entertainment
If the choice to dine out with your little ones is based upon how entertained they'll be up until dinner arrives, another thought to consider is those restaurants offering entertainment for the kids, for FREE. This notion of providing some free entertainment to kids seems to be gaining popularity with a number of restaurants providing face painting, kids crafts and activities all for your children and all to enhance your dining experience. One of the biggest providers (in restaurants) of kids entertainment is Cater4Kids. Check out their website to see which local restaurants they'll be basing themselves each night. You'll find choices throughout Perth.
There are so many great restaurants in Perth that not only welcome family diners, but who have gone out of their way to make your dining experience enjoyable that I've not been able to include them all. It's great finding these places where the whole family can go to and enjoy themselves. Where have you been with your family that you really enjoyed?

What hidden gems have you uncovered for your family in Perth? Here at Perth Walkabout, we'd love to hear your suggestions.

For more Related Articles, please scroll to the bottom of this page.
If you enjoyed this article, please share it!