Details

Category: Perth Restaurant Reviews
Published: Wednesday, 14 March 2018 08:14
Written by Nita Teoh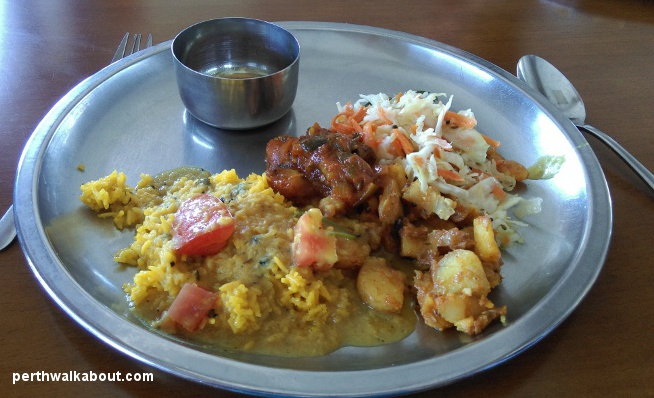 Annalakshmi on the Swan
Photo Credit: Nita Teoh

If you are looking for tasty vegetarian food in Perth, we've compiled a list of our favourite Indian restaurants around town.
Annalakshmi on the Swan
Annalakshmi on the Swan (affectionately known as "the mother of sustenance") is an old time favourite where you can enjoy tasty vegetarian food lovingly cooked by volunteers. Set at a fabulous location on Barrack St Jetty in the City it has sweeping views of the Swan River, which can be enjoyed either by dining alfresco or inside the restaurant.
Just before opening time, it's not uncommon to find an enthusiastic queue of customers waiting for their regular fix at this restaurant. There are usually a selection of curries on offer including dahl, potato curry, and a mixed vegetable curry, along with tamarind soup, salad, and rice. You can also help yourself to cool drinks and tea or coffee and their dessert offerings, usually semolina or rice based.
The restaurant is open 7 days a week for lunch and dinner, and payment for your meal can be made by donation. Their philosophy is "Pay as you feel" and the volunteer run organisation motto is that of "Serve, love and give".
Annalakshmi also run cooking demonstrations, offer special catering, and hold special cultural events throughout the year including the annual Swan Festival of Lights in celebration of Deepavali.
If you are stuck in the office and can't get out, the restaurant now offers a convenient lunch box delivery service for a bargain $10 that includes free delivery to Perth CBD locations.
Vegorama Indian Restaurant
Vegorama Indian Restaurant offers an interesting range of dishes at very reasonable prices. Service is friendly, and the restaurant offers a simple, modern décor. It's a relatively small eatery so you'll want to get there on the early side to get a table.
Favourite picks from the menu include the dal tadka (yellow lentils), palak paneer (Indian cottage cheese with spinach), the peas rice (basmati rice with peas and cumin seeds) and naan breads. The menu conveniently identifies any vegan friendly dishes, and also dishes without onion and garlic suitable for those who are Jain vegetarians.
The Samosa chat street food dish combination of chickpeas, yoghurt in a tamarind and mint sauce is also a goer.
Vegorama is an easy 9 minute train ride from the Perth Underground to Canning Bridge train station. Then a short 15 minute walk will get you to Vegorama, which is located at 3/899 Canning Highway in Applecross. Vegorama offers both dine in and a takeaway option available from Deliveroo.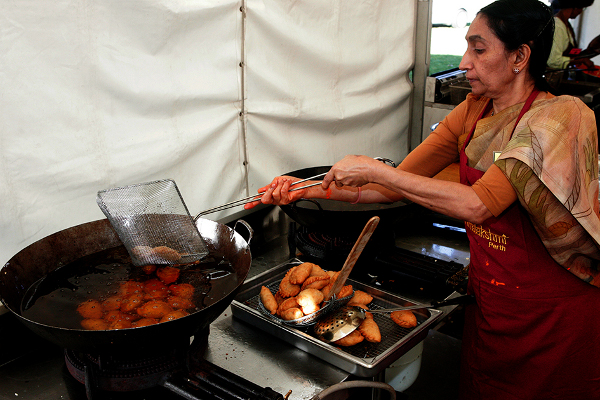 Swan Festival of Lights
Photo Credit: Annalakshmi
Mother India
Mother India is an Indian vegetarian eatery north of the river hidden away in the suburb of Bedford. It's modest and unassuming but don't be fooled by the plain looking restaurant frontage. Step inside the restaurant and be spoilt for a choice with an excellent offering of curries and street food dishes.
With the choice of thali dishes, you can either order a standard one or an "all you can eat" thali. With the standard one, you get to select 2 curries from around half a dozen choices. It is served with dahl, 2 wholemeal roti's, along with a decent serve of Basmati rice.
The service is friendly, and it's a popular one with locals in the area for both dine in and takeaway.
Mother India has a nice vibe and serves authentic Indian fare.
This is Part 1 of Favourite Vegetarian Restaurants around Perth with a focus on Indian cuisine. We've got quite a few other vegetarian restaurants on our list to check out and review. So stay tuned!
If you enjoyed this article, please share it!
To find out about the hottest eateries around Perth, follow us at @PerthWalkabout