Details

Category: Perth Restaurant Reviews
Published: Wednesday, 13 March 2013 10:20
Written by Nita Teoh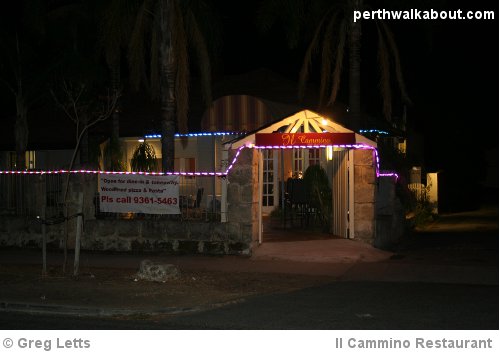 You can find the Il Cammino Italian Restaurant and Pizzeria tucked away down a side street (Raleigh Street) off Archer Street in Carlisle. It's an unassuming older style house but don't be deceived by its modest appearance - Il Cammino packs a punch when it comes to tasty Italian food.
On the menu are the usual favourites such as the veal parmigiana, saltimbocca alla romana, and lamb shank, along with a fantastic range of pastas and woodfired pizzas to tempt even the most discerning of diners. Seafood lovers will enjoy the chilli mussels, which is one of the house specialties.
On the Thursday night that my partner and I visited, the string of lights outside Il Cammino beckoned us inside, and we entered the restaurant in anticipation of a relaxed evening together enjoying some traditional Italian food.
Stepping through the door, we were greeted by the friendly owners Cynthia and Pauline, and shown to a table inside the restaurant. As well as the indoor dining area, there is also an alfresco area out front, and a larger back section of the restaurant which is reserved for special functions such as business and weekend get togethers.
During the brief wait for our meals, I observed that the restaurant had a steady stream of customers, both for dining in and take away. The woodfired pizzas seemed to be especially popular amongst take away customers, many of whom seemed to be regulars.
While taking a few photographs, we met two other customers, a pair of friendly ladies who had come all the way from Kalamunda to dine at the restaurant. An intended trip to Kings Park had turned into a detour to visit a German restaurant in Carlisle (the predecessor of Il Cammino), and so here they were tonight. In passing conversation, they exclaimed to my better half "you've got to try the garlic bread – it's the best garlic bread ever". True enough, the garlic bread was delicious - light on the palette, with just enough butter and the right level of garlic to kick start our appetites, not that they needed any help!
We started our meal for the night with a serve of garlic bread, and an entrée of mixed salami, feta and salad. My partner commented how tasty the salami was, not too strong or salty but still with a bit of spice to it.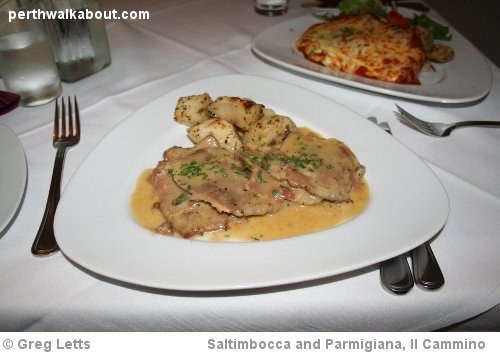 The servings are generous - I worked my way through the chicken parmigiani and I was happily full. The chicken parmigiani came with a lovely fresh salad of green leaves and tomatoes, and finely sliced, red onions. One thing that I liked about the food was that it didn't assault the taste buds with too much salt, and the flavours of the chicken, mozzarella, and tomato sauce came through in just the right proportions.
My partner had the saltimbocca alla romano - veal topped with prosciutto. His dish came with a large serving of tender pieces of thinly sliced veal, with a side serving of potatoes. He obviously enjoyed it as there was nothing left on his plate and even Jack Spratt would have struggled to get a morsel.
Overall, our food was delicious in the fine Italian tradition, but also light enough that we both finished our main courses feeling pleasantly full instead of overburdened with rich food. We were able to enjoy the fresh flavours of our respective meals without having them overpowered by rich sauces that tend to hide the taste of the basic ingredients. Our compliments to the chef!
To add to the delicious food, what I also enjoyed very much was the relaxing atmosphere – there is ample space between the tables so that you can dine and have a private chat. The background music volume is just right, high enough to be enjoyed but not too loud to prevent easy conversation.
The customer service at Il Cammino is excellent – fast, friendly service with a smile, and attentive to customers' requirements.
Alas, after having worked our way through an entrée and main, my favourite part of the meal – dessert - was in question. But as all connoisseurs of desserts know, "there is always room for dessert!" And if you've just a wee bit full, you can always have short break to regain your appetite. And that I did. Il Cammino have a selection of around 7 desserts ranging in price from $6.50 to $9.50. My selection of dessert was focused between the tiramisu (one of my all time favourites) and the panna cotta. I decided to opt for the panna cotta and that didn't disappoint - it was tasty without being too rich. I will be back for the tira misu.
In terms of price range, the starters and entrees begin at $8, with the main dishes ranging from $18 to $30 and some more expensive dishes such as the seafood platter at $58.
The restaurant is fully licensed and there is a good selection of wines and beers and other alcoholic beverages to choose from. Or you can bring your own wine, with a corkage charge of $3 per person.
All in all, we really enjoyed the fresh, delicious food and the friendly service at Il Cammino. We shall be back!
Getting to Il Cammino is a breeze – it's a short 10 minute drive from the Perth CBD down the Graham Farmer Freeway, turning right into Archer Street and heading down towards the railway crossing until you hit Raleigh Street. And parking is a breeze as there is plenty of free parking down Raleigh Street.
Given its fantastic food and convenient location in Carlisle, near Vic Park, you are missing out if you haven't checked out Il Cammino yet!
More Details
Restaurant: Il Cammino
Cuisine: Italian Food and Pizzeria
Address: 44 Raleigh Street Carlisle
Phone: 9361 5463
Opening Hours
Dinner : Tuesday to Sunday, 6pm to late
Lunch : Friday to Sunday : 12 - 2:30pm
For more information and bookings, visit their website at http://www.ilcammino.com.au/
For more Related Articles, please scroll to the bottom of this page.
If you enjoyed this article, please share it!